This post may contains affiliate links for your convenience. If you make a purchase after clicking a link we may earn a small commission but it won't cost you a penny more! Read our full disclosure policy here.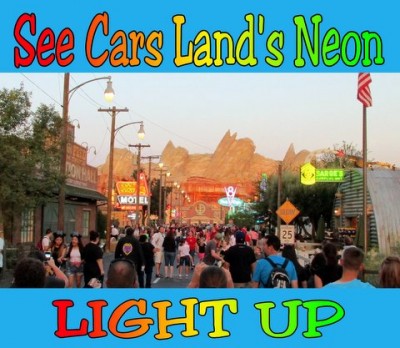 Something unexpected happens each evening in Disney California Adventure's Cars Land. Without fanfare or published schedule, a magical moment from Cars comes to life as the area's neon lights flicker on, just as in the movie. If you know when to watch, you can see the Cars Land neon lighting.
I first heard about this phenomenon on a fan message board. Disneyland doesn't list it in the Time Guide, put up signs, or announce that "The Cars Land Lighting will begin in five minutes" like it does for parades or fireworks. It simply glows on, every night just after sunset.
Because it's unpublished, and sunset time changes nightly, it's easy to miss. I wouldn't design a touring plan around it. The first time I tried to see it, I got impatient, got in line for Luigi's Flying Tires (now Luigi's Rollickin' Roadsters), and missed it. On my second attempt, I arrived while I thought it was still light enough, and the neon was already on.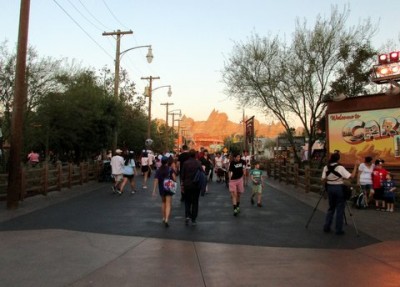 Not time just yet …
I eventually learned that there is a specific, planned, time each night … you just have to know who to ask. The general consensus is roughly five minutes past official sunset. You will need to ask a entertainment Cast Member in the area for the official time, which they have written down.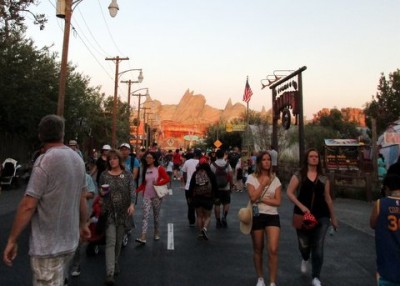 A few minutes before showtime
The night I finally saw the neon lighting, I had the authoritative time from a Cast Member and positioned myself at the base of Cars Land's main drag. It still appeared fairly bright out to my eyes, but the sun had already set. A few other in-the-know fans were also hanging around the area in the middle of the street, and it was obvious we were all waiting for the same event.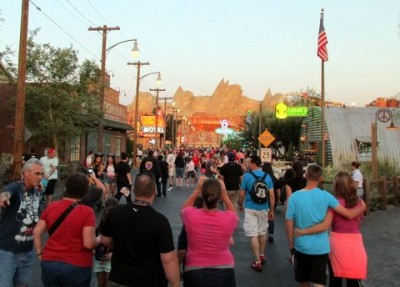 Sh-Boom!
Right at the time I had been told, the familiar "Sh-Boom" song from the movie came over the speakers and all of the neon signs came on one at a time, just as they did in Cars.
This is what I wrote the day after I saw the neon lighting:
"It was really cool to finally see it happen. People stopped and watched, if only for a moment. I love that it's a little, unpublished detail. Disney could have gone two other ways — just flip on the neon at a set time and thereyago. Or they could have made it a Big Deal Show that would have been crowded and crazy and confusing, maybe a little like the short projection show on It's a Small World during Christmas. Instead, it's a tiny treat for those in the know. It would be even better if they could do it when it was a lot darker, but I imagine the lawyers would object to people tripping in the gloom while they waited for the big moment."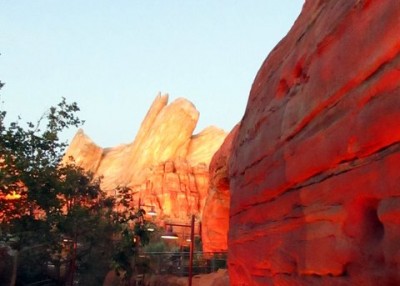 The Cadillac Range at dusk, from the Radiator Springs Racers line
Cars Land has some gorgeous, immersive details, and I'd recommend also visiting earlier in the day to take them all in. Whether you see the lighting or not, it's worth swinging through Cars Land again in the evening to see the neon all lit up and the glow of the Cadillac Range behind Radiator Springs Racers.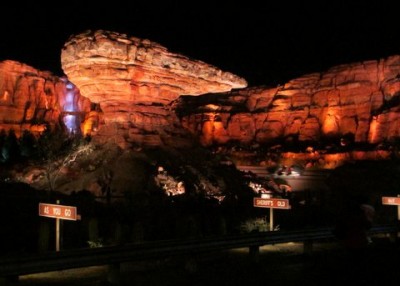 One plan would be to watch the lighting, then eat some great comfort food at Flo's V-8 Cafe. By then it will be totally dark, and a great time to jump in the Single Rider Line for Radiator Springs Racers. It's beautiful riding again at night.
Have you seen the Cars Land neon lighting?
Incoming search terms:
https://www themouseforless com/blog_world/cars-land-neon-lighting-disney-california-adventure/
What time do lights go on in carsland
disney carsland sunset
https://www themouseforless com/blog_world/cars-land-neon-lighting-disney-california-adventure/#:~:text=Disneyland doesnt list it nightly, its easy to miss
https://www themouseforless com/blog_world/cars-land-neon-lighting-disney-california-adventure/#:~:text=It simply glows on, every nightly, its easy to miss
https://www themouseforless com/blog_world/cars-land-neon-lighting-disney-california-adventure/#:~:text=It simply glows on, every Roadsters), and missed it
lights on radiator springs
what time do they turn on cars land lights disney land