This post may contains affiliate links for your convenience. If you make a purchase after clicking a link we may earn a small commission but it won't cost you a penny more! Read our full disclosure policy here.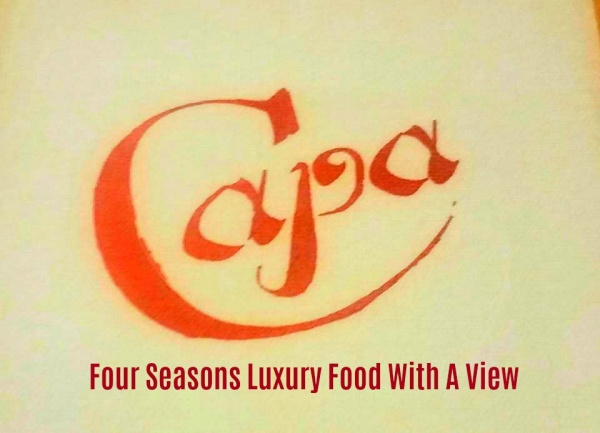 Ahhh…The Four Seasons. Just saying the name makes me feel important. Tucked discreetly in the heart of Disney's prestigious Golden Oak development, just the drive down the perfectly manicured lanes to this resort is enough to put me in the mood for some high society. But wait, you say, is this too much fancy for a family Disney vacation? My answer is a hard no. Capa is as friendly and welcoming as any other eatery  in The World. The demographics here are no different than any other signature restaurant on property. Feel free to sport your resort casual duds when you decide to dine at THE best spot on Walt Disney World. I usually wear shorts and a collared shirt, which is more than acceptable. My girls take this opportunity to show off a new (always!) sundress, but I think anything north of a t-shirt and jeans is welcomed.
Capa has been my must-do, must-recommend, must-tweet food destination since I first discovered it a couple years back. I could go on and on about the décor, but lets just suffice it to say that it is what you would expect from a resort of this caliber. As you enter, there is an expertly styled and stocked rectangular bar in the center of a sprawling lounge. We have enjoyed cocktails and nibbles there a number of times, and the full menu is available. The bartenders and cocktail servers are so personable and well prepared that you will have a hard time not camping here the entire evening. I'm not saying this is a bad play, but resist your urge to linger and move on to the dining room when your table is ready.
As you enter the main room, there is an open kitchen to your right. I like the concept of a kitchen crew having nowhere to hide. Keeps them honest.  As a Chef, I never minded working in front of the clientele. I took it as a challenge to perform everything flawlessly, lest I get caught making a mistake.  It's also a lot of fun for the guests watching the expeditor try not to panic as the orders keep spewing out of the printer. Enjoy!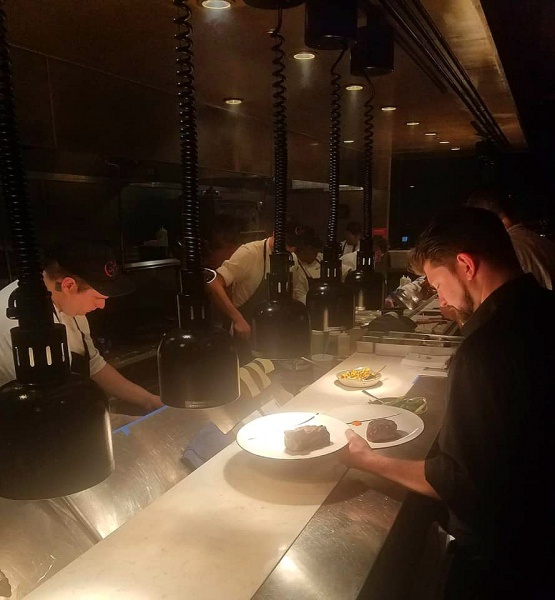 The next thing you will notice is the ceiling high windows throughout the space, offering 'Contemporary Resort like' views of the entire kingdom. This will come in handy later as the fireworks begin to explode. At 17 stories, Capa offers unparalleled views of all three evening offerings from the Disney parks.
I ramble, I know. The Capa menu is very intriguing. Tons of small plates, enough of a  variety that you may never order an entrée. Quite frankly, I don't think we have tried more than a few of the big plates. Ever. Very common for a Spanish restaurant. We like to order as many bites as possible, and share. I have never walked out of there hungry, and I have always been surprised as to how reasonable the tab has been. This place is surprisingly cost effective, considering the digs. I'll give you a list of my top small plates. Let's do this.
Jamon de Bellota
Possibly THE iconic food of Spain. Dry-cured ham fashioned from the black-hoofed Iberico pig. The animal is indigenous to the Iberian Peninsula. The pig is raised free-range, and is finished with a diet consisting of only acorns. The jamon is cured and aged for up to five years. The resulting product is a meat so marbled and tender, that it almost disintegrates when it touches your tongue. You can actually taste the nuttiness of the acorns from its last meal. Really pricey, but really worth the splurge.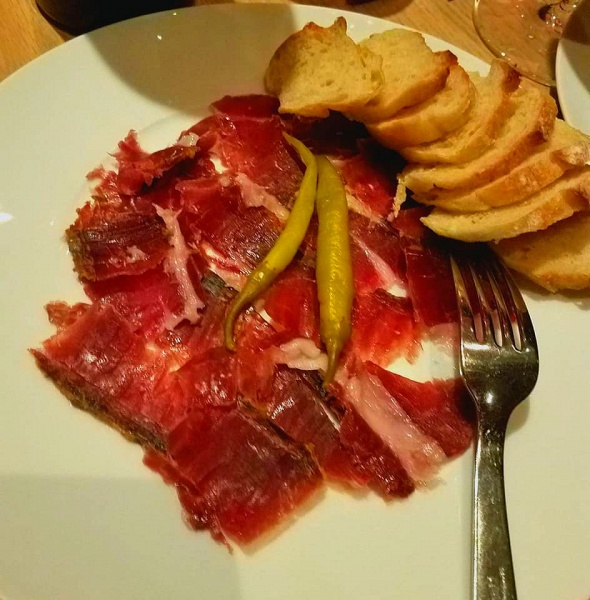 Pimientos
Shishito peppers are blistered in olive oil and tossed with a world-class chorizo. I'm not sure which is my favorite component. One thing I am sure of…this dish is off the hook. Shishito peppers are generally a mild pepper. I said generally. About one in ten are pretty spicy, so this ends up being a fun little game of roulette with your tablemates. The chorizo is so good, it is worthy of its own blog post. I'll leave it at that.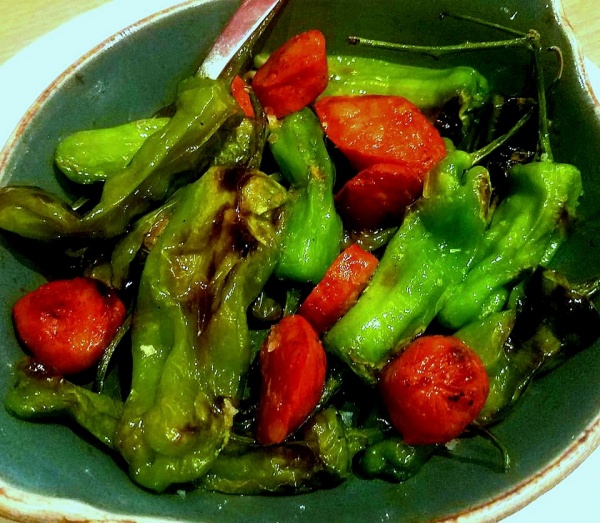 Patatas Bravas
This is maybe the most satisfying dish on the menu. It is simply fried potatoes and black garlic, but I can't seem to find a way to get them into my body fast enough. The stars are super crunchy outside, and super creamy inside. The black garlic is sweet and nutty. Such a guilty pleasure.  Must do!
Higado
Foie Gras is my favorite protein. If it's on the menu, it's mine. This version of goose liver is seared quickly and served rare. The huckleberry sauce is sweet and tart, a perfect foil to the crazy rich organ meat. I know this is not for everyone, but if you are a fan, go for it.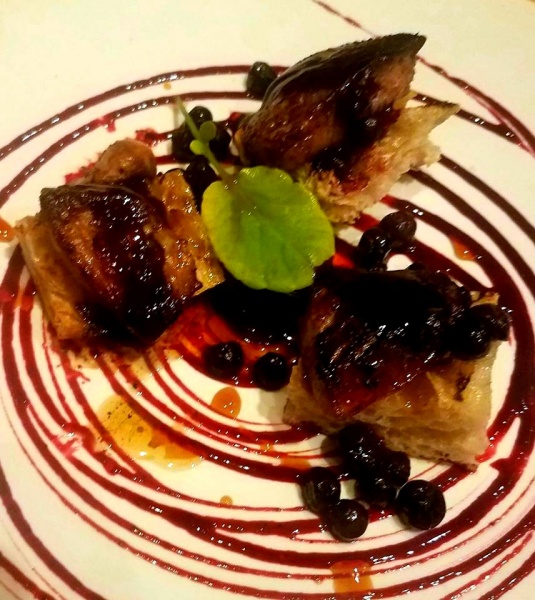 Croquetas
Croquettes are ubiquitous at Spanish tapas bars. This version is stuffed with ham(not the expensive stuff!) and cheese. Flash-fried, pillowy on the inside and crunchy on the outside.  Salbitxada sauce is made with almonds and roasted peppers and is a great dipper for these fritters. Nice dish.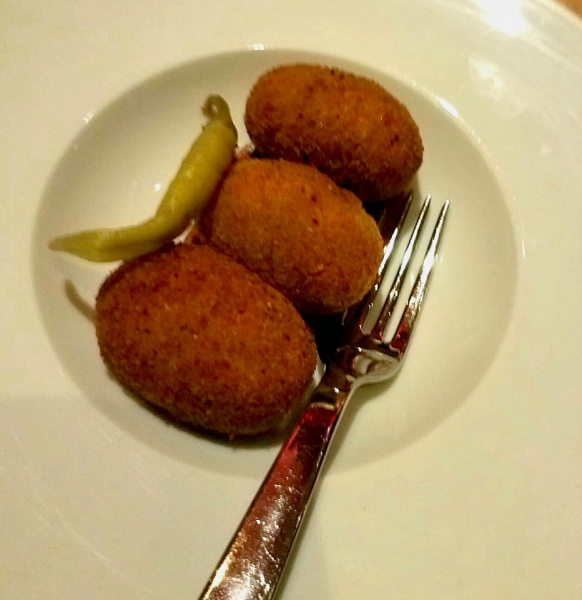 Pulpo
If you've ever read my articles, you know how much I dig octopus. Tentacles here are grilled to a perfect texture. The sauce is a puree of charred leeks, and works wonderfully. Not my favorite octopus on property, but very good.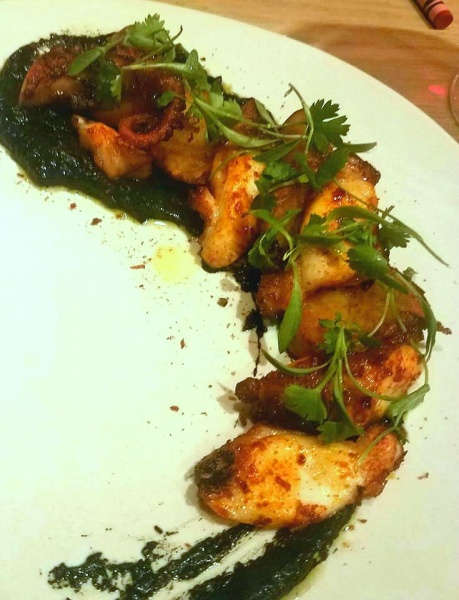 Huevos
These adorable little deviled eggs are pretty tasty. Five bucks for one egg is laughable, but go for it if you are ok with this. They are garnished with bottarga, which is a salt-cured tuna roe, more commonly used in Italy. Salmon roe is a playful secondary decoration. Eggs garnishing eggs garnishing eggs. Irony much?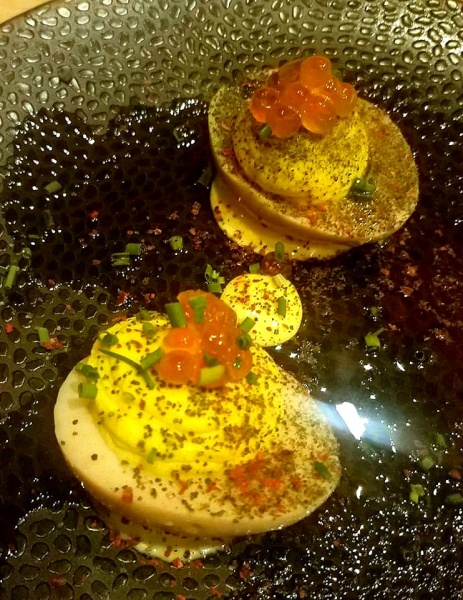 Had enough salt? Need something sweet? How about a Churro? These are my second favorite (Morimoto..weird, huh?) in The World. Crunchy and tender, they are expertly crafted. The chocolate is excellent, but the dulce de leche steals it. This sauce is made by reducing sweetened condensed milk until it is caramelized and sweet. Such a fun condiment. Great finisher.
As I said before, we have had entrees on our past visits. This is, after all, a steakhouse. I love the Porterhouse for two, and the Berkshire pork is excellent as well. The duck breast is a hit, too.  I'm not saying you shouldn't order a big plate, but the beauty of this place is the variety. My favorite visits here have definitely been focused on the sharable plates. The choice is yours. Either way you decide to go, you will not regret it.
I hope I have inspired you to step outside the Disney bubble(ish) and try something a little different. The combination of excellent food, spot-on service and the view makes Capa an easy go-to. Let me know what you think, although I'm pretty sure what your answer will be.
Have you tried Capa yet? What were your thoughts? Let us know in the comments, or on Facebook or Twitter.
Did you like this article? Make sure to share it with your friends! Check below for easy ways to share!
Want to visit Walt Disney World? Contact The Magic for Less Travel for more information and a free, no-obligation quote.

Incoming search terms:
https://www themouseforless com/blog_world/capa-four-seasons/
capa disney dress code