This post may contains affiliate links for your convenience. If you make a purchase after clicking a link we may earn a small commission but it won't cost you a penny more! Read our full disclosure policy here.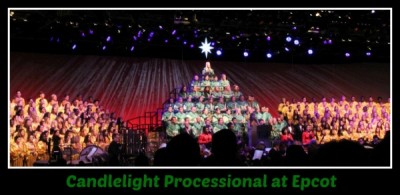 I absolutely love celebrating the holidays at Walt Disney World!  The beautiful decorations, the lights, and the music make a winter visit to the parks even more magical. Also at this time of year, one of my favorite events happens, the Candlelight Processional! This amazing show is a "can't miss" experience for me during the holidays.
If you enjoy Christmas and holiday music, this show is for you! Each night, the Christmas story is told by a celebrity narrator and a full choir and orchestra perform traditional Christmas tunes. Performances occur 3 times nightly at 5:00, 6:45, and 8:15 (except on Dec. 6th when there is no 5:00 show).  Shows take place at the American Gardens Theatre across from Epcot's American Adventure pavilion.
I enjoy seeing a new celebrity narrator each year. The narrators vary each holiday season, but many crowd favorites are returning for this year's processional. There are also some new faces joining the show this year.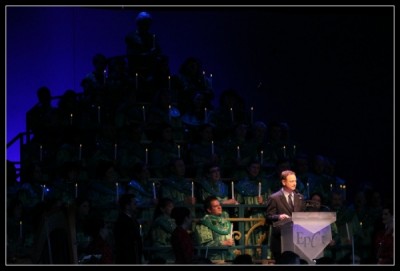 Gary Sinise tells the Christmas story
Here are the narrators scheduled to appear this year:
Gary Sinise  November 27 to 29, 2015
Neil Patrick Harris  November 30 to December 3, 2015
Whoopi Goldberg  December 4 and 5, 2015
Joe Morton  December 6 to 8, 2015
Ana Gasteyer  December 9 to 11, 2015
Meredith Vieira December 12 to 14, 2015
America Ferrera December 15 to 17, 2015
Chandra Wilson December 18 to 20, 2015
Daniel Dae Kim December 21 to 23, 2015
Edward James Olmos  December 24 to 26, 2015
Blair Underwood  December 27 to 28, 2015
Amy Grant  December 29 to 30, 2015
If you would like to see the show, you have a few options. The first is to wait in line for a seat prior to the show. A line typically forms hours before the performance and seating is not guaranteed. The closer to the front of the line you are, the better your chances are of getting a seat. You will need to plan to wait in line for a while, possibly hours, before the performance.
There is some space behind the theater seating if you are willing to stand and watch the performance. Space is limited since crowds need to be able to walk past the theater, so it is wise to get there early if you want to try the "standing room only" option.
The only way to guarantee that you will have a seat is to purchase a Candlelight Processional Dining Package. If you choose this option, you will select a restaurant and pay a set price for your meal.
Meals include an appetizer, entree, dessert, and drink (non-alcoholic). They range in price from around $40 per person to $76 (children-$15-$30). Lunch prices are generally lower, but the time of your dining reservation determines the time of the performance you will see. Keep in mind that it is not fully dark at the beginning of the 5:00 performance, but the show is still spectacular no matter what time you attend.
Make your reservation based on these time slots:
5:00pm show: Lunch 1:45-2:45pm
6:45pm show: Dinner 3:30-4:30pm
8:15pm show: Dinner 5:00-6:00pm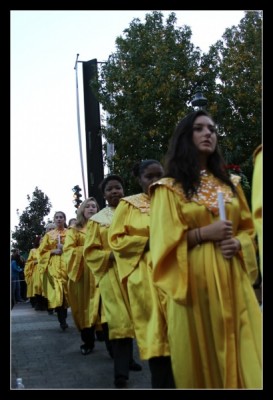 The choir enters for the performance
Here are the restaurants offering the dining package this year:
Rose & Crown Pub & Dining Room-United Kingdom Pavilion
Coral Reef Restaurant-The Living Seas
Biergarten Restaurant –Germany Pavilion
The Garden Grill Restaurant-The Land Pavilion (also offering breakfast)
Nine Dragons Restaurant-China Pavilion
Restaurant Marrakesh-Morocco Pavilion
Spice Road Table-Morocco Pavilion
San Angel Inn Restaurante-Mexico Pavilion
Via Napoli Ristorante e Pizzeria-Italy Pavilion
Les Chefs de France-France Pavilion
Tokyo Dining-Japan Pavilion
Teppan Edo-Japan Pavilion
Tutto Italia Ristorante-Italy Pavilion
La Hacienda de San Angel-Mexico Pavilion (dinner only)
After your meal, you will receive a pass that guarantees that you will have a seat for the Candlelight Processional performance. I wish I could tell you that this means you won't have to stand in line at all, but most things at Disney require some amount of standing in line.
Even for those who have purchased a dining package, a separate line forms prior to the show. There really is not a bad seat in the house though, so your wait time will be significantly reduced especially if you aren't concerned with sitting right up in the front row. The dining package line is permitted to enter the theater first, so you will have priority seating over those who have not purchased the package.
Reservations for the dining package opened in July, so your options may be limited if you have not yet booked your table. Reservations are still available, so check to see if the dates you have in mind have openings.
For me, the dining package is worth it. It can be a little pricey, but I have done it a few times now and have enjoyed it every time. I like sitting down to a relaxing meal knowing that I will have a seat at the performance for sure. I have also been able to sit much closer to the stage each time because I have purchased the package.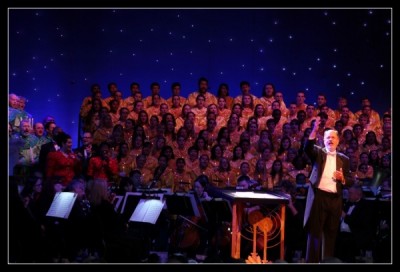 The audience sings along Hallelujah Chorus
The Candlelight Processional is a unique, holiday experience that I definitely recommend. I hope that you will enjoy it as much as I do!  Happy holidays!
Do you plan to see the Candlelight Processional this year? What are you looking forward to the most?