This post may contains affiliate links for your convenience. If you make a purchase after clicking a link we may earn a small commission but it won't cost you a penny more! Read our full disclosure policy here.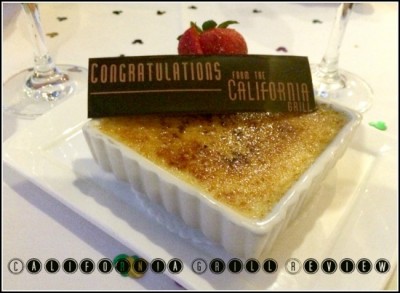 Last month, my boyfriend and I celebrated our 5-year anniversary and to celebrate the occasion, he surprised me with a dinner at the California Grill. Neither one of us had been to the California Grill before, but it was one I had wanted to try for quite some time. Due to the costly menu, we knew it would be best for a special occasion.
Located at the top floor of Disney's Contemporary Resort, this signature restaurant specializes in American cuisine, seafood, and sushi. The California Grill is also best known for its absolutely stunning view of the Magic Kingdom and the Seven Seas Lagoon, so be sure to request a window seat. If you time your dinner reservation just right, you will get to see the fireworks from the restaurant! But what if you dined earlier in the evening?  Well you can simply bring your receipt back to the restaurant so that you can use their observation deck to view the fireworks!
Without ado, here is my review of the California Grill!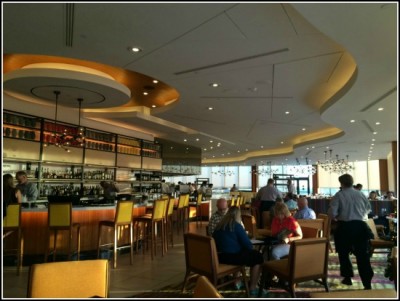 As we checked in for our reservation on the second floor of the Contemporary, we were escorted to a private elevator, which took us directly to the California Grill on the 15th floor. We were seated immediately at a window table with an absolutely breathtaking view of the Magic Kingdom, as well as the Seven Seas Lagoon. When we were seated, our table was sprinkled with "pixie dust" (Mickey confetti) to commemorate our anniversary, which my boyfriend had noted on our reservation.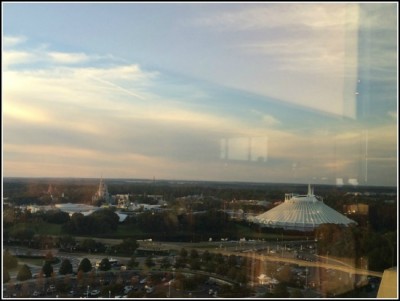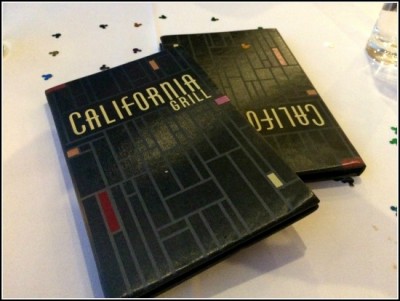 We started our meal off with drinks. Our server brought us waters and we ordered beer and a cocktail. George chose Pumpkinhead, which is a seasonal craft beer, and I ordered the Cucumber Fizz, off of the restaurant's signature drink menu. My drink was gorgeous, but was definitely too cucumber-y for my taste. I figured there would be a splash of cucumber taste in the drink, but it was full-on cucumber.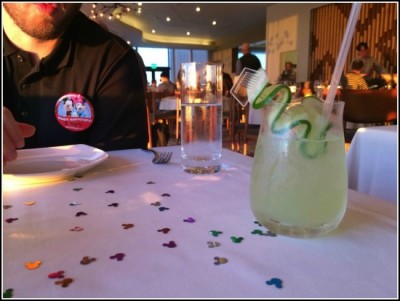 Next, complementary bread was brought to our table to start off our meal. There was a whole grain roll and rosemary-lavender focaccia, served with sea salted butter. The rosemary-lavender focaccia was excellent.
California Grill is known for their fantastic sushi, so we couldn't pass up on a roll. We ordered a roll of sushi in place of an appetizer and this did not disappoint. We chose the Spicy Kazan Roll, which had crab, shrimp, scallops, tuna, and fireball sauce. This roll was delicious and I would definitely order it again.

After sushi, we decided to split an entrée. We ordered one of the restaurant's seasonal entrees, which was the Shellfish Mole. This dish contained jumbo shrimp, scallops, and a whole lobster tail with the shell removed, served on top of cilantro-lime rice. For seafood lovers, I would highly recommend this dish. It was cooked perfectly and we loved every bite of it.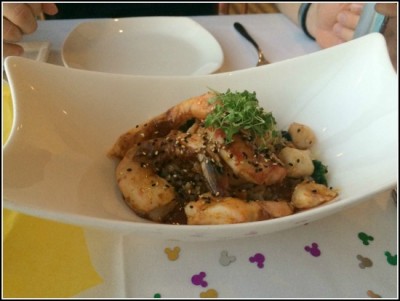 For dessert, we chose the Vanilla Crème Brulee, as I am a huge sucker for crème brulee. Since we were celebrating our anniversary, our server brought our dessert with a gorgeous chocolate topper that said "Congratulations from the California Grill" and two glasses of complimentary champagne. After finishing our meal, we stepped outside to the observation deck and watched Elsa frost over Cinderella Castle. It was the perfect way to end our very memorable meal.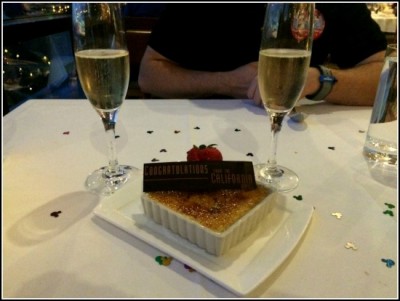 The California Grill was an outstanding experience and an unforgettable meal. Not only was the food incredible, but the service was top notch. Our server was so helpful with recommending her favorite dishes, that we ordered practically everything she described to us. I can't think of a more perfect place to celebrate a special occasion or date night.
Have you tried the California Grill? What's your favorite dish? What is your favorite Disney restaurant to celebrate a special occasion?