This post may contains affiliate links for your convenience. If you make a purchase after clicking a link we may earn a small commission but it won't cost you a penny more! Read our full disclosure policy here.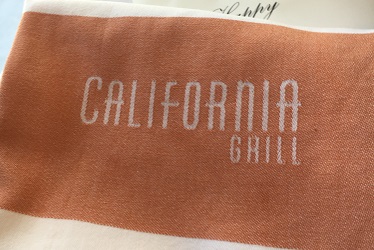 In early September, 2016, my husband and I enjoyed the special experience of California Grill Brunch at California Grill inside Disney's Contemporary Resort.  To celebrate our upcoming 15th wedding anniversary, we took a special kid-free trip to the World, and since we didn't have the kids in tow we wanted to take the chance to do some more adult-oriented things, the highlight of which was Sunday brunch.  Although children are welcomed here, the nearly $50 price tag for kids is likely a strong deterrent for most families to bring them along.
We arrived for our 10 o'clock reservation a few minutes ahead of time and checked in at the desk on the 2nd floor of the Contemporary resort where we were given a pager.  When it was our time to be seated we returned to the check-in desk and boarded the elevator to the 15th floor.  Although this elevator is exclusively for accessing California Grill, the elevator ride was not exclusive; several other parties rode up with us.  The dress code is not strongly enforced and guests wore an array of dress, some in park attire while others were more dressed up for the occasion.
We were greeted by a hostess who offered us each the first of several bottomless mimosas to start our morning off.  We were seated at a cozy table right near the windows with an amazing view of the Magic Kingdom area.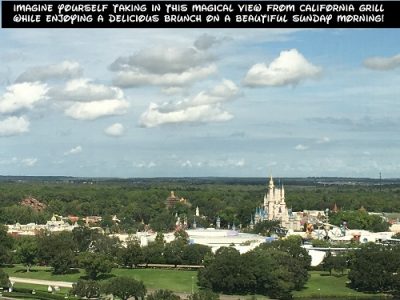 Our server welcomed us warmly and offered to get us something additional to drink; there are a number of both alcoholic and non-alcoholic options available.  I opted for a cup of coffee while my husband stuck with the mimosa.  The coffee was bold, hot, and rich in flavor; our server kept the cup full throughout the meal.  He explained how California Grill Brunch works: we would receive a plate of pastries to share and were welcomed to enjoy the appetizer buffet.  He cautioned us to pace ourselves there, good advice that is hard to follow!  When we were ready he would put the orders in for our entrees.  Following our entrees we would be served a plate of desserts to share.  He also called our attention to the Bloody Mary bar where, for a fee, one can build a Bloody Mary with a great variety of vodkas, mixers of varying spiciness, and a seemingly endless selection of garnishes.
We enjoyed the pastries – a delicious selection that included a cheese biscuit, a caramel apple muffin, a scone, and a sweet bread – and made our way to the appetizer buffet.  My husband enjoyed the charcuterie most of all, partaking of delicious meats and cheeses, while I focused my efforts on the sushi which was the freshest and most flavorful I've ever had anywhere.  Other selections there included salads, deviled eggs, fruit, granola, and bagels and lox.  There was definitely plenty to make a meal of, which made it a challenge to pace ourselves! I also visited that Bloody Mary bar, where the bartender assisted me in creating this thing of beauty: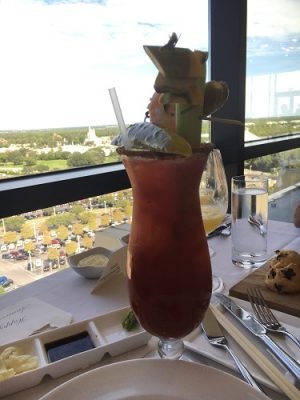 The Bloody Mary bar allows each guest to create a customized version of a brunch favorite
Our server checked in with us from time to time but we felt welcome to take as much time as we wanted to enjoy ourselves.  When we were ready, we placed our order for our entrees; my husband had the Chef's Frittata and I enjoyed the Lobster Eggs Benedict.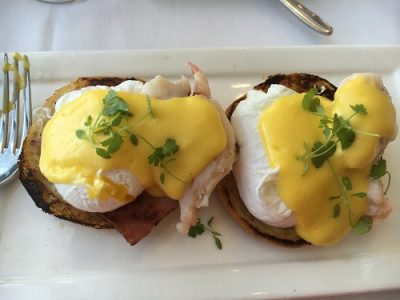 Guests can add smoked salmon or butter-poached Maine lobster to their eggs Benedict
I should say here that my husband is a pretty picky eater.  We were a little worried about whether he would enjoy California Grill Brunch as much as we knew I would, but the worry was unfounded.  There was plenty for him to choose from.  Still, after selecting his entree, he remained a bit concerned that the frittata would be too spicy for his liking.  He was happy to find that it had just the right amount of heat that added flavor.  The serving was generously sized and after the pastry and appetizers he was not quite able to finish it.  The lobster eggs Benedict was simply perfection.  I have never in my life had such tender, tasty lobster – and coming from a New England girl, that's quite a compliment!  The portion of lobster was quite generous and the eggs perfectly cooked.
I excused myself to the ladies room while we awaited our dessert.  The ladies room was quite plush and beautifully appointed as one might expect from a signature restaurant.  While there I noticed the music the live jazz band was playing.  It took me a few minutes, but finally I was able to name that tune – they were playing Nirvana's "Smells Like Teen Spirit"!  When I returned to the table I found that my husband had noticed the same thing.  While the music was a nice addition, we hadn't played close attention to what they were playing until then; we realized after that all of the music was covers of contemporary music.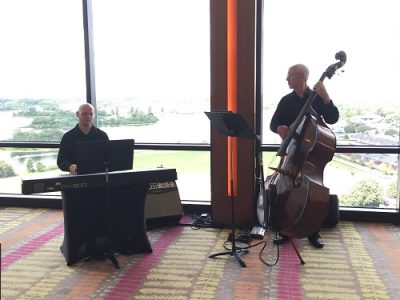 The jazz band is the perfect accompaniment to this special experience
We each enjoyed a bite of each of the desserts on the dessert tray, but we had severely overdone it on the previous courses and were not able to really enjoy them, which was a shame because the little we did eat was quite delicious!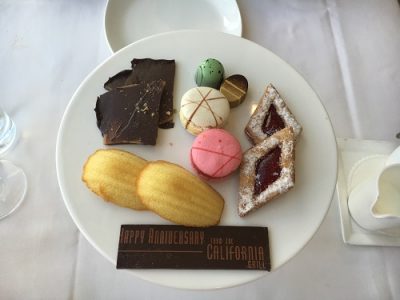 Guests share a platter of dessert selections as the final course in this exceptional meal
We lounged a little longer, polished off the last of our mimosas and Bloody Mary, and paid our bill.  We felt it was well worth the prix fixe cost of $80 per person, plus the additional fee for the Bloody Mary I enjoyed.  Everything was perfect: atmosphere, view, service, food quality, beverages.  It was an ideal treat for our anniversary celebration, and we can't wait to enjoy California Grill Brunch again in the future!
For more information on  California Grill Brunch at Disney's Contemporary Resort visit Mouse For Less. For help in booking your Walt Disney World Vacation, visit our partners at The Magic For Less Travel and get a free quote today!
Have you tried the California Grill Brunch? What were your thoughts? Share them in the comments.
Did you like this article? Make sure to share it with your friends! Check below for easy ways to share!