This post may contains affiliate links for your convenience. If you make a purchase after clicking a link we may earn a small commission but it won't cost you a penny more! Read our full disclosure policy here.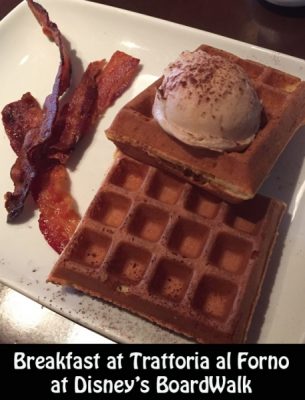 This week, it was announced that Trattoria al  Forno would be getting a character breakfast later this spring. This character meal will feature Disney princesses and their princes from films like Tangled and The Little Mermaid. While that's wonderful for those who are character fanatics, for me, I'm a little sad. You see, this means that one of my hidden gem breakfast places will be going by the wayside. That's right. For those who didn't know, Trattoria al Forno currently offers a fantastic a la carte breakfast option with an Italian flare.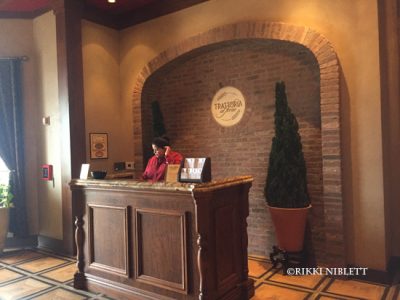 Trattoria al Forno is located on Disney's BoardWalk and has a great rustic vibe. It feels like you traditional Italian restaurant with a warm ambiance. This table service location currently serves breakfast from 7:30 a.m. until 11:00 a.m.
Now, when I say that Trattoria al Forno serves an Italian-inspired breakfast, I mean it. This is an authentic experience. Dishes include frittatas; Scrambled Eggs with Tomato, Basil, and fresh Mozzarella; Poached Eggs with Fennel Sausage, Parmesan, and Tomato Gravy served over Soft Polenta; a Breakfast Pizza; and a Breakfast Calzone.
But perhaps the most authentic dish available for breakfast is the Cured Italian Meats. This is served with Tomatoes, a Hard Boiled Egg, and Cheese with Fonduta. While many may see it as a strange breakfast, it's actually quite delicious and very light.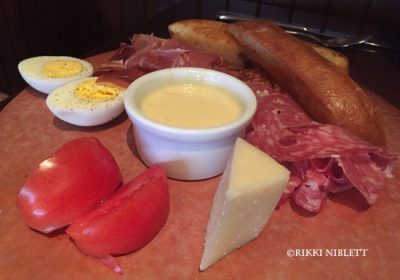 If you're looking for something a that is a little closer to a traditional American breakfast, consider the waffle with Espresso-Mascarpone Cream and choice of Bacon or Chicken Sausage. This was incredible. The waffle was light and because it included the Espresso-Mascarpone Cream, it didn't need any syrup. The Espresso-Mascarpone Cream was airy, but had slight espresso flavor. It wasn't terribly overpowering. It was a nice mix. Also, the bacon was cooked crispy, which is the way I like it.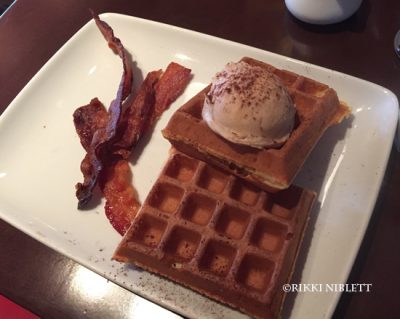 I will be interested to see how Disney changes the menu going forward with the new princess character meal. I suspect that it will not include the same authentic Italian dishes that it currently does and that makes me a little sad. I really enjoyed the unique meal offering, as well as the environment, however, I can easily understand how getting to meet your favorite princesses with their princes has a large draw. If you do have the change to try the current breakfast though at Trattoria al Forno, I suggest you do. It really is delicious.
Have you tried breakfast at Trattoria al Forno before? Share your thoughts in the comments.