This post may contains affiliate links for your convenience. If you make a purchase after clicking a link we may earn a small commission but it won't cost you a penny more! Read our full disclosure policy here.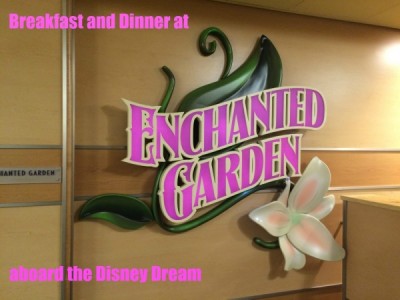 Welcome to the Enchanted Garden!
The Enchanted Garden is a restaurant on the second deck of the Disney Dream. It is part of the ship's rotational dining service, and is also an option for breakfast. My family got to enjoy both meals on our recent cruise.
When we chose to eat breakfast at the Enchanted Garden, it was because we hadn't had dinner there yet and we wanted to check it out. The décor is stunning. It's themed to an outdoor garden, and during dinner the lighting changes as if night is falling. For our breakfast, we sat in round white booths. For our dinner, we were seated at a traditional table.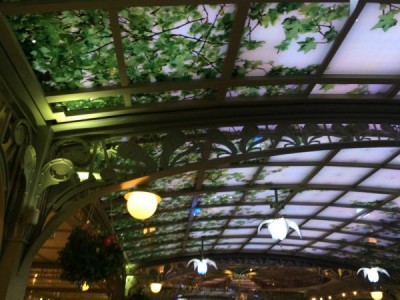 Ceiling at the Enchanted Garden
As with every restaurant on board, Cast Members standing outside the entrance to the Enchanted Garden offer sanitizing wipes to each guest. They take hygiene very seriously on this ship.
Breakfast was a buffet. Standard breakfast items such as scrambled eggs, sausage and bacon were offered, as well as a yogurt parfait bar, smoked salmon, oatmeal, fresh fruit, and many different kinds of pastries.
Scrambled eggs, bacon and sausage
My eggs were fluffy and still moist, the salmon was flavorful, and fruit quite fresh. At our table, our server offered us coffee and juices.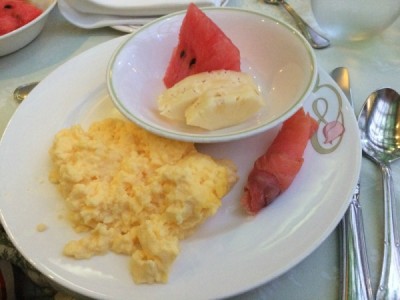 My delicious breakfast
Our dinner at Enchanted Garden began with a bread service with a garbanzo bean puree. Not sure why they didn't call it hummus. It's hummus. Anyway, the bread was crusty and had good flavor, and the puree was tasty without being overly spicy.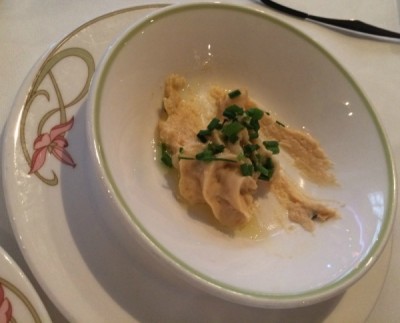 Garbanzo bean puree
My husband ordered the mushroom tart for his appetizer. He reports that it was delicious.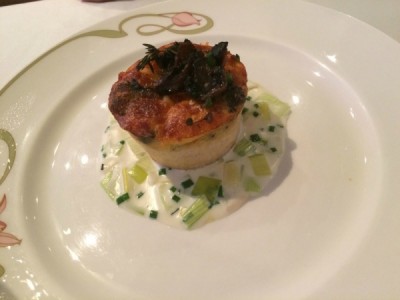 Mushroom tart
He also ordered the cream of asparagus soup. He enjoyed this very much.
Cream of Asparagus Soup
I ordered the Ahi Tuna and Avocado Tower. This was sensational. My favorite appetizer of the entire trip. The chilled tuna matched perfectly with the creamy avocado.
Ahi Tuna and Avocado Tower
I wanted to try something else from the lighter side of the menu, but nothing sounded terribly appealing. I reluctantly ordered the Harissa Lamb Salad. Oh, man, was I pleasantly surprised! The lamb was lean and beautifully cooked, and the harissa seasoning really made it pop. The marinated grilled eggplant was melt in my mouth good, and the tiny scattering of couscous over the crisp greens tied the whole dish together. I absolutely adored this dish.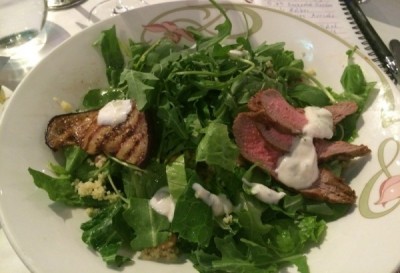 Harissa Lamb Salad
My husband ordered the pork tenderloin. He really enjoyed it, saying that the meat was perfectly cooked. In fact, his words were "tender and luscious."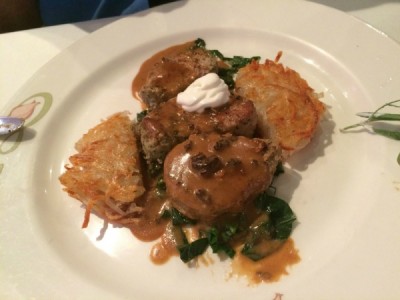 Pork Tenderloin
For dessert, I ordered the no-sugar-added strawberry cheesecake. This hit the spot perfectly, giving a small sweet ending to what became my favorite meal of the whole trip.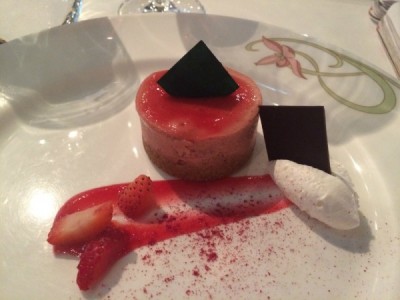 No-sugar-added Strawberry Cheesecake
My husband ordered the sacher torte, which is a Viennese chocolate cake with apricot jam and dark chocolate icing. He enjoyed it very much.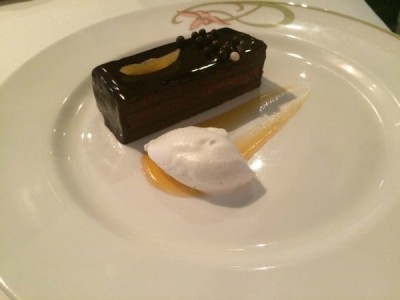 Sacher Torte
But wait – that wasn't the ending of the meal! Someone (thank you, Magic for Less Travel Agent Carol!) tipped off our server that my husband and I were celebrating our twenty-first anniversary the next day, and we were presented with a small chocolate cake garnished with two Happy Anniversary buttons. Forgive me for diving right in before taking a photo!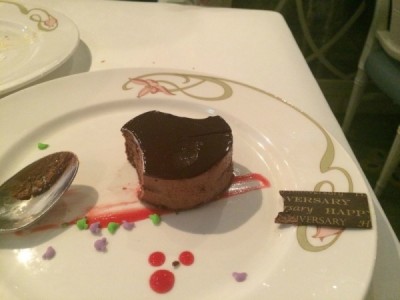 Anniversary cake surprise!
Honestly, I would have been just as happy if they'd brought this BEFORE I ordered my first dessert. Because, of course, even after eating the cheesecake, I couldn't help myself and stuffed myself with the chocolate cake. It was sweet, chocolately, and a lovely way to celebrate our anniversary.
All in all, Enchanted Garden offered a nice, casual breakfast in an elegant setting, and also was the site of my favorite meal of the trip. I hope you're lucky enough to eat here soon!
What is your favorite meal to eat at Enchanted Garden? Share in the comments.