This post may contains affiliate links for your convenience. If you make a purchase after clicking a link we may earn a small commission but it won't cost you a penny more! Read our full disclosure policy here.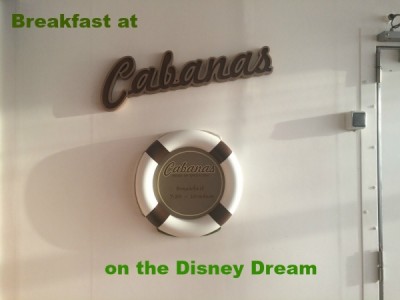 Welcome to Cabanas!
My recent cruise on the Disney Dream was full of so many fabulous moments, but one of my favorites was walking the Castaway Cay 5K. I had to be at the check in point for the race at 8:15 a.m., which meant I was going to need to be up and out of my stateroom early.
My family wanted to sleep in, so I got ready as quietly as I could and then headed to Deck 11 for Cabanas. This was the earliest location that was open for breakfast, and I knew that the buffet style service would mean I could eat in relative ease, knowing I wouldn't miss the check in time.
I actually got ready so quickly that Cabanas wasn't open yet, so I helped myself to the complimentary coffee by the pool area. The first thing I noticed was the view. While I drank my coffee, I could watch as the ship docked at Castaway Cay!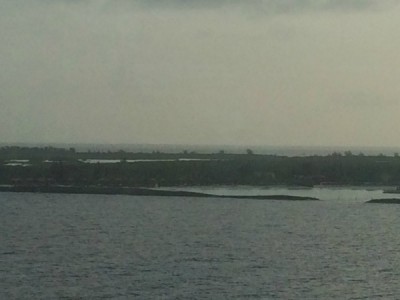 Castaway Cay as seen from Deck 11
Once Cabanas opened for breakfast at 7:30 a.m., I grabbed my tray and got myself a hearty breakfast. I was going to need a lot of energy! There were a lot of options at the buffet. Smoked salmon and trout beckoned.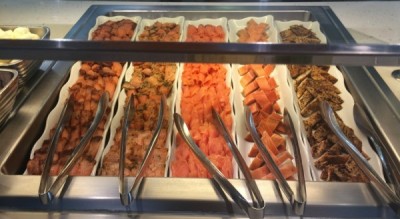 Smoked fish at the buffet
A nice option about Cabanas is that no matter the hour, you can always find whole fruit and cookies available, even when the restaurant is not open. A variety of apples and oranges were available.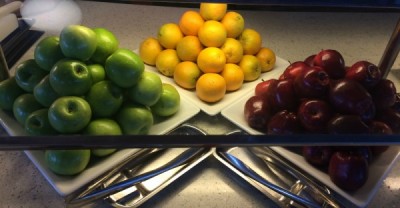 Fresh whole fruit is available all day long
Another section featured a larger selection of fresh fruit. This morning they offered pineapple, honeydew melon, and grapes. I also helped myself to asparagus and whole wheat toast. (I'm not a bread girl, but 5K, c'mon!)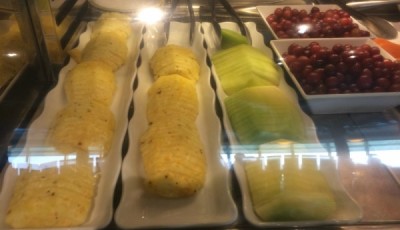 Cut fresh fruit is also available
After I enjoyed my breakfast, I took some time to notice some details around the restaurant. On one wall were clocks that showed the time at every Disney theme park. It was REALLY early in the morning back "home" at Disneyland.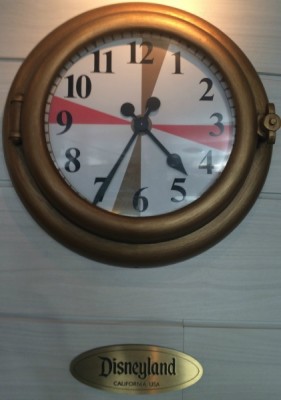 Disneyland isn't even open yet!
And I stopped to say "hi" to the greedy seagulls guarding the beverage station. (Unlike their counterparts in Epcot and Disneyland, these do not bellow "MINE" at passersby.)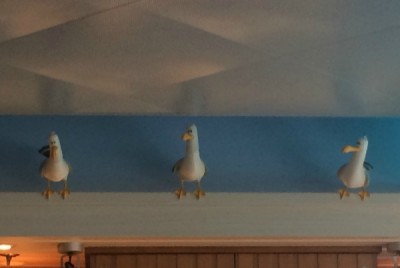 MINE!  MINE!  MINE!
The wave pattern on the napkin holders is just another example of Disney's attention to detail. I'd also like to add that this holder was full of cloth napkins with actual silverware wrapped in them.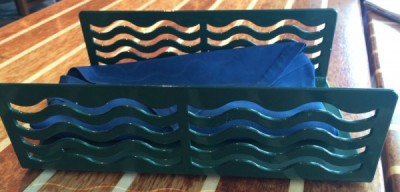 Napkin holder
I so enjoyed eating my breakfast in relative peace and quiet. Not too many of my fellow cruisers were out and about this early. Getting to watch the Dream dock at Castaway Cay was a real treat.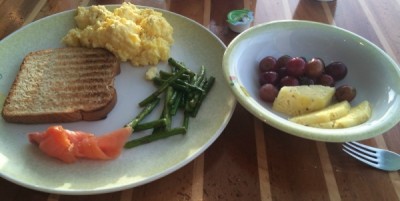 Have you experienced Cabanas for breakfast? What were your thoughts? Share in the comments.