This post may contains affiliate links for your convenience. If you make a purchase after clicking a link we may earn a small commission but it won't cost you a penny more! Read our full disclosure policy here.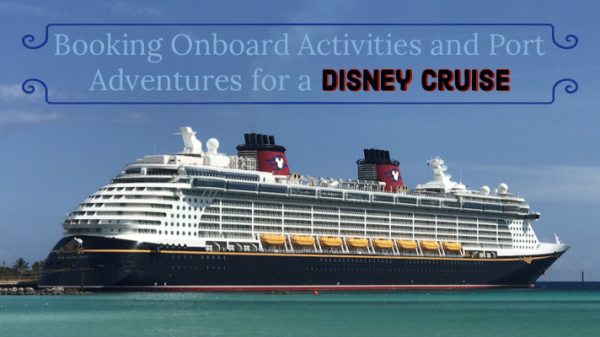 So you have booked a Disney Cruise! One of the most exciting things is planning all the fun things you are going to do onboard and at the ports. New Disney Cruise Line Cruisers are able to start booking port adventures and onboard activities for their Disney Cruise at midnight Eastern time 75 days out from their sail date. Before booking these extras, you must complete online check-in. The walk through of this process can be found here.
Once you have completed your online check-in you will be able to start the fun process of adding onboard activities, adult dining, spa activities and port adventures. Hopefully, before this day you have done some research and have an idea of what you want to book. If not, read up on some of the information here.
I find the process of checking in and adding activities easier on the computer since the screen is bigger and I can see more. Disney recently updated the Disney Cruise Line Navigator App to allow you to do this whole process from the app. Read more about that here. The process will be the same whether you are on the app or the website, the screens will just look slightly different.
Booking onboard Activities and Adventures:
You should already be logged in to the Disney Cruise Line page from check-in. You will then want to select "My Plans" or "Book Now" to begin selecting activities: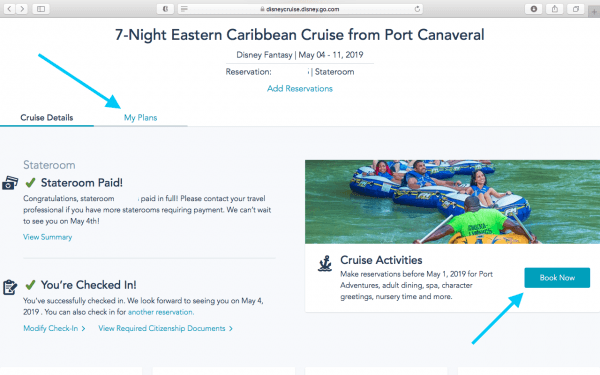 If it is too early to book activities you will see this error page: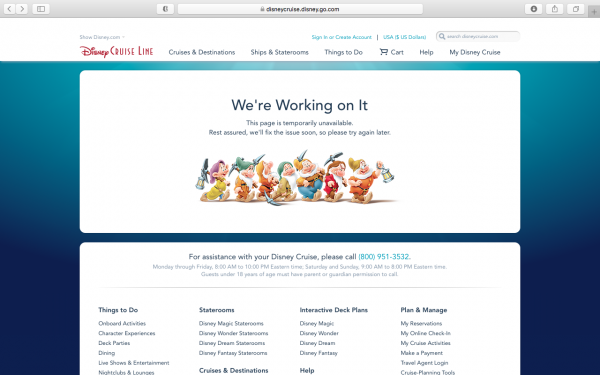 Otherwise you will see your itinerary: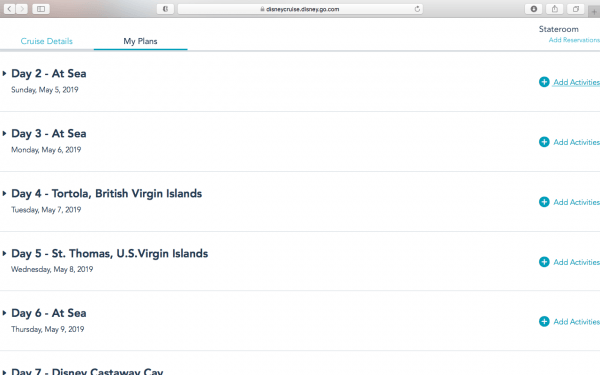 Then click on "Add Activities" the right. I recommend starting with "Onboard Fun" or "Dining":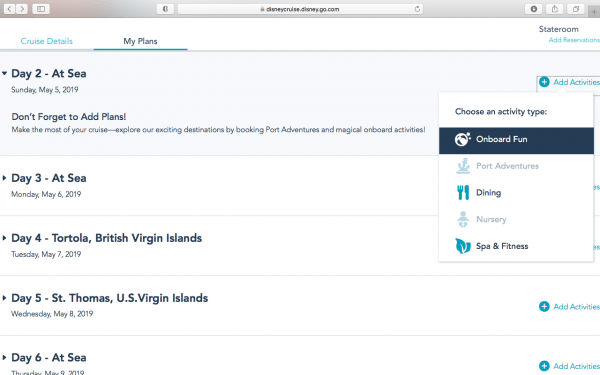 You will then be able to see the availability for that day: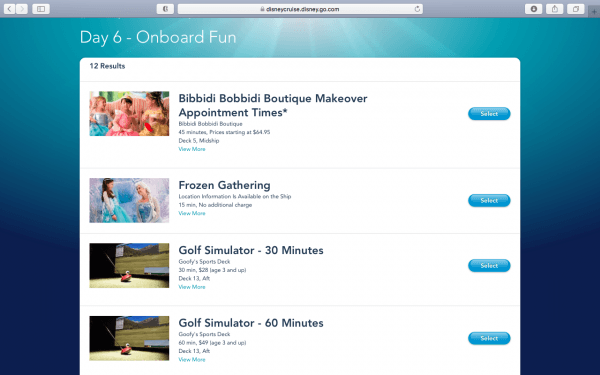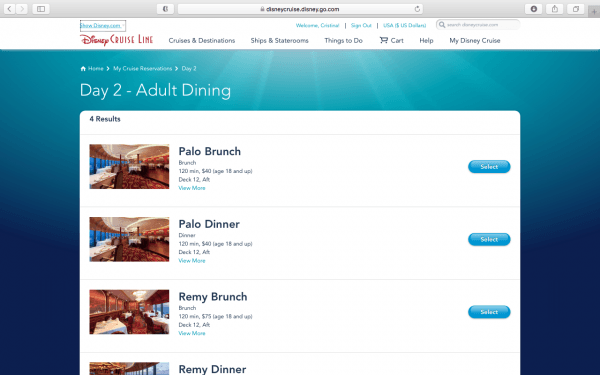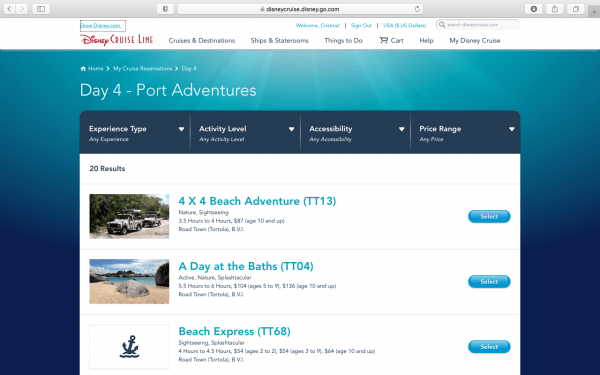 And what is not available: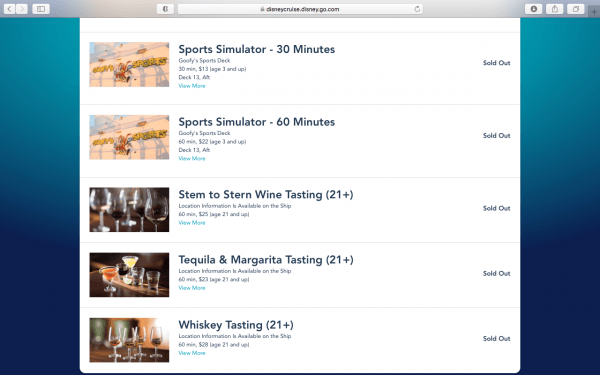 When you find something you would like to book you will have to click "Select". On the next screen you will choose the guests that will participate in the activity and then click "Check Availability":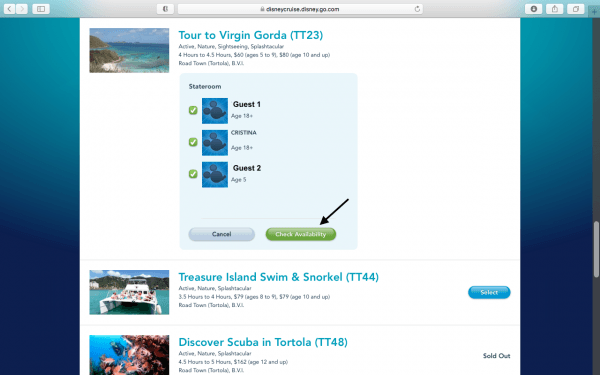 Popular activities can often sell out while you are in the process of booking. (Don't fret, I'll talk more about sold out activities later.)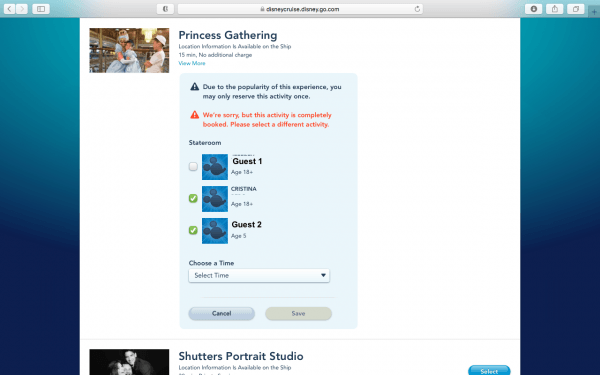 The website won't let you book activities that overlap, and you can only book Remy, Palo, and special meet and greets once each.
Your plan page will show you what you have booked and on what days:
Other extras:
Once you have all your activities, dining and port adventures booked you can also schedule a character call, add special requests, and add photography packages.
These options are found at the bottom of the main reservation screen: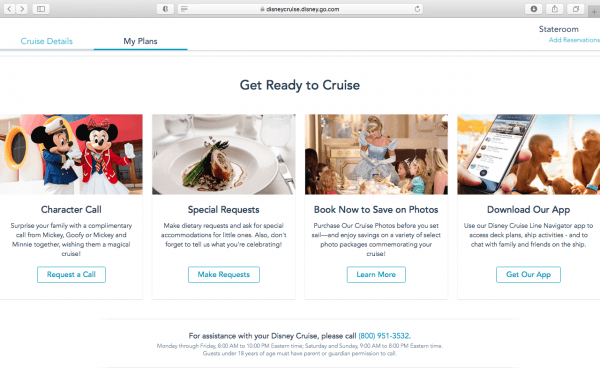 Choose from Mickey, Goofy or Mickey AND Minnie. The Character calls are fun and can be scheduled in advance or fairly immediately: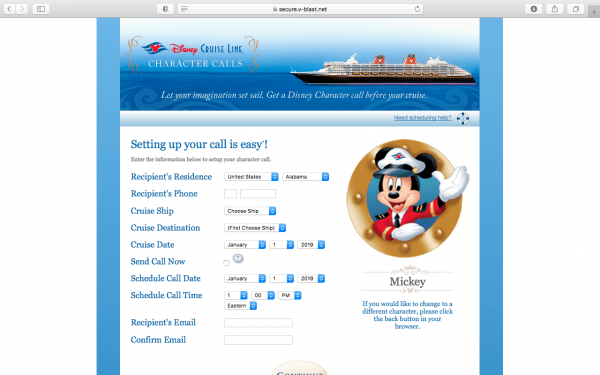 Inform DCL of any dining needs, extras for your child or onboard celebrations: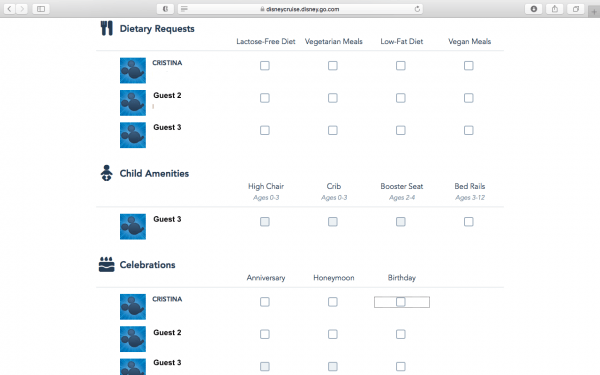 Select photo packages at a lower cost if purchased at least 2 days before the cruise than the onboard price: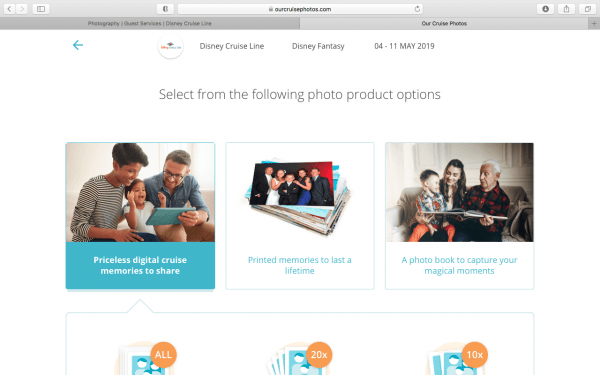 These photo packages can also be refunded before the end of your cruise if you decide you don't like the pictures or want to change packages.
Activities sold out?
You were up at midnight Eastern time, you checked in fast, but there wasn't any availability for the Frozen meet and greet!?! Don't panic! As a first time cruiser I was worried when I didn't get the Princess Meet and Greet, Palo brunch or a Mixology class. When I got on board the cruise ship I was able to go the dining location that was assigned for changes. They accommodated my changes from late dining to main dining and got me a perfect Palo brunch time.
Later I went to Guest Services and they found a Princess Meet and Greet. I waited on the Mixology class because I didn't know what my husband would want to do. We decided on Day 3 that we wanted to do a Mixology later that afternoon. Guest Services was able to add us into a class. So don't fret, just ask for availability once you get on the ship. You will have an magical cruise no matter what you pre-book 75 days out!
Incoming search terms:
https://www themouseforless com/blog_world/booking-onboard-activities-port-adventures-disney-cruise/
https://www themouseforless com/blog_world/booking-onboard-activities-port-adventures-disney-cruise/#:~:text=New Disney Cruise Line Cruisers process can be found here
https://www themouseforless com/blog_world/booking-onboard-activities-port-adventures-disney-cruise/#:~:text=One of the most exciting out from their sail date
activities disney cruise dayes
disney dream cruise activites on board
disney dream onboard things to book ahead
is it necessary to book disney cruise excursions at midnight
what are the Don't Forget to Add Plans! Make the most of your cruise—explore our exciting destinations by booking Port Adventures and magical onboard activities!
when can you book onboard cruise activities on disney cruiseline