This post may contains affiliate links for your convenience. If you make a purchase after clicking a link we may earn a small commission but it won't cost you a penny more! Read our full disclosure policy here.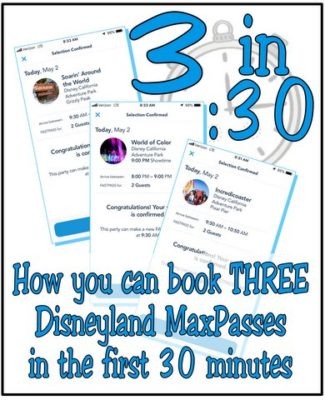 Want to max out your MaxPass at Disneyland? What if I told you you could be holding three MaxPasses within the first 30 minutes  — without having used a single one? Read on to discover how to get the most out of your morning in Disneyland or California Adventure.
But first
There are a few things you'll need to do before stepping up to the gates to make this strategy work:
1. Download the Disneyland app before arriving at the parks and become familiar with it. This is key, as it's how you'll be making your MaxPass reservations. Know how to check ride wait times and MaxPass/FastPass return times. Have an account set up with Disney and a payment method loaded.
2. Arrive EARLY. Best practice would be pulling into the parking structure or leaving your hotel an hour before the gates open. This particular Max-hack relies on being in the park well before the rope drops.
At the gate
As soon as your ticket is activated in a park (either one) for the day and you enter the turnstiles, open up your Disneyland app. Pay for the day's use of MaxPass if you haven't already — you will need the three-digit code from your pre-loaded credit card.
Make your first MaxPass right away — even before the park opens. In our example, I chose Soarin' Around the World, which had the earliest possible return time — a half-hour after the park opens at 9:00 a.m. Depending on what time you enter the park, some popular rides will already have a later return time.
The red arrows also show what time I booked the MaxPass and the time I can get another MaxPass, also a half-hour after park opening. I generally screenshot this page so I can refer back to my MaxPass return time and the time I can book another MaxPass from my app.
Disconnected MaxPasses
As soon as you book your first MaxPass, you can also get a bonus MaxPass for a show that is disconnected from the rest of the MaxPass times.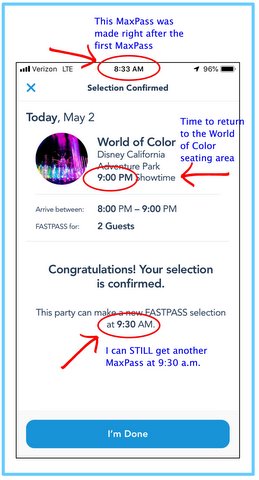 Right after booking my Soarin' MaxPass, I also got a MaxPass for the night's showing of World of Color. The return time isn't until an hour before the show, but you'll see at the bottom of our screen that we can still book our next MaxPass 30 minutes after California Adventure opens.
Rope drop
At rope drop, you'll be near the front of the pack and can head to whatever high-priority ride you wish. Radiator Springs Racers in Cars Land would be a good choice, as MaxPass/FastPass reservations go quickly. Or maybe Guardians of The Galaxy — Mission: Breakout.
Keep your eye on the clock during your first queue and attraction. Right at 9:30, you'll be eligible for another MaxPass, and you'll benefit if you book it as soon as you can.
30 minutes later …
As soon as we finished rope-dropping and riding Guardians of the Galaxy that morning, we paused outside the exit to choose our next reservation. Remember, we're holding a MaxPass for Soarin' good from 9:30 a.m.-10:30 a.m., so we want to choose our next time and attraction to complement it — no dashing back and forth across the park preferred!
Wait times and return will have started to climb by now. If I book an attraction with a short return time, I'd better ride Soarin' soon and be in the area of my next MaxPass. If I want a very popular ride like Radiator Springs Racers, the return time will be farther away (delaying the time I can get a future MaxPass).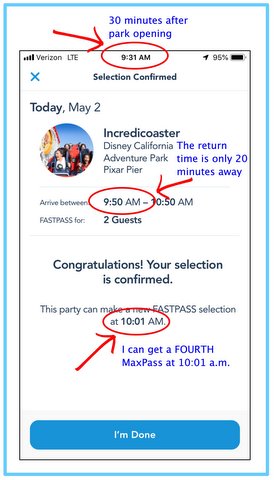 We opted to get a MaxPass with a short return time — Incredicoaster on Pixar Pier at 9:50 a.m., since no one in my group had experienced it yet. And with a short return time, we had the option of booking yet another MaxPass around 10:00 a.m.
To recap
We collected three MaxPasses within the first 30 minutes for two rides and an evening show, and rode an E-ticket attraction.  Our two pre-booked ride MaxPasses are ready and almost ready to use, and we have the option get another very soon.
By arriving early and keep our eye on the clock and the Disneyland app, we set ourselves up for a successful day with multiple rides on favorites and popular attractions.
Our example comes from California Adventure, but it would work equally well at Disneyland. Just substitute two high-priority rides like Space Mountain, Indiana Jones Adventure, or Matternhorn for the two first MaxPasses, and get a show MaxPass for Fantasmic if it is playing that evening.
Tips
If you have a ParkHopper you can book MaxPasses in either park. As MaxPass/FastPass return times advance to later in the day, you might start booking them for the park you want to visit in the evening.
Even if you aren't 100% sure you want to watch World of Color or Fantasmic, get the MaxPass early. Now that anyone can get one easily from their phone, they run out more quickly, sometimes by mid-morning. If you decide later not to attend the show, you can release your MaxPass for someone else to pick up.
If you want to get the most use out of the Disneyland app, don't rely on Disney's WiFi. It is spotty and slow.
Some show buildings have really bad phone service — I'm looking at you, Indiana Jones and Soarin'. You might not be able to check wait times or book a MaxPass from deep within the structure.
Using Single Rider Lines enhances your MaxPass use. If you can/will use these lines, pick other MaxPasses for attractions that don't have a SRL available.
Does it help to have three MaxPasses within the first 30 minutes? What rides would you pick for your first MaxPasses of the day? Let us know in the comments or on Facebook or Twitter! 
Did you like this article? Make sure to share it with your friends! Check below for easy ways to share!
Want to visit the Disneyland Resort? Contact The Magic for Less Travel for more information and a free, no-obligation quote.