This post may contains affiliate links for your convenience. If you make a purchase after clicking a link we may earn a small commission but it won't cost you a penny more! Read our full disclosure policy here.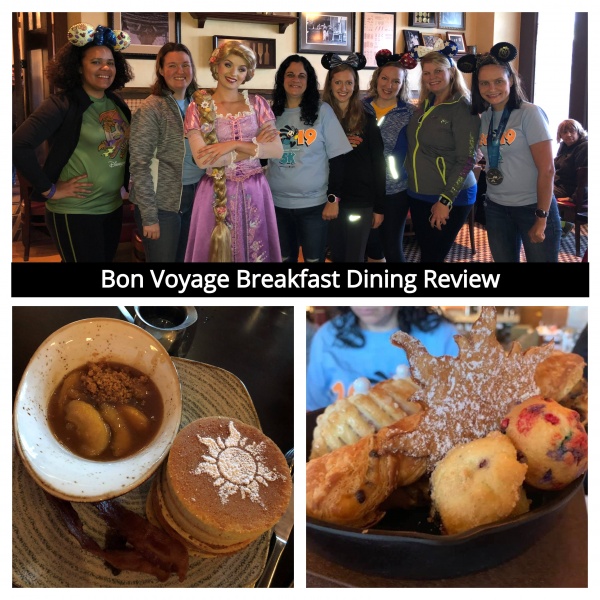 The Basics
The Bon Voyage Breakfast is a character meal located at Trattoria al Forno and features a fixed price menu.  Each table is served a basket of pastries to share, along with a choice of entrée from a menu.  Located at Disney's Boardwalk Inn, this is a character meal featuring many of the well known Disney couples.
The atmosphere
We entered the restaurant and were seated quickly in a half-full room.  We were a large all adult group, but we weren't the only adult only tables, but were in the minority.  There were lots of families enjoy a meal with their children, so if you were hoping for a nice, quiet breakfast, this is probably not the meal for you.
Throughout the meal, music would sound through the room and announce the arrival of a character.  As we were seated near the entrance to the room, we had a great view of each character's entrance.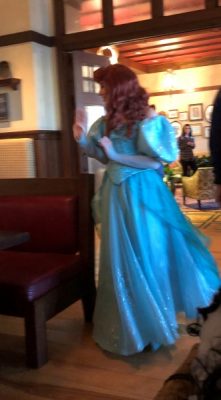 A couple of times throughout the meal, children were encouraged to get out of their seats and participate in a parade around the room.  While it was cute to see once, it was very loud and disrupted the character greetings.  We sat for quite a while between ordering and receiving our food without being greeted by a character, who all came one after another when we received our food.
One thing that surprised me is that I had read that the breakfast featured different Disney couples.  I assumed that they would arrive and greet together, but this was not the case.  Each character arrived in the room and greeted at our table individually.  On our morning, Rapunzel, Ariel, Flynn Rider, and Prince Eric.  Each came to our table, greeted us, had a short interaction, and took a quick picture.  The most challenging part of this was finding someone to take a picture of everyone at our table.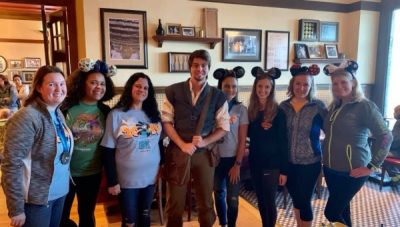 As we got ready to leave, we noticed that the previously uncrowded lobby was now filled to capacity.  Every table was also filled and the sound level of the room had risen when compared to the beginning of the meal.
The Bon Voyage Breakfast Food
We had barely sat down when our waitress dropped the frying pan of pastries off at our table to sit on top of a small raised platform- that slightly resembled a lantern if you squinted.  The plates were stored below the pastries that allowed for easy access to both for everyone at the table.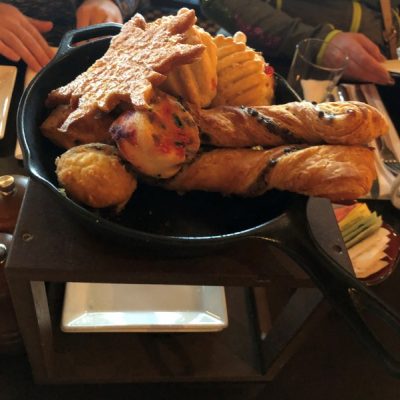 As we dug into the pastries, we were also handed menus.  There is also a kids menu available that differs slightly.  Every person ordered an entrée, and several members of my party ordered a Bloody Mary, which they all stated were quite good, though I did not have one myself.
I chose the Tower of Pancakes as my entrée with a side of bacon as my meat.  I was expecting to receive two or three fluffy pancakes, but instead received four slightly thicker, crispier pancakes stamped with a powdered sugar sun.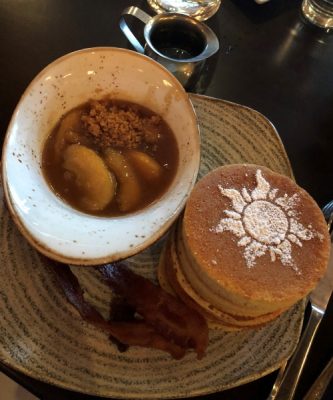 Others at the table had King Tritton's Shipwreck al Forno and the Royale Breakfast, both of which received a thumbs up from my table mates.
Overall
After eating here, I would agree that the Bon Voyage Breakfast was a good breakfast, however not one that we would repeat.  No one in our party had been there before, and we all agreed that we had no interest in returning.  We were glad that we had experienced the meal as it was something that we had all wanted to try.  But for $40 per adult meal, we thought that other meals had a better value.
Have you tried the Bon Voyage Breakfast before? What were your thoughts? Let us know in the comments, or on Facebook or Twitter!
Did you like this article? Make sure to share it with your friends! Check below for easy ways to share!
Want to visit Walt Disney World? Contact The Magic for Less Travel for more information and a free, no-obligation quote.

Incoming search terms:
https://www themouseforless com/blog_world/bon-voyage-breakfast-review/
bon voyage character breakfast
bon voyage disney world