This post may contains affiliate links for your convenience. If you make a purchase after clicking a link we may earn a small commission but it won't cost you a penny more! Read our full disclosure policy here.
Today, the newest Disney Springs restaurant has opened its doors. Blaze Pizza, which is one of the fastest growing restaurants in America, has opened in the Town Center section and features artisanal pizzas. Blaze's claim to fame is that they put their pizzas in an open flame oven for just 180 seconds, hence their motto of being fast fire'd.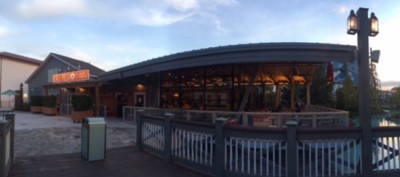 The Disney Springs location is themed after the town's old saw mill. For example, the table tops look like logs running through the mill, above the menu board is an old lathe and the menu board itself is held up by lumberjack equipment. Some of the wood found in Blaze Pizza is from a 100+ year old cypress tree from the Everglades. This wood was used all over different areas like windows and you can see a section of the tree as part of the wall decoration. Guests wanting to dine in this counter service location have the option to choose to dine either indoors or outdoors.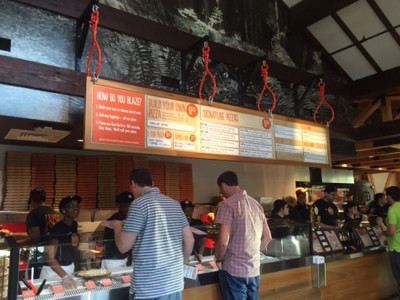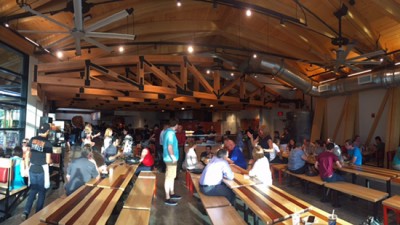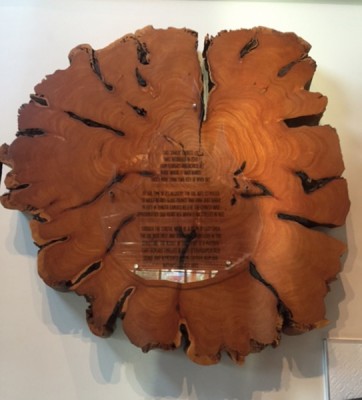 Blaze itself is all about being an individual. This is why they specialize in the create your own pizza option. (It sort of has a Subway or Chipotle vibe going on.) You get to build your pizza your way – so if you want a healthy pizza, build it healthy. If you want a not so healthy pizza, you can do that too. Blaze Pizza features both vegan and gluten free items too.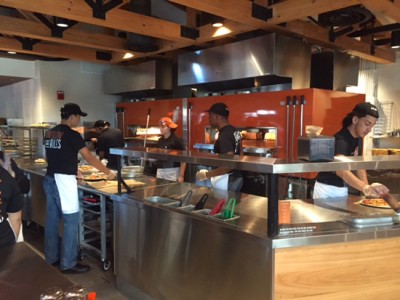 When creating your own pie, you can choose as many toppings as you would like, all for one price. At Blaze Pizza, so you are in control of your destiny. Here are the toppings you can choose to make:
Sauce
Classic Red Sauce
Spicy Red Sauce
White Cream Sauce
Garlic Pesto Sauce
Cheese
Feta
Goat
Gorgonzola

Ovalini

Mozzarella
Parmesean
Ricotta
Shredded Mozzarella
Vegan Cheese
Meats
Applewood Bacon
Grilled Chicken
Italian Meatballs
Italian Sausage
Pepperoni
Salame
Smoked Ham
Turkey Meatballs
Veggies
Artichokes
Banana Peppers
Black Olives
Cherry Tomatoes
Chopped Garlic
Fresh Basil
Green Bell Peppers
Jalapenos
Kalamata Olives
Mushrooms
Oregano
Pineapple
Red Onions
Red Peppers
Roasted Garlic
Sauteed Onions
Spinach
Zucchini
Finishes
Arugula
BBQ Sauce
Pesto
Olive Oil
Ranch
We tried the build your own with spicy marinara, Goat cheese, mozzarella, Italian sausage, pepperoni, red onion, green pepper and mushroom. It was quite delicious with a lot of great flavor, thanks to all the different toppings.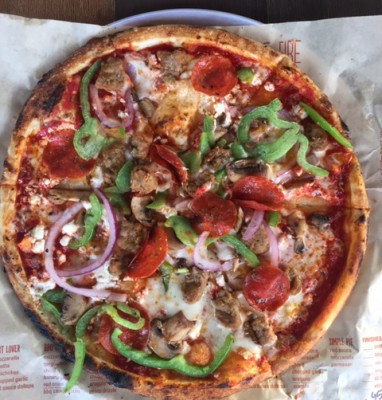 Now, say you don't want to create your own pizza. Say instead that you want to enjoy one of their signature pies. Well, you can choose to do that too! Signature options include:
Signature Pizzas
Red Vine:

Ovalini

Mozzarella, Cherry Tomatoes, Parmesan, Basil, Red Sauce, and Olive Oil Drizzle
BBQ Chkn: Chicken, Mozzarella, Red Onion, Banana Peppers, Gorgonzola, BBQ Sauce Drizzle
Art Lover: Artichoke, Mozzarella, Ricotta, Garlic, Red Sauce Dollops
Meat Eater: Pepperoni, Meatballs, Red Onion, Mozzarella, Red Sauce
Green Stripe: Pesto Drizzle Over Chicken, Red Peppers, Garlic, Mozzarella, Arugula
Veg Out: Zucchini, Mushrooms, Red Onion, Mozzarella, Gorgonzola, Red Sauce Dollops
Link In: Sausage, Red Peppers, Sauteed Onions, Mozzarella, Red Sauce
White Top: White Cream Sauce, Mozzarella, Bacon, Garlic, Oregano, Arugula
Simple Pie: Mozzarella, Parmesan, Red Sauce
We also tried the Red Vine, which is like a traditional Margarita pizza. It was very good with large slices of tomato. The flavors overall were very fresh.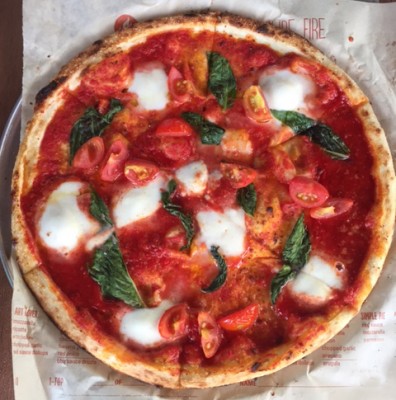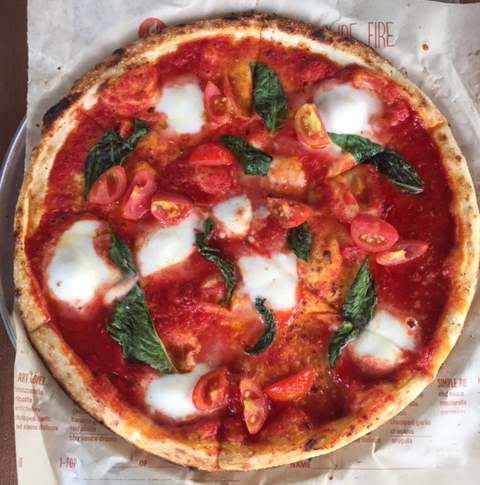 As far as the White Top goes, it has a lot of garlic, so beware, but it's very good. Tastes like carbonara.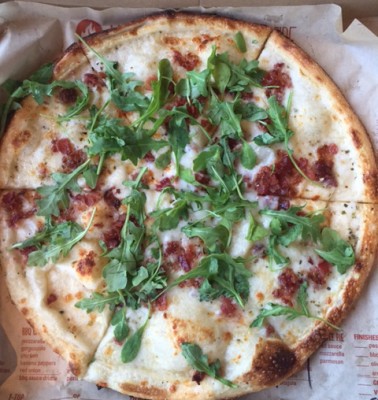 The Barbecue Chicken also had a great smoky flavor.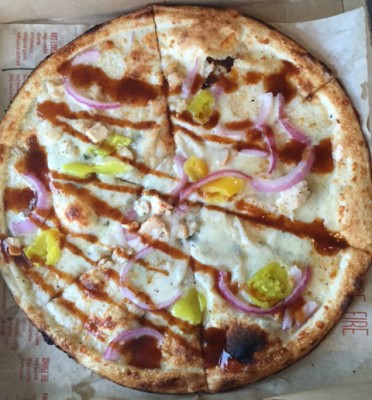 We also tried the Classic Caesar Salad which was decently sized and very fresh. The Caesar Salad included shaved parmesan, seasoned croutons, romaine, caesar dressing. These are made each day at Blaze.
The s'mores pie had a great milk chocolate taste. It was exceptionally good as well. Though if you aren't in the mood for s'mores, they also have a chocolate chip cookie and brownie.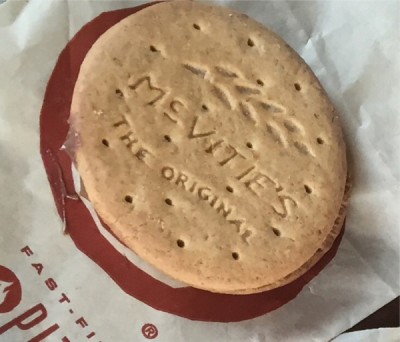 Blaze also features signature drinks. First the Blood Orange Lemonade is what they are known for. It was citrusy and tangy with a strong orange flavor. The Key Lime Mint Agua Fresca is low in calories and yummy. Initially it had a citriusy and lime taste, but finished with a mint aftertaste.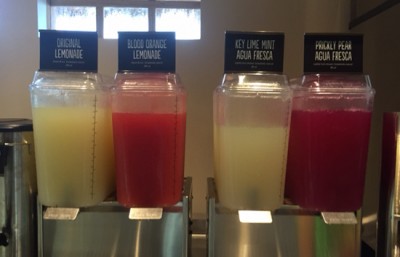 The pizzas overall were very light, not heavy at all, but they were still exceptionally filling. These weren't super greasy pizza offerings. The nice thing about Blaze Pizza is that everything is made in house. That includes the sauce and the dough, which sits overnight. That means ingredients and dishes are all exceedingly fresh.
Overall, the food at Blaze Pizza is very yummy and flavorful. It's also very reasonably priced. Even if you wanted to build your own pizza, it's under $10. The pizzas themselves are good sized, so if you were a couple who had smaller appetites, you could easily split a pizza and a salad, each grab dessert, if you wanted to and drinks and spend around $25. That is a very welcoming thing to hear about a restaurant at Disney Springs. However, that news mixed with the fact that Blaze Pizza serves up fantastic food means that it's likely this is one restaurant that will be extremely busy.
One thing is for sure though, at least for me. I cannot wait to make my next visit to Blaze Pizza at Disney Springs!
Are you excited to try Blaze Pizza? Have you ever tried it before? Share your thoughts of this new restaurant in the comments.
Disclaimer: We were invited to Blaze Pizza as part of a media event. I received no other compensation from Blaze Pizza, nor was I required to give a positive review. The opinions expressed are mine and my dining companions.