This post may contains affiliate links for your convenience. If you make a purchase after clicking a link we may earn a small commission but it won't cost you a penny more! Read our full disclosure policy here.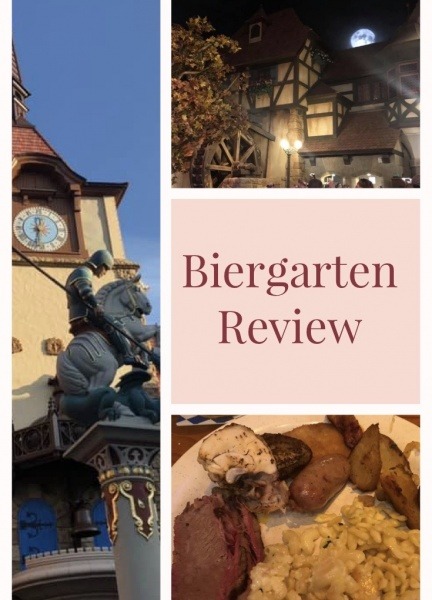 Editor's Note: This article was written prior to the parks closing due to COVID-19. We are not sure how dining at Biergarten will be changing moving forward.
If a fun, family dinner buffet, where you can make friends & feel like you've been whisked away to Germany is on your must do Disney list, look no further than Biergarten!
Located in the Germany pavilion at Epcot, Biergarten is a perfect German escape – equipped with a polka band! It has communal style dining, which means, unless your party is large, you will likely be dining at a large table with other families & couples. If this is not your thing, you may want to reconsider. However, I strongly encourage you try it out! I actually dined here solo, so I was concerned people would have a lot of questions or judge me. Instead, I actually made friends! I've heard of lots of diners being weary about this meal, but always leave satisfied, full & happy.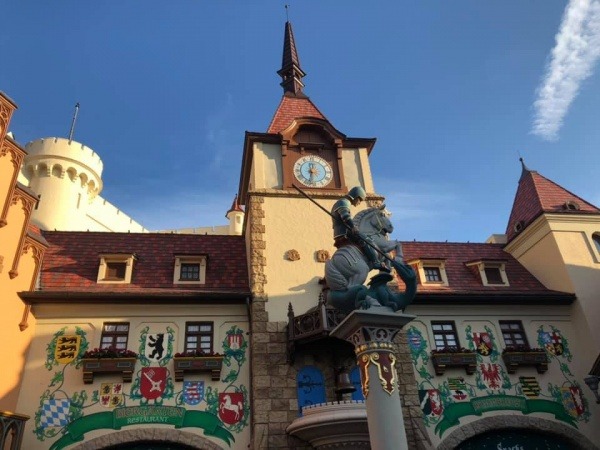 The inside of this restaurant looks like a traditional German village. The perfect atmosphere for a German buffet! With the polka band playing, you really feel like you are enjoying a night under the German sky. I love the ambiance here.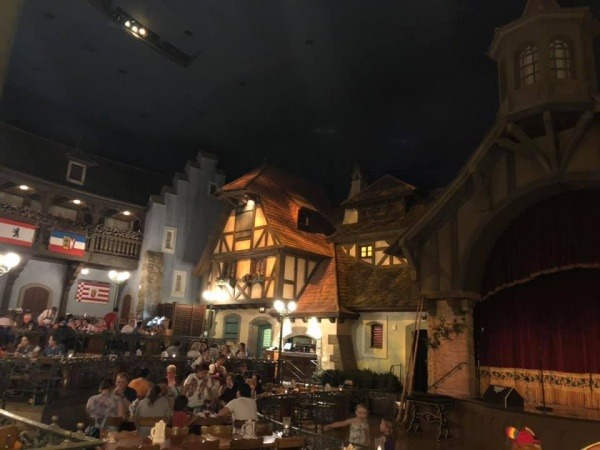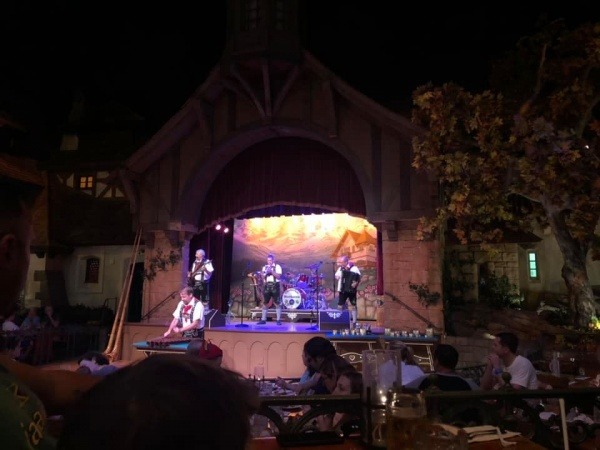 In true German style, for those 21 & over, your meal will start with the opportunity to have a 1/2 Liter or Liter German beer (or any other alcoholic beverage, but whilst in Germany…) Fun fact! The liter beer DOES in fact count as your drink credit if you are on the dining plan!! Amazing value. I chose to stick with a lager beer, because I am not always a fan of the darker or fruity beers. I had a Beck's Pilsner, which was delicious!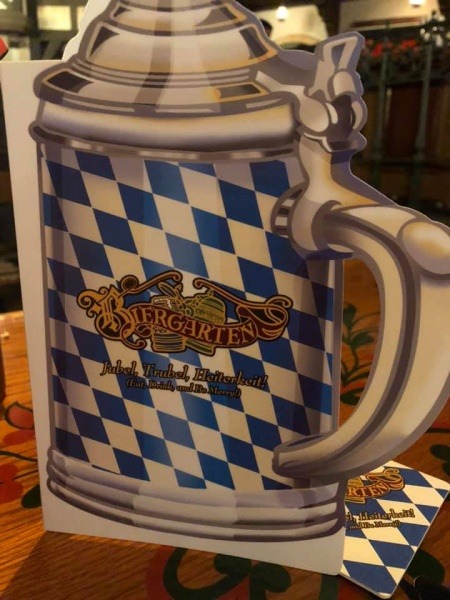 It was then time to hit the buffet. After dining around the pavilions for Food & Wine Festival most of the day, I wasn't very hungry! However, I still tried to sample what I was interested in. Always room for German food!
To start your meal, you can choose from a wide selection of breads, cheese, meats & salads. Make sure you get the pretzel bun, and the cheddar soup. It was absolutely amazing. I could've made a meal off that alone!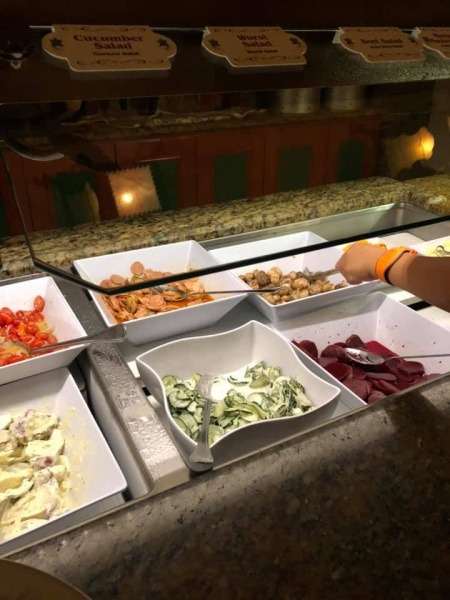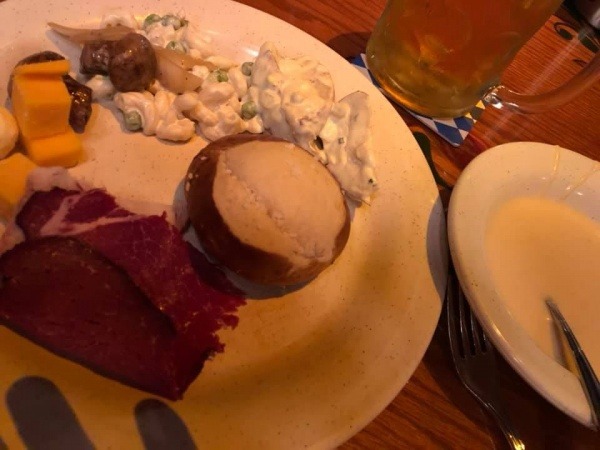 I then headed back up for my main course, where you can enjoy all the traditional German dishes! Everything from Sauerkraut, sausages, schnitzel, spaetzle to cabbage. There is also more traditional American type dishes to choose from, such as potatoes, rotisserie chicken, salmon & a carving station. You can also enjoy the kids menu, which includes things like chicken, hot dogs & macaroni & cheese. Pro tip! The mac & cheese is one of the best I have had!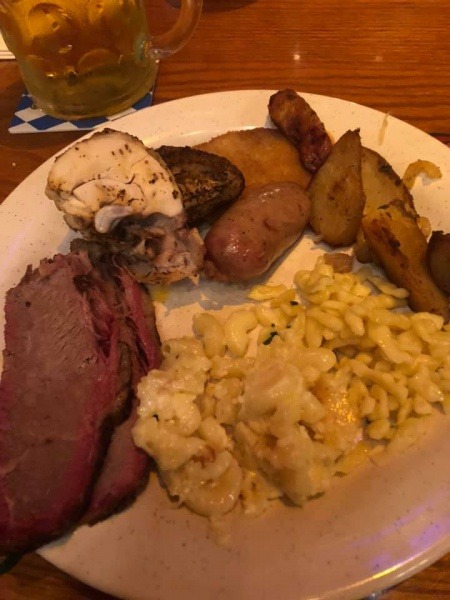 Everything was yummy. I especially enjoyed the spaetzle & schnitzel. I knew I enjoyed a good schnitzel anyways, but the spaetzle was new to me. It's a type of egg pasta dish, similar to the consistency of macaroni, but a different taste. Delicious!
For dessert you had your choice of several dishes. I opted for the German cheesecake -and FYI – you HAVE to have this. I would go to Biergarten JUST for this cheesecake. It doesn't look entirely appealing, but it is nothing short of melt in your mouth deliciousness. It doesn't have the texture of a typical cheesecake, and it does have some form of flour based cake in the layers. But, it does taste similar to cheesecake & is like a little bite of a cloud from heaven. Seriously, just take my word on this one. You won't be disappointed!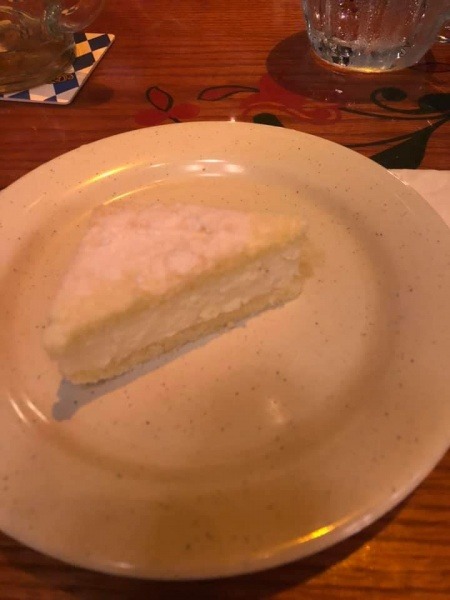 Overall, Biergarten is definitely one of my favorite table service restaurants on property. My only regret is that I didn't feel I could enjoy it because of Food & Wine that day. I will be back…but next time, it will be on a regular park day. Add this amazing restaurant to your bucket list! It is fun for all ages. The adults love the conversation, good food & beer, while the kids love the music & mac & cheese. Happy dining!!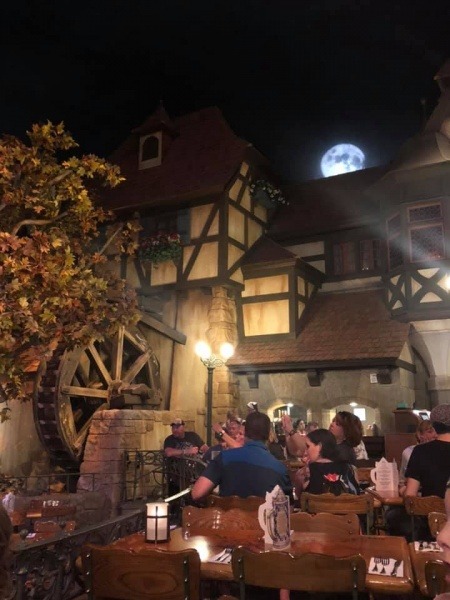 Have you dined at Biergarten? What are your thoughts? Let us know in the comments or on Facebook or Twitter!
Did you like this article? Make sure to share it with your friends! Check below for easy ways to share!  
Want to visit a Disney Destination? Contact The Magic for Less Travel for more information and a free, no-obligation quote.

Incoming search terms: