This post may contains affiliate links for your convenience. If you make a purchase after clicking a link we may earn a small commission but it won't cost you a penny more! Read our full disclosure policy here.
My family and I were able to visit the 2015 Epcot Food and Wine Festival several times during our last vacation. We had a wonderful time eating our way through the festival's food kiosks and sampling everything we could. There are so many options at the festival that it's good to approach your visit with an idea of which ones you're most interested in eating before you arrive. So I'm hopeful that this list of our favorite cheesy dishes may steer guests towards some of the best dishes at the festival.
1. The Canadian Cheddar Cheese Soup from the Canada Kiosk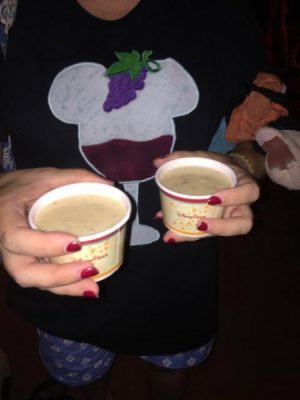 I would be remiss without including the cheddar cheese soup from the Canada kiosk. This soup is similar to the version served at Le Celier restaurant, albeit in a smaller portion. So this is an excellent way to score an old favorite without having the time and expense of a table service restaurant. The soup has a delicious cheese flavor without being too thick or greasy. If you're sharing with a group, you may want to pick up more than one of these, because they are small, and something the whole family may want to eat. In 2016, the soup is back, and being served with a pretzel roll, which should be a perfect addition. It retails for $4.75 or one snack credit.
2. Cheese Fondue with Sourdough Bread from the Cheese Studio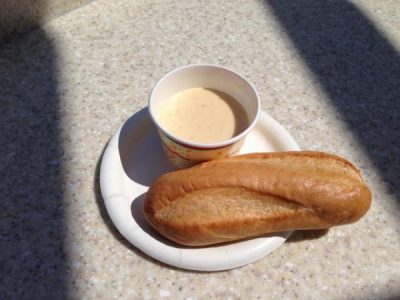 The Cheese Studio was a new addition to the festival in 2015. Unfortunately, it is not on the schedule for 2016. I'm hopeful that the cheese fondue will find it's way back in the future though. This cup of fondue had the right balance of saltiness and creaminess. It was the perfect amount of cheese for the fresh wedge of sourdough bread that accompanied it. The only downside to the fondue was that it had to be eaten quickly to avoid getting cold and stagnant. We did not have that problem, because it was eaten right away.
3. Trio of Artisan Cheese from the Cheese Studio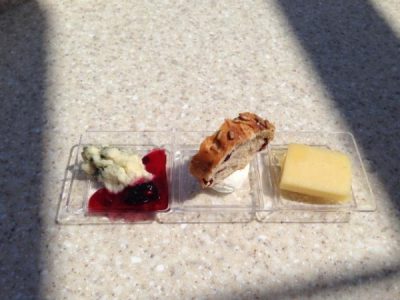 Even though the Cheese Studio is not returning for 2016, the cheese trio will still be found at the festival. This time, it will be located at the new "Wine and Dine Studio." The cheese trio was the most elevated use of cheese that we found at the event- pairing small samples of cheese with sweet and savory accompaniments. I was glad to have the option of softer and more delicate cheese. This trio consisted of goat cheese with cranberry bread, aged cheddar with honey, and blue cheese with berry port compote. This sampler was on par with the selections I've experienced at Disney signature restaurants, and at a much lower price. The cheese appear to be the same for 2016 with slightly different accompaniments, but it remains a recommendation for me. The fee for the cheese trio remains at $5.00 or one snack credit.
4. Schinkennudeln at the Germany Kiosk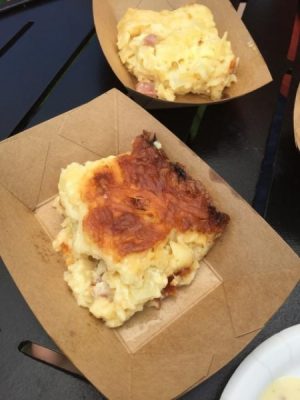 Prior to attending the festival, I had never tried schinkennudeln. However, a cast member at Epcot raved to us about it earlier in our trip, and we decided it was a must-have. This was definitely some good advice, because we loved this dish. Schinkennudeln is a lot like traditional macaroni and cheese, with a crunchy cheese top and pieces of diced ham throughout. I was so enamored with this dish that I've started making it at home (with the help of my Epcot Food and Wine Festival Cookbook). This dish is very child-friendly and the portion size is large enough to share. In 2016, it retails for $3.75 or one snack credit, and I think that's a bargain.
Honorable Mentions
Brazilian Cheese Bread from the Brazil kiosk- $3.75 or one snack credit
Kerrygold Cheese Selection from the Ireland kiosk- $4.25 or one snack credit
Have you tried any cheesy items at the Food and Wine Festival that you think should have made the list? If so, leave a comment and let me know!