This post may contains affiliate links for your convenience. If you make a purchase after clicking a link we may earn a small commission but it won't cost you a penny more! Read our full disclosure policy here.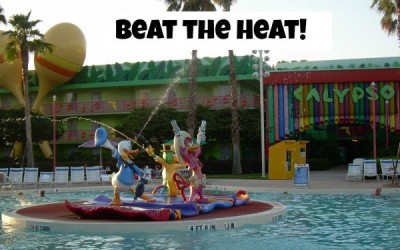 The summer months are a popular time to visit Walt Disney World, but during the summer in Central Florida the heat and humidity can take a toll on travelers!  We have always traveled to Walt Disney World during the hottest months of the year, and have learned how to best Beat the Heat!
Water!  Hydrate, hydrate, hydrate!  Drink before you are thirsty.  We bring water bottles in the parks and refill as needed.  If you are staying on site, a grocery delivery service is a good option for buying water bottles.  A filtered water bottle from home is another good option, though you can get free cups of ice water at any counter service location in the parks.
Clothes  I find clothes that cover skin, such as light loose-fitting carpis and t-shirts rather than shorts and tank tops, to be good because the sun is not directly hitting the skin.  Remember to wear hats and sunglasses for sun protection.  There are neck cooler bandannas, but my family did not care for having those on our necks.  I have seen other people use the bandannas.  Also, a mister fan on a lanyard can be a way to keep cool in the parks.
Quick Relief in the Parks  If there is shade on one side of a pathway, walk in the shade!  Cut through stores to get a quick blast of air conditioning.  Get wet on water rides such as Kali River Rapids and Splash Mountain.  If you're near a water play area such as the Casey Jr. Splash 'N' Soak Station in Fantasyland, go ahead and get a little wet!  In the heat of the afternoon, take in attractions that have seats and air conditioning.  Take breaks from walking in the heat by doing The Hall of Presidents or the Tiki Room in the Magic Kingdom, the Universe of Energy or American Adventure in Epcot, One Man's Dream in Hollywood Studios, or Finding Nemo: The Musical or Festival of the Lion King in Animal Kingdom.  Spend the afternoons, the hottest part of the day, doing relaxing shows and the 3-D movies.
Ice Cream!  Nothing hits the spot like ice cream on a hot day!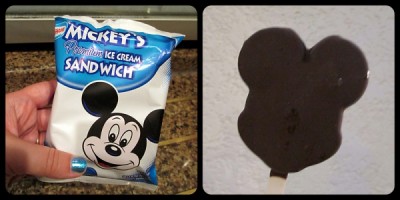 Take a break from the Parks  Consider going back to your resort for a mid-day swim!  An alternative of taking a swim break from the parks is to have lunch at a nearby resort.  For example, if you want to take a break from the heat in the Magic Kingdom, take the monorail over to the Contemporary Resort, Grand Floridian Resort, or Polynesian Resort.  You can plan ahead for this break with an Advanced Dining Reservation for lunch, or just enjoy a long quick service meal in a resort food court that is tucked away from the heat and crowds.  We enjoy having lunch at the Contempo Café, where we can watch the monorail come and go as we eat in the comfort of air conditioning.
Take a day off from the Parks  A day at Typhoon Lagoon or Blizzard Beach is relaxing and a good way to keep cool!  An alternative is a pool day at your resort, with a visit to Downtown Disney.
Don't be afraid to change plans if needed    When my kids were about eight and six years old, we had an exceptionally hot day at Hollywood Studios.  We did the right thing by returning to Pop Century for a mid-day break, and then we went back to the park for our Fantasmic Dinner Package at Mama Melrose's.  I took a good look at the kids during dinner, and saw that they were still lethargic from the morning's heat.  I asked them if they'd rather stay for Fantasmic as we had planned to do, or if they'd rather just go back to the resort to swim.  Their faces instantly lit up at the word "swim!"  Our server arranged for another family to use our Fantasmic passes, and after dinner we went straight back to our resort where the kids spent a happy few hours splashing around in the Hippy Dippy Pool.  I know that Fantasmic would have been good to do, but in the greater scheme of things everyone was smiling and happy that evening and we made a great vacation memory with our pool time.
Sunscreen  I saved the most important item for last. Our dermatologist recommends a sunscreen with 55 SPF, and says to reapply often (at least every two hours) if you are swimming or sweating.  Before swimming, apply sunscreen at least twenty minutes before getting into the pool.  Don't forget to use sunscreen on the tips of your ears and on your toes if they are exposed.  Use a lip sunblock with SPF 15.
The summer months can be a fantastic time to visit Walt Disney World!   Add some pool time, ice cream, and other "beat the heat" tips to your trip and you will have an awesome vacation!