This post may contains affiliate links for your convenience. If you make a purchase after clicking a link we may earn a small commission but it won't cost you a penny more! Read our full disclosure policy here.
On our last trip, we were fortunate enough to snag a dining reservation for Beaches & Cream Soda Shop. Beaches & Cream is located at the back of Disney's Yacht & Beach Club Resort– near the spectacular Stormalong Bay Pool.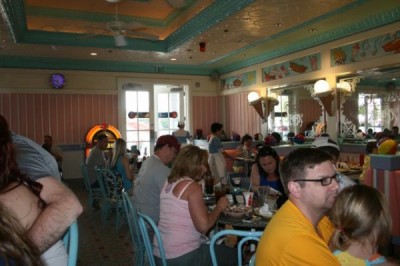 Seating at the restaurant
Keep in mind that it can be difficult to get a reservation for this restaurant, because it is so tiny. There are just a few tables, booths, and a counter to sit at. On this trip, we wound up at the counter, which was fun because we were able to watch our food and ice cream being made. It also seems like you get better table space at the counter than you might at the round tables in the middle of the restaurant, but you have to be ok with having your party seated all in a row. Decor at Beaches & Cream is like a casual diner/ice cream shop. It's bright and loud.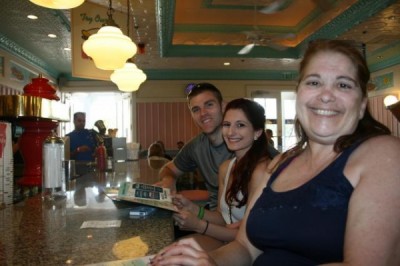 Our seating at the counter
The menu is filled with down home favorites like burgers, sandwiches, soup and salads. This means that the restaurant is a great option for picky eaters as well as for the budget minded traveler. Everyone in my party wound up ordering different items for dinner, so we had a nice sampling of the menu.
I opted for the grilled cheese with tomato bisque- one of my childhood favorites. The portion size on this was very good, and I wound up taking some of it back to our hotel so that I could save some of my appetite for ice cream. This was a more upscale version of grilled cheese, made with a six cheese blend and featured a buttery sourdough bread. The sandwich was perfect for dipping into the tomato bisque, which was rich and flavorful with nice pieces of tomato inside a slightly creamy soup.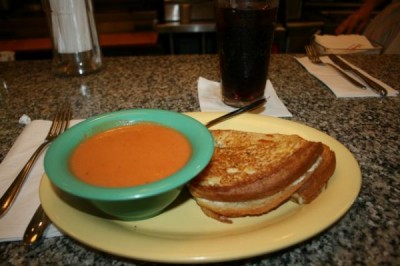 grilled cheese with tomato bisque
My mom opted for the Reuben sandwich, which she loved, but also could not finish. The Reuben featured roasted corned beef, sauerkraut, Swiss cheese and a smattering of thousand island dressing. My sister and her fiance both went even more basic- ordering a cheeseburger and a patty melt, respectively. Everyone was happy with their food.
French fries were thick but crisp, condiments like lettuce and tomato were crisp and fresh, and everything came straight off the grill, so it was hot and tasty. We opted for some regular sodas at the restaurant, but they do have a good selection of specialty flavored sodas, shakes, and beverages that you may not find in other Walt Disney World restaurants.
Reuben sandwich with fries
Honestly though, a big part of the reason we made reservations at Beaches & Cream was to try their ice cream sundaes. I am a huge fan of their "No Way Jose", which features chocolate and vanilla ice cream smothered in hot fudge and peanut butter sauce and topped with a huge serving of whipped cream. My sundae was just as good as I had remembered on previous trips, though I wish I would have split it with someone because it was gigantic.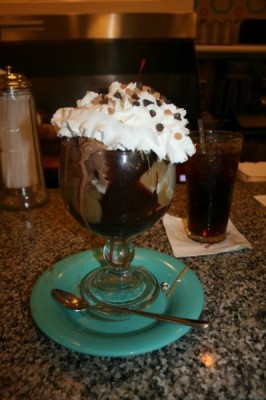 The No Way Jose
We also ordered a banana split, which was equally as monstrous in size, and as well enjoyed as my choice. We all left Beaches & Cream feeling very full and satisfied with our meals, as well as thinking it was a good value within Walt Disney World. Beaches & Cream also serves a famous "Kitchen Sink" dessert, which we have tried on previous occasions (with more people along to share it), which is filled with basically all flavors of ice cream and toppings offered in the restaurant. Whenever this frozen treat is ordered, an announcement is made throughout the restaurant, and lights and sirens go off in its honor. It's just another fun feature of this location.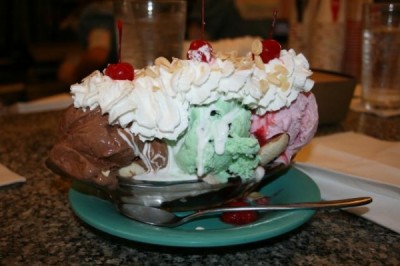 The banana split- no pineapple topping
Beaches & Cream counts as one table service meal on the dining plan if you dine within the restaurant and does take a Tables in Wonderland discount. Also, if you can't get a reservation, there is a takeout window for the restaurant, which is popular, but well staffed. We noticed a steady line of people coming in to take out ice cream treats.
I highly recommend Beaches & Cream as a fun family restaurant within Walt Disney World.
Have you ever tried Beaches & Cream? What's your favorite treat?
Incoming search terms:
https://www themouseforless com/blog_world/beaches-cream-dinner-review/