This post may contains affiliate links for your convenience. If you make a purchase after clicking a link we may earn a small commission but it won't cost you a penny more! Read our full disclosure policy here.
The Yacht and Beach Club Resort has always been one of my favorite places to stay at Walt Disney World. The décor and the rooms are always so bright and open and inviting. The gardens are always spectacular, and, of course, they have the best pool. After a day in the Florida sun those pools are always the best way to cool down. But one of my favorite things about the Yacht and Beach Club resort is Beaches and Cream Soda Shop restaurant. It takes you back to the good old days of great food, 50's jukeboxes, and vinyl seats.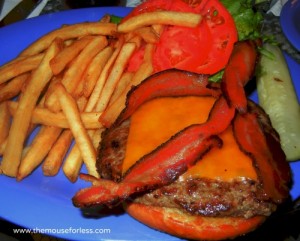 Beaches and Cream is for adults and kids of all ages looking for a good meal and an even better dessert. It has a complete kid's meal as well as a variety of sandwiches, soups, and salads. They also have an incredible and extensive dessert menu. You can come in for a quick bite at their "to go" counter.  It is fast but has a limited menu. Or you can wait and be seated at one of their tables or their main counter which is usually faster than a table. You can have a full meal or just stick to the dessert side of the menu. Here are some of my favorites if you're considering getting the whole meal, which I highly recommend.
Their sandwiches are beyond compare. Moist and dripping with flavor their burgers are the best I've ever had with crispy fries or onion rings on the side. Whenever I go there I cannot resist getting one of their burgers, sometimes with some bacon on top as well. But I've also enjoyed their Chicken Caesar Sandwich as well as their Pot Roast Sandwich. All are excellently prepared and leave just enough room for their other masterpieces.
For kids there are complete meals or a choice of appetizer, entrée, or dessert. The meals are grilled chicken strips or beef skewers both with a fruit cup as an appetizer and yogurt with fruit on top for dessert. The choices are a hot dog or cheeseburger and the choice of yogurt or a Mickey Mouse sundae for dessert.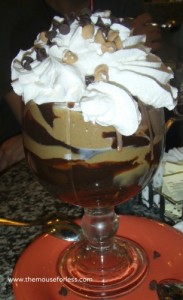 Now for the best part… dessert. They don't just serve ice cream here, but that is my favorite.  Occasionally, I have been cajoled, or forced, to branch out and try more than just my favorites and I have loved the all. You can get the regular scoop of ice cream or a milkshake in any flavor they have, but the best ice cream dishes are their specialty ones. The Milky Way Sundae and The No Way Jose are some of the most delicious creations I've had the pleasure of eating. The Milky Way Sundae is three scoops of vanilla ice cream, hot fudge, and caramel; while the No Way Jose is scoops of chocolate and vanilla ice cream covered in peanut butter and hot fudge. Both are amazing, although they do have scrumptious non dairy creations. Grilled banana bread and peanut butter is my mom's favorite and the apple cranberry pie is delicious as well, both can be served with or without a scoop of ice cream.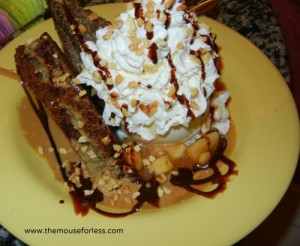 You can drool over the complete Beaches and Cream menu on The Mouse For Less site.  As you can see this soda shop is for all who love food. From fun specialty creations to excellently prepared old favorites I will always be happy to go there at any time.  The food is always well worth the wait!