This post may contains affiliate links for your convenience. If you make a purchase after clicking a link we may earn a small commission but it won't cost you a penny more! Read our full disclosure policy here.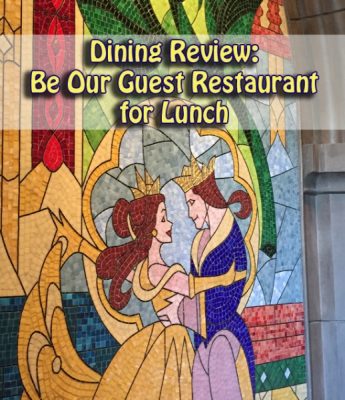 One of the places that was so hot a few years back, (and technically still is), is Be Our Guest Restaurant. When it first opened in New Fantasyland at the Magic Kingdom, you needed a bit of magic to get in and while it's still a hard reservation to get, and it's still a difficult get, though with three different meals to choose from, it's a teeny, tiny bit easier. (Not much though.)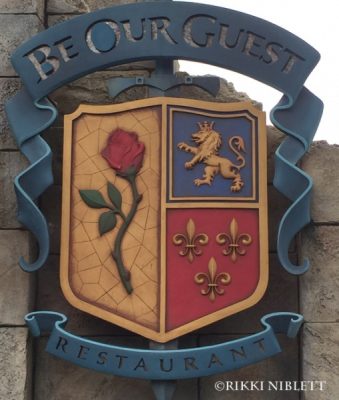 I was able to score a lunch reservation at the restaurant themed after Beauty and the Beast and it was as delicious as I remembered. Matter of fact, on this trip, I may have found a new favorite dish here!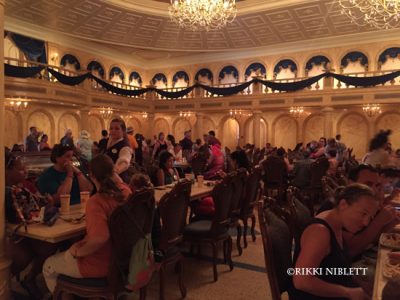 For those who don't know, Be Our Guest Restaurant serves breakfast, lunch, and dinner. Breakfast and lunch are quick service options and dinner is a table service meal. Be Our Guest is separated into 3 different dining rooms.
The main hall is themed after the ballroom that's so infamous in the movie. This room is big and cavernous and because of that, it can sometimes get loud in here. If you are lucky though, you can sit by the window and watch as it snows. The second room is themed after the West Wing. Here's you'll see the enchanted rose and also keep your eye out for the portrait of The Beast that changes during your meal. This room is kind of dark, (and can be scary for little ones) so just be aware of that. The third room is themed after the Rose Gallery. Here you will find lots of artwork on the wall, as well as giant figures of Beast and Belle dancing.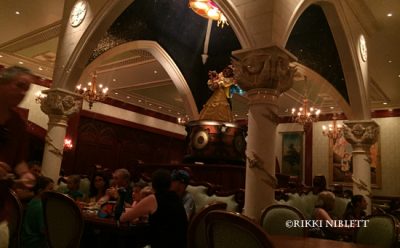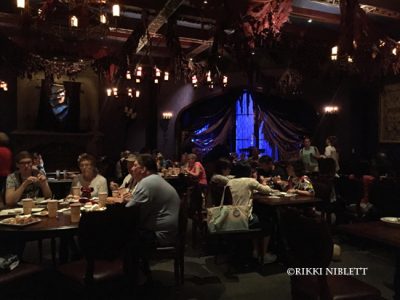 As I mentioned, I dined here for lunch, so during lunch, you walk past the suits of armor (pay attention, you may hear them speak) and then you make your way into the study. (Do keep in mind that you can pre-order your lunch here, which will allow you to skip the line portion). If you don't pre-order, you will place your order at one of the ordering kiosks.  Here you can make substitutions and specifications about your meal.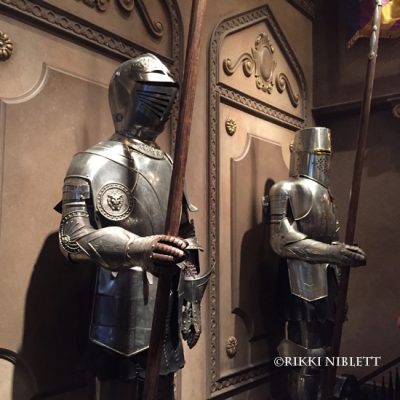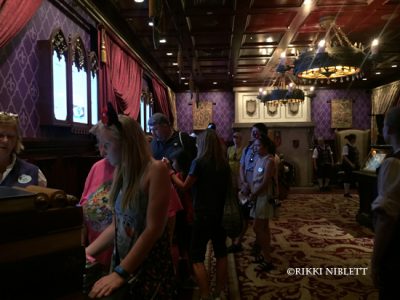 Once you place your order, you will go find a seat. But wait…how does Disney know where you are? They will have you either scan your MagicBand or they will hand you a Magic Rose. (Spoiler alert….they use RFID technology to tell where you're seated.) Your meal will then arrive a few minutes later, via cart.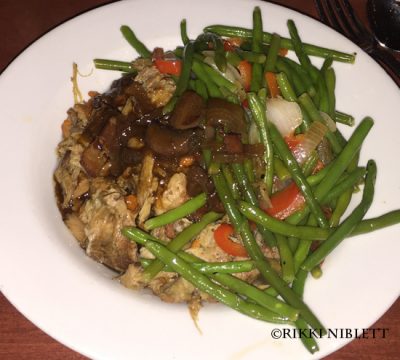 On this trip, I got my favorite dish, the Braised Pork, which is Slow-cooked Pork with Vegetables and Bacon served with Mashed Potatoes and Green Beans Jardiniere.
This dish is huge and if you are someone with a smaller appetite, I honestly think you could split this dish between two people, especially if you are grabbing a cupcake too. I found the meat this time to be a little fattier than I would have liked. I did find that it had good flavor though. There were ample amounts of green beans, which were waxy and had that fresh crunch to them. The mashed potatoes could be found on the bottom and were your traditional mashed potato dish. They didn't stand out terribly, but were satisfactory.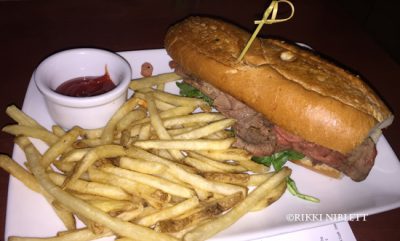 My husband got the Carved Prime Chuck Roast Beef Sandwich. This was served warm on a Baguette with Horseradish Sour Cream and Pommes Frites (otherwise known as french fries.) He let me try a bite of this and let me tell you…this was GOOD!  The meat was tender and juicy with a delightful flavor. The horseradish added some zip and the fries were my favorite kind…as I much prefer a skinny fry to a super thick one. (I know…I'm very much in the minority.) I think that the next time I visit Be Our Guest, I'll be getting this sandwich!
I find that this is an expensive lunch, but I also feel like the quality is better than most of the other counter service restaurants. To me, most of the meals that you can enjoy here are more along the lines of something I would eat for dinner, rather than lunch, so I will often grab a late lunch here, then snack the rest of the evening. It helps to justify the cost a little easier.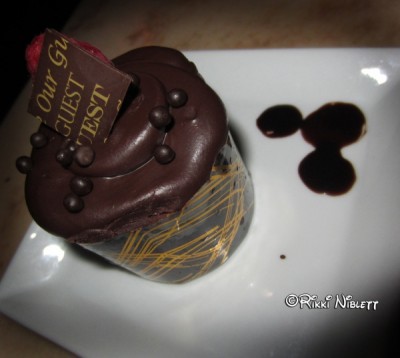 While I didn't get dessert this time, I would be remiss if I didn't strongly suggest you pick up the triple chocolate cupcake. For a chocoholic, this thing is the bee's knees! It's so rich and incredible. But, I will say, the wrapper that's on it makes it exceedingly hard to eat.
Of course, there's also the Grey Stuff Cupcake…which is also an excellent choice.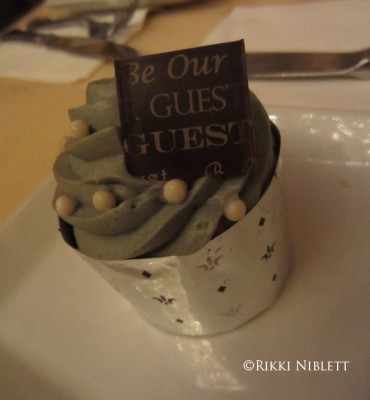 Be Our Guest Restaurant is still a delightful experience. I have enjoyed all of my meals here, you know, when I can actually get in.
What is your favorite dish for lunch at Be Our Guest Restaurant? Share your experience in the comments.