This post may contains affiliate links for your convenience. If you make a purchase after clicking a link we may earn a small commission but it won't cost you a penny more! Read our full disclosure policy here.
I recently took a trip to Walt Disney World with a longtime friend and fellow Disney lover. Having never visited Be Our Guest Restaurant in the past (and always looking for something new to explore), we decided to check it out for lunch on the last day of our trip. It took us weeks to get the reservation, but all of that time on My Disney Experience was worth it! Here, I'll be sharing my review of
Be Our Guest Restaurant
.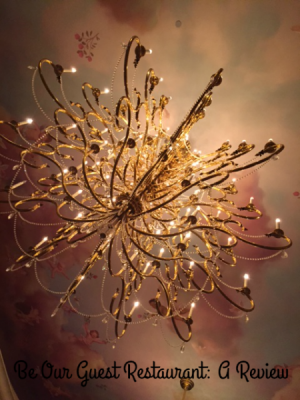 The Atmosphere
The most striking thing about dining at Be Our Guest Restaurant has to be the atmosphere. The restaurant, located in New Fantasyland in the Magic Kingdom, is inside Beast's castle, and no detail is left forgotten. From the moment you step inside the castle, you are immersed in the regal dining experience. Talking suits of armor greet you and offer pleasantries as you wait in line to place your order in the library. You can choose to dine in one of three unique rooms: the ballroom, Beast's forbidden West Wing, or a den complete with photos of Belle and the Beast and a life-sized music box. We opted for a seat in the ballroom.
This enormous room is an exact replica of that from the movie! Large chandeliers and paintings of cherubs adorn the ceiling, and a large window gives you a peek of the snowy day outdoors! We visited during the holiday season, so a large Christmas tree and many wreaths decorated the ballroom. Beast's West Wing was also worth a quick stop during our lunch; the room is torn to shreds by the Beast, and the famous rose is seen withering away.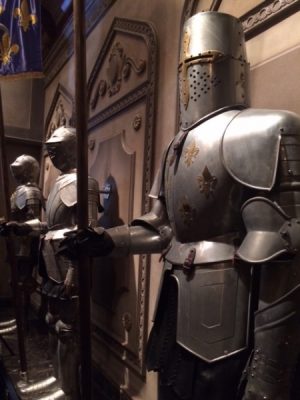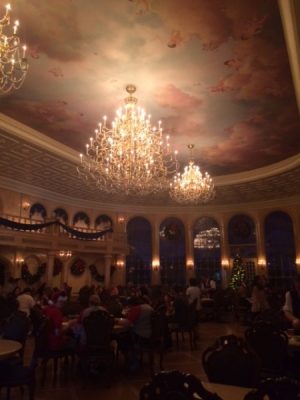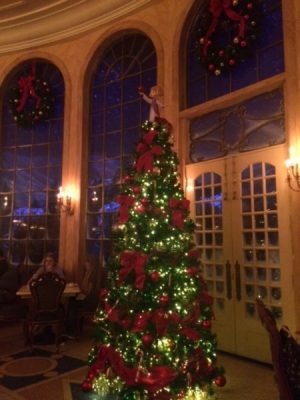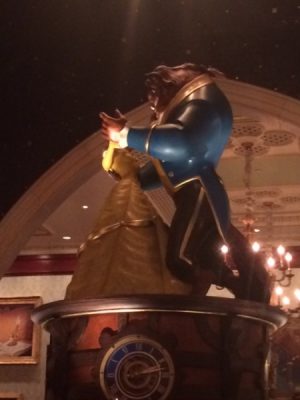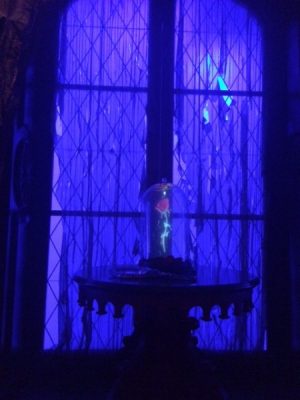 Be Our Guest Restaurant Menu
During lunchtime, Be Our Guest is a counter service restaurant. Lines form in the library, where 12 kiosks are available to order your meal. Pre-ordering is also available, if you like to plan ahead and skip the wait!
We found the menu to be quite nice; soups, salads, sandwiches, and entrée platters were available, and substitutions could be made, even using the kiosks. We ordered two roast beef sandwiches with horseradish mayo; I substituted the French fries for green beans. The roast beef was on the rare side, and was very flavorful; I often find roast beef to be dry, but this was anything but!
We also went dessert crazy, choosing three cupcakes to try! Among them were the Master's Cupcake (a chocolate cake topped with "the grey stuff!"), the lemon meringue, and the triple chocolate. All three were delicious, moist, and flavorful, though smaller than you might see elsewhere in the park. We also ordered a fountain drink and a coffee; we filled our own beverages in the ballroom, and were able to go back up for refills if we chose.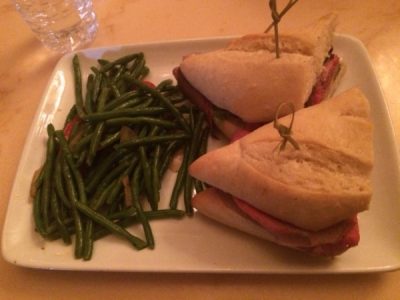 Final Thoughts
We enjoyed our lunch at Be Our Guest immensely! The atmosphere of the restaurant was beautiful; every inch of the restaurant was ornately decorated and themed. The holiday decorations and Christmas tree added even more magic to our dining experience. We both enjoyed the roast beef sandwiches, and found the ordering kiosks easy to use and to make substitutions with! The cupcakes were delicious and flavorful, especially the Master's Cupcake, complete with The Grey Stuff. We agreed that we will definitely return, and would love to try table service dinner!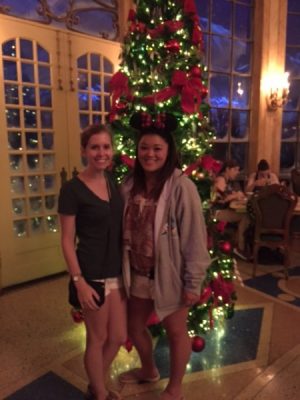 Have you experienced Be Our Guest Restaurant at lunch yet? What did you think of the meal? Share your thoughts in the comments.