This post may contains affiliate links for your convenience. If you make a purchase after clicking a link we may earn a small commission but it won't cost you a penny more! Read our full disclosure policy here.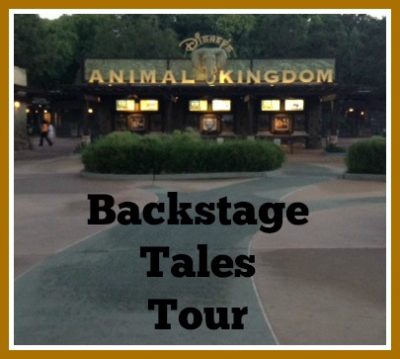 The Backstage Tales Tour at Walt Disney World's Animal Kingdom Park is one of the several tours and backstage experiences.  This tour includes onstage and backstage visits with animals in their habitats.   There are also visits at the Animal Nutrition Center to learn about how food is prepared for the animals and at the Animal Program Administration Building to learn about conservation efforts.  A Veterinary Hospital visit and a fun activity involving the cotton-top tamarins end the tour.
The tour offers a full morning of learning fascinating 'tales' of how the animals of Animal Kingdom are cared for and how the Walt Disney World Company participates in conservation efforts.
Things to Know Before the Backstage Tales Tour
The current cost of the tour is $90 per person, and guests must be 12 years old or older to participate.  A reservation for the tour can be made 180 days in advance by calling (407) WDW-TOUR.  Photography is encouraged in public areas of the park, though phones and cameras must be put away during backstage visits.  Some walking is involved, but we boarded a minibus to visit some backstage areas.
The tour starts promptly at 7:30 a.m. near the entrance of Animal Kingdom, and I was told to be there no later than 7:15 a.m.  Resort buses do not run that early, so I took a taxi to Animal Kingdom.  The tour lasted nearly four hours.
The Beginning of the Tour
Upon arrival, we were given name tags and a headset hearing aid by our two tours guides.  The tour consisted of only three people (including me) and we all agreed that with just the five of us we could forgo the headsets.  I felt as if I were on a private tour!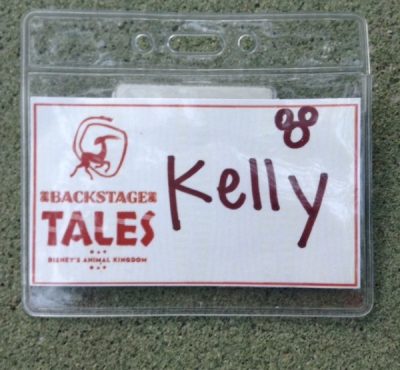 As we walked from the park entrance to the Africa section of the park, the tour guides told us stories about Walt Disney's love for animals and about the history of the Animal Kingdom Park.  Along the way, they showed us some details.  One of my favorites was this hidden reference to Joe Rohde, an Imagineer who helped developed the park.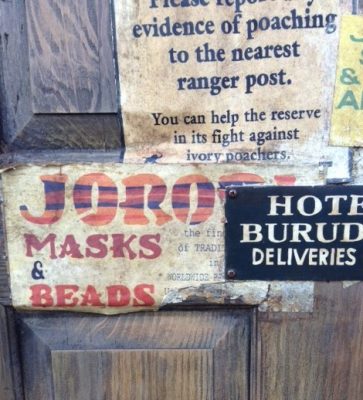 The Hidden Mickey in the pavement was another favorite detail, as well as hearing about how the park was designed with the spirit of exploration in mind.  Animal Kingdom is loaded with wonderful details to enjoy!  It is a park to tour at a slow pace to savor how well those details pull together the atmosphere of the park.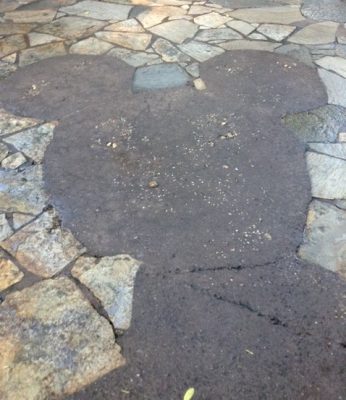 Before we went backstage, we walked along part of the Gorilla Falls Exploration Trail.  A Cast Member met us in the aviary and told us about birds.  While we were listening, a good number of Taveta Golden Weavers surrounded us because they were waiting for feeding time.  We donned gloves, and helped the cast member feed the birds!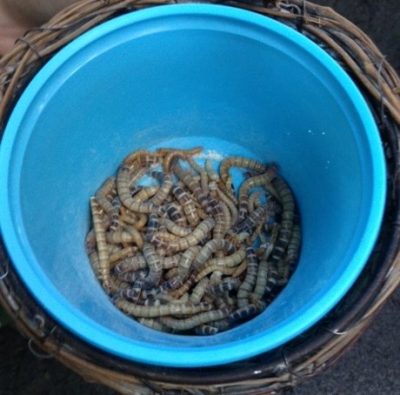 The Backstage Tales
Backstage, we visited inside the Elephant Farm and saw the rhinoceros habitat.  At both locations, Cast Members had us chuckling over the personalities of the animals while educating us about the care they receive.  We also visited a building with invertebrate insects, which had me feeling creepy-crawly but I stepped out of my comfort zone to have a close look.  Each animal keeper was passionate and knowledgeable.  Whether they cared for a hissing cockroach or an elephant, they were enthusiastic to share information with us.
One of my favorite stops was the Animal Nutrition Center, where they make four tons of food daily!  Each animal has a special diet, and the ingredients looked so fresh that I would have felt comfortable eating the vegetables that went into the foods.
A stop at the Animal Program Administration Building provided a short rest.  We were given water bottles to keep and were offered coffee, tea, and a crispy rice treat.  While resting, we watched a presentation about the sea turtles at Disney's Vero Beach Resort.  We also paid a brief visit to the Veterinary Hospital.
My favorite part of the tour was the last activity.  While still backstage, we were led to a table with various plants and natural fragrance sprays.  We wore gloves again, and we each made a snack and stimulation box for the cotton-top tamarins to enjoy.  Once our boxes were complete, we left the backstage area and a Cast Member put our boxes into the cotton-top tamarin habitat.  We were able to watch the cotton-top tamarins explore their new treats!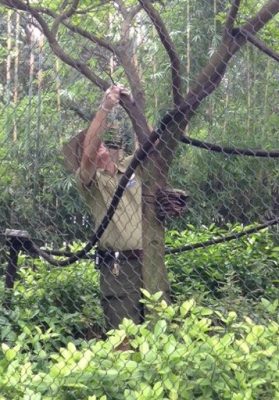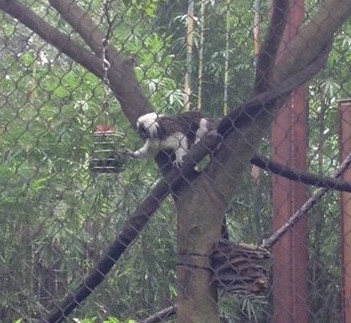 Final Thoughts
The Backstage Tales tour was a highlight of my trip, and I learned a lot about animal care.  Our two tour guides were excellent and every Cast Member was enthusiastic about animal care.  It's a tour I'd recommend!
Have you done any of the Walt Disney World backstage tours?  Tell us about your experience in a comment below.

Incoming search terms:
https://www themouseforless com/blog_world/backstage-tales-tour-disney-animal-kingdom/
animal kingdom backstage tour
disney bsck stage tails
disneys animal kingdom special backstage tours