This post may contains affiliate links for your convenience. If you make a purchase after clicking a link we may earn a small commission but it won't cost you a penny more! Read our full disclosure policy here.
Homecomin' is always on my list of must-do Disney Springs restaurants. So when a brand new brunch menu was announced, I couldn't wait to book a reservation. Originally only offered on Sundays, it was recently announced that Art Smith's Homecomin' Brunch will now be available on Saturday too. Exciting news!
If you have never been to Homecomin', this restaurant offers Southern style food that tastes like it was cooked at home. You will also find some fun drinks and a little bit of Southern charm. It's great for lunch and dinner as well as brunch.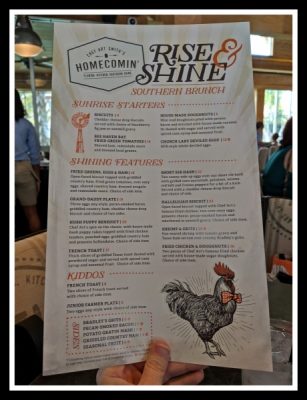 With so many great restaurants at Disney Springs, this one stands out as one of my favorites. They have a delicious selection of appetizers and entrees. Their desserts are to die for. Let's dig in!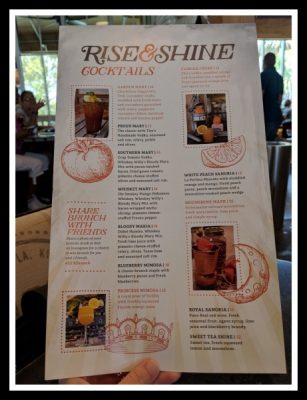 The item on Art Smith's Homecomin' Brunch menu that immediately caught my eye was the Hush Puppy Benedict. I love hush puppies and have never seen them incorporated into a brunch item, so there was no question. I was ordering this!
When my meal arrived, I was excited. There were all kinds of delicious elements in this dish. The hush puppy cakes are at the base of this dish with ham, crispy chicken fingers, and poached eggs piled high on top. Hollandaise sauce and chives are the finishing touch. All of the ingredients looked yummy.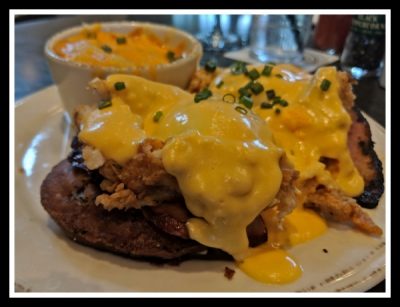 All of the "toppings" were delicious and went together well. I really liked the combination of flavors. Sadly, the hush puppy cakes, which should have been the star of the show, just weren't. The flavor was good, but one of my cakes was overdone and very crispy. I was expecting it to be crispy on the outside, but the soft middle that should have been there, was dry and crunchy instead. One of my cakes was ok, but the first was borderline hard. I was a little disappointed and I am hoping this was just a fluke since I did get one decent hush puppy cake. Still, the other ingredients were delicious enough that I would order this again.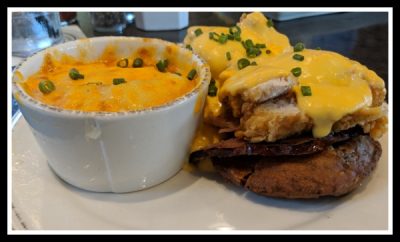 My entrée came with one side and I chose the potato gratin mash. Now THIS was the star of the show! So much melty, cheesy, potato goodness. They were so good! As much as I love some of the other sides, I will have a hard time ordering anything but this from now on.
My friend ordered the Grand-daddy plate. If you are looking for a meal that has a little of everything, this is the one for you. Eggs, bacon, ham, and a biscuit are all included. The best part is that you get to choose two sides. I was fortunate enough to try a bite of the pecan-smoked bacon and I really enjoyed it. If I could have added an ingredient to my dish, it would have been this bacon.
We also ordered white peach sangrias to go along with our entrees. This is a great drink for summer. It was perfectly fruity and refreshing. Even though I didn't order one this time, I also tried the Sweet Tea Shine on another visit and would recommend it. It's a Homecomin' original that is very tasty.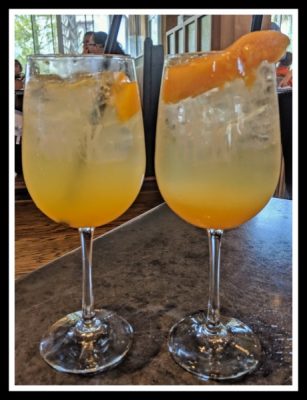 My only regret about this meal is that we were too full to order some Church Lady Deviled eggs. I have had those many times before and I love them. If you have the room, I definitely recommend ordering these.
We were very surprised to find that while we were sitting down to brunch, Chef Art Smith himself was visiting the restaurant! We were lucky enough to say a quick hello. My friend also got the opportunity to ask one of our burning questions…who is the church lady that those amazing deviled eggs are named after? With a fond look in his eyes, Chef Smith replied, "My grandmother." So now we know who to thank for sharing the recipe for those eggs!
I definitely recommend visiting Homecomin' at any time of the day, but brunch was something special. Now with the option to visit on Saturday or Sunday, I know will be back for sure. I think those hush puppy cakes deserve a second chance.
Have you tried the new Art Smith's Homecomin' Brunch offering? Do you have a favorite entree or drink? Let us know in the comments!
Did you like this article? Make sure to share it with your friends! Check below for easy ways to share!
Want to visit Walt Disney World? Contact The Magic for Less Travel for more information and a free, no-obligation quote.