This post may contains affiliate links for your convenience. If you make a purchase after clicking a link we may earn a small commission but it won't cost you a penny more! Read our full disclosure policy here.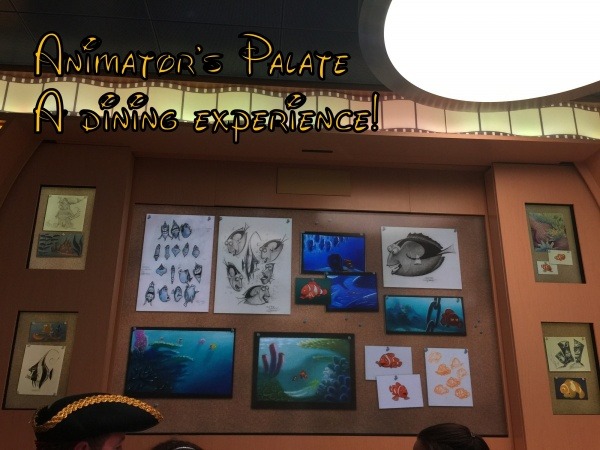 Animator's Palate is an amazing dining experience you'll have on board the Disney Dream, Fantasy. Magic, and Wonder. Perhaps you've heard a little about this restaurant and wonder what it's like to dine there?
Dining at Animator's Palate is definitely an experience that goes way beyond the food. Don't get me wrong, the food is amazing. However, the restaurant itself is truly the star of the show here.
The Atmosphere
My husband and I dined at Animator's Palate on the second night of our cruise on the Disney Dream. When you walk in, the animator's sketches all over the walls immediately draw your eyes. Of course, there are also adorable Mickey Mouse themed chairs and more, but it was truly the drawings on the wall that captured my attention.
On the Dream, the drawings were all of characters from Finding Nemo, which happens to be one of my favorite movies. While the restaurant is large, just about every seat has a view of numerous drawings. This is important, because you're going to want to see what happens next.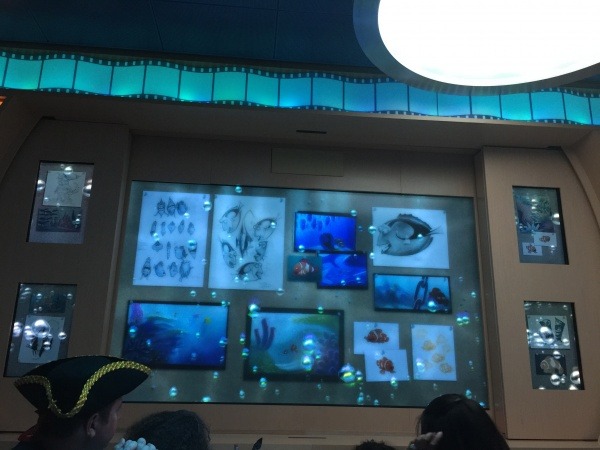 Not long after we sat down and perused the menu while enjoying a cocktail, something began to happen to the drawings. It started with some bubbles.
Before we knew it, all of the large drawings had turned into screens and the characters from Finding Nemo swam out to greet us. And I truly mean to greet us. This isn't static video. Much like Turtle Talk with Crush in EPCOT, this is very interactive and very entertaining.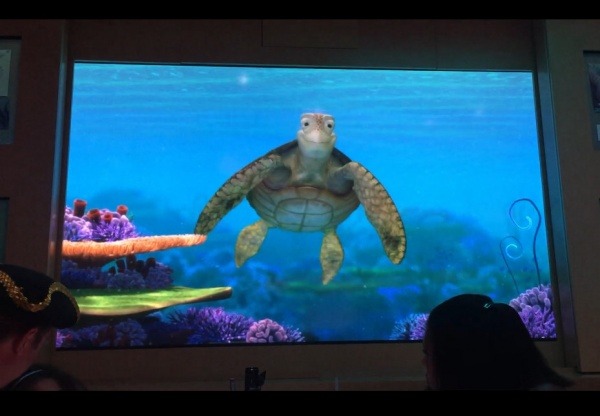 Crush, in fact, is one of the main stars during the dinner show, and he makes his way around the restaurant interacting with diners.
He had quite a lively conversation with the children at the table next to ours, as one of them had a cup featuring Crush on it. Of course, he was impressed!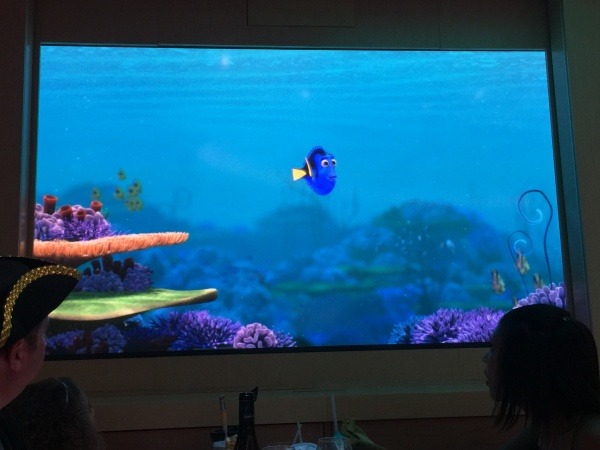 Other characters you'll see during your meal include Nemo, Marlin, Dory, and Bruce. Bunches of bright silver fish begin to form pictures. See if you can guess what they are making before they finish!
However, it is truly Crush who steals the show. Before he left, he even inducted us all into his "awesome club."
The Food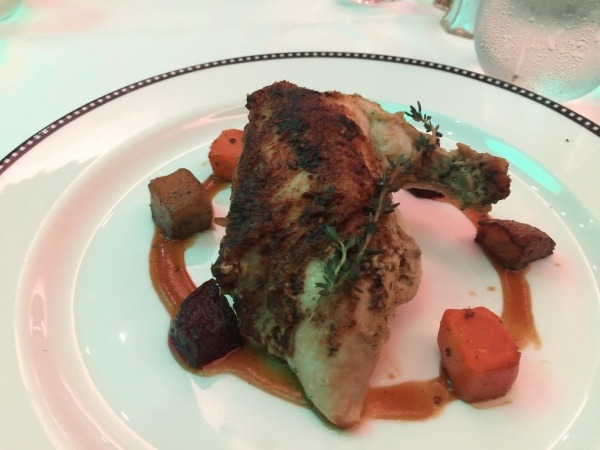 The food at Animator's Palate is also awesome. The menu does vary and change, but generally there will be something for everyone on the menu whether it's seafood, chicken or beef, or a pasta dish. As with the other restaurants on the ship, you can select freely from appetizers, soups, entrees, and desserts. Do you want more than one entrée? Feel free to order two! It's all included in the price of your cruise. (The only things not included are alcoholic beverages and the special restaurants Palo and Remy.)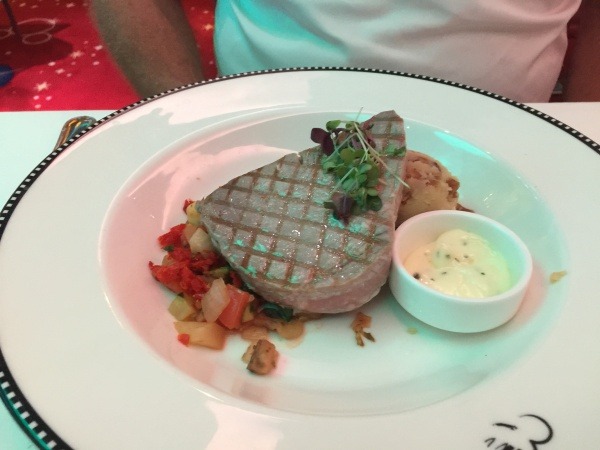 Everything is beautifully plated – and delicious. I enjoyed some roasted chicken, while my husband indulged his love of seafood with some seared fish. Dessert was festive looking and yummy.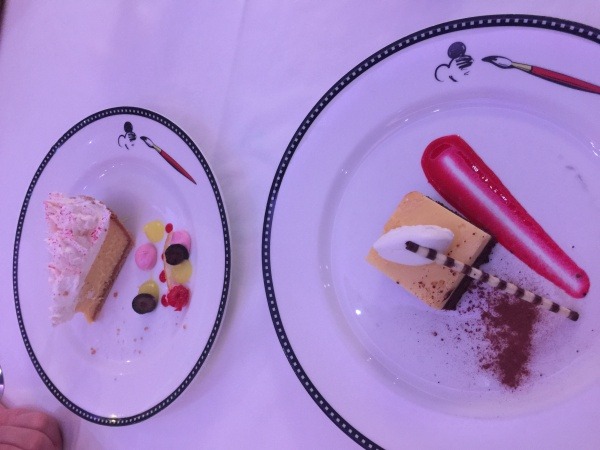 Long before you're ready, those bubbles will appear again and the screens revert back to the original drawings as dinner draws to a close.
We had selected the early seating for dinner, so we did need to clear out so the staff could clean the restaurant and reset for the later seating. However, we never felt rushed.
Animator's Palate was probably our favorite dining experience of our cruise on the Disney Dream. We had heard a bit about what to expect, but truly nothing but seeing it for yourself will prepare you for how amazing this experience is!
Have you dined at Animator's Palate? What did you think? Let us know in the comments or on Facebook or Twitter!
Did you like this article? Make sure to share it with your friends! Check below for easy ways to share!
Want to sail on Disney Cruise Line? Contact The Magic for Less Travel for more information and a free, no-obligation quote.

Incoming search terms:
https://www themouseforless com/blog_world/animators-palate-a-dining-experience/