This post may contains affiliate links for your convenience. If you make a purchase after clicking a link we may earn a small commission but it won't cost you a penny more! Read our full disclosure policy here.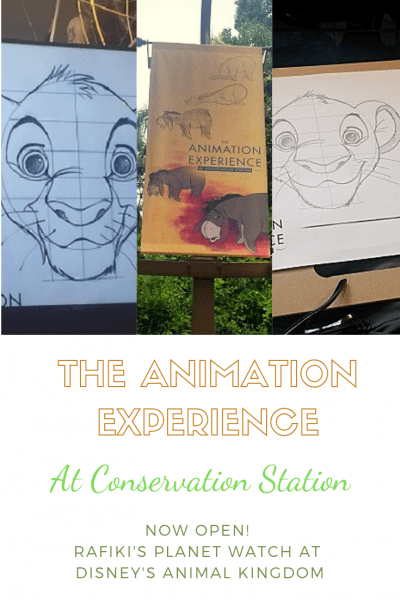 After a lengthy closure and refurbishment period, Rafiki's Planet Watch at Disney's Animal Kingdom reopened with the addition of a brand new attraction: The Animation Experience at Conservation Station.
The off-the-beaten-path attraction, just a short train ride away, began its seasonal closure in October of last year. While many aspects remained the same, the interior building no longer houses meet and greets and interactive exhibits. It is now home of The Animation Experience, a 25 minute long drawing class hosted by a Disney animator. However, the train doesn't just take you to a short class. You can still visit the animals in the Affection Section, observe scientists and veterinarians working and, of course, spend some time in the gift shop.
But the newest addition of The Animation Experience is what drew us in for this trip. This is a FastPass+ eligible attraction at Animal Kingdom. If it is something you don't want to miss, using one is a good idea, as the classroom is rather small and does fill up. However, there are 9 sessions throughout the day, so if you plan your train ride with enough time, you can enter the stand-by line. (We had a FastPass for the 1:45 p.m. class and we boarded the train around 1pm. It gave us plenty of time to visit the goats and still check in when the FastPass queue opened at about 1:30 p.m.)
The Set Up
Upon arrival at Rafiki's Planet Watch, you are greeted by many signs for The Animation Experience lining the walking path towards Conservation Station. All of the signage features sketches of Disney animals from many animated feature films. While the characters being drawn are different each class, it seems that the animators are currently focusing on The Lion King, as part of the 25th anniversary celebration. Once inside the building, there is a beautiful mural, as well as several free-standing graphics featuring dozens of different Disney characters. They give you a quick glimpse into the quality and type of animation being taught.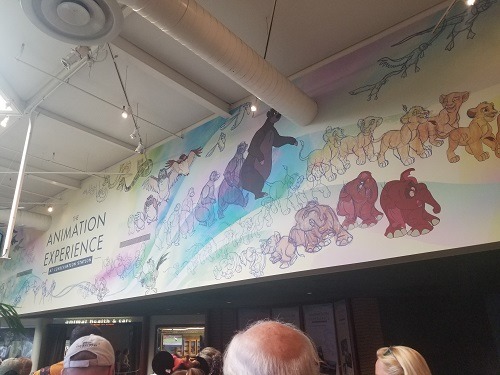 After you check in (if using a FastPass), you are sent to another small queuing area where you pick up your paper template and pencil. We were greeted by some Disney animal experts and a rather fuzzy pig for a short presentation (I don't know if this is something they do every class, but it was a neat little surprise.) Then it was straight into the classroom area. The classroom is split into 2 halves and the FastPass group filled up the first section. Once we were seated, the stand-by crowd was seated in the second half. There are 4 large screens up front so we could easily follow along with the animator as he instructed us. Overall, the capacity is limited and seats are a bit tight (and you are drawing on your lap) but you have a good view of the screens from any seat.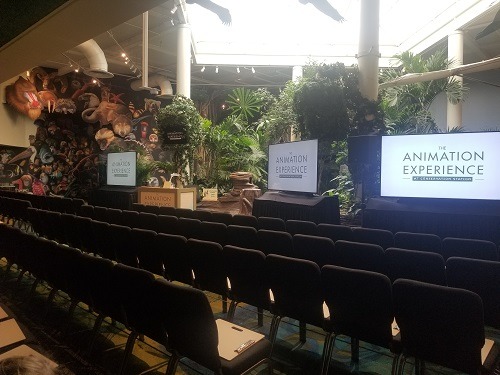 The Class
Mike, our animator, informed us that we would be drawing Simba from The Lion King. Before we got started with our lesson, we watched a short presentation and were asked to pay attention to the facial features of the lions (the same lions you see on Kilimanjaro Safaris) to use during our class.
Overall, the instruction was pretty quick and you need to have a deft drawing hand to keep up. But don't worry too much if you miss a step, because you can always reference the 4 large screens and quickly catch up. The drawing paper you are given has guidelines specifically to the character chosen for your class. That makes it very simple to follow along! The good thing is that no matter your skill level at drawing, the instructors use very easy to follow language and steps in order to help make your character look as closely to the original as possible.
Also, age may be a factor in how enjoyable this experience can be for some. While many teens and adults had no trouble following Mike's instructions, some younger participants were growing a bit frustrated and falling behind. However, if you have littler ones that will be tagging along, there is a small set up in the back of the room with a movie and coloring tables. You will have to have an older child or other adult present if you utilize that space.
The Review
If you like to draw, or are simply just interested in learning a bit more about animation, this would be a good stop during your day at Animal Kingdom. Again, you can use a FastPass for this experience and I would recommend it if this is on your Can't Miss list. But if you choose to use stand-by, remember there are several times class is in session throughout the day. But be sure to give yourself plenty of time for the train ride and the walk to Conservation Station to get in place.
Altogether, I found The Animation Experience to be a great addition to Rafiki's Planet Watch. It was a neat little class and I would definitely do it again, if only just to get a chance to draw different Disney characters each time. The class was informative, the instructor was wonderful and you get a unique (and free!) souvenir at the end.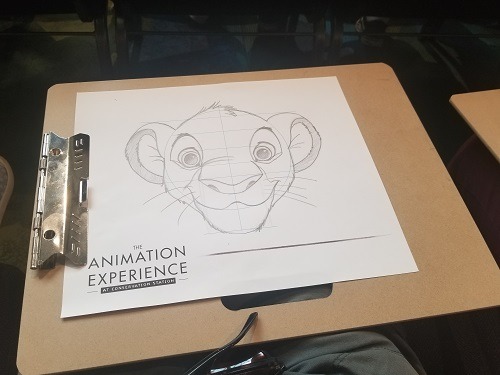 Does this sound like an activity that would interest you? Let us know your thoughts in the comments, or on Facebook or Twitter!
Did you like this article? Make sure to share it with your friends! Check below for easy ways to share!
Want to visit the Walt Disney World Resort? Contact The Magic for Less Travel for more information and a free, no-obligation quote.

Incoming search terms:
animation experience at conservation station
https://www themouseforless com/blog_world/animation-experience-conservation-station/
disney animation animal kingdom