This post may contains affiliate links for your convenience. If you make a purchase after clicking a link we may earn a small commission but it won't cost you a penny more! Read our full disclosure policy here.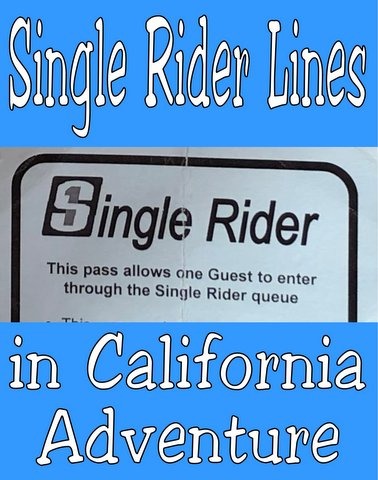 One big advantage the Disneyland Resort has over Walt Disney World is an abundance of Single Rider Lines to skip some of the longest queues. Each of Disneyland's two parks has more Single Rider Lines than all four parks at Disney World! Are you familiar with all of the Single Rider Lines in California Adventure?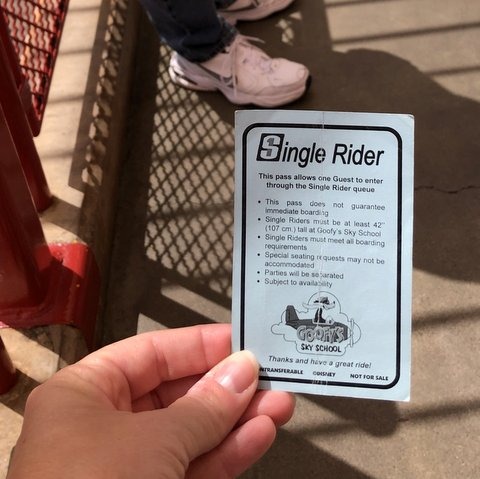 First, let's be clear what a Single Rider Line (SRL) does. Single Rider Lines exist to fill empty spots created by odd-numbered parties, or groups that don't fill up a ride vehicle. For example, a Matterhorn bobsled can seat six, but unless you have a party of six, or two or three parties next in line that add up to six, seats would go unfilled. This cuts the hourly ride capacity. Cast Members at swift-loading attractions don't always have time to look for the perfect number of guests farther back in line, so adding in single riders keeps the ride moving and full.
Let's look at each of California Adventure's Single Rider Lines and how to access them.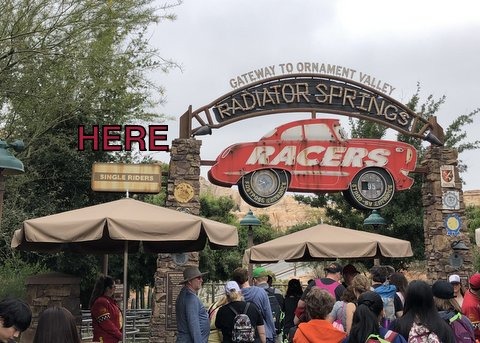 Radiator Springs Racers
While this SRL will take you the longest, it can also save you the most overall time. FastPasses for this attractions still run out the earliest every day, so if you haven't secured one by mid-afternoon, you'll be waiting in an hour-long line or more. One early evening when we got in the Single Rider Line, the standby line was 90 minutes. Using single rider knocked an hour off of that as we waited under 30 minutes for California Adventure's premier ride.
This is also the easiest Single Rider Line to access as it has a well-marked, completely separate line. With a ride vehicle that seats three across, the line moves fairly quickly as Cast Members use it often to fill the third seat.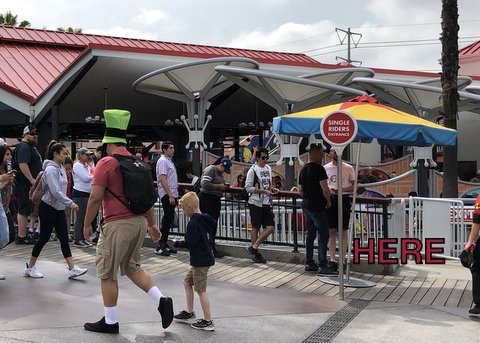 Incredicoaster
Formerly California Screamin', this attraction is the most intense and has the tallest height requirement. That means plenty of guests can't — or won't — ride. So if you are the only one in your party who dares to tackle the Incredicoaster, you might want to use the SRL instead of burning a FastPass. This line has become more popular with the recent conversion from Screamin' to the Incredicoaster.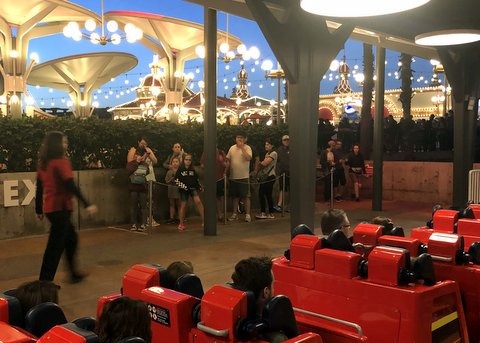 First holding area for single riders
Navigating this line is a little more involved. Guests enter up the bridge to the left of the main entrance. First you go down the hill and around the corner to a holding area. Then (as directed by a Cast Member) groups of 8-10 go up one elevator, across the tracks, and down another elevator. You'll end up in another holding area where the Cast members load trains. Step lively to your assigned row!

Grizzly River Run
This SRL fluctuates wildly with the time of day and the weather. First thing in the morning, late at night, or during cold weather, the line may not even operate. During hot afternoons, it can get very long. But like Radiator Springs Racers, you will still wait a fraction of the time in line compared to standby.
To use single rider here, see a Cast Member at the entrance and get a paper single rider ticket. Then go up the stairs through the entrance, across the bridge, and eventually down a set of stairs to the loading dock. How fast the line moves is entirely dependent on the savvy of the Cast Member sorting parties into rafts of eight, and how quickly rafts can be loaded and unloaded.

Goofy's Sky School
Many guests probably don't even realize this little wild-mouse coaster has an SRL. It's a lower priority ride, so if you have other FastPasses for Pixar Pier (like Incredicoaster or Toy Story Mania) you might want to use single rider here while you are in the area. It's not an attraction you want to wait a long time for.
See the Cast Member at the entrance to get a paper single rider ticket like at Grizzly River Run. Then head up a set of stairs to a short line near the loading dock. This ride loads on a continuously-moving belt, so pay attention when you are first in line.
(Soarin' used to have a Single Rider Line, but it was discontinued when the attraction switched to Soarin' Over the World in 2016. The ride still has a space for a Single Rider Line if California Adventure ever chooses to reactivate it.)
Tips
With any Single Rider Line at Disneyland or Walt Disney World, please remember these helpful tips:
Your child must be at least 7 and willing to sit with anyone. Don't be That Mom who insists on riding with her child after taking advantage of the shorter SRL.
You'll be in a ride photo with strangers on the attractions that have PhotoPass (Incredicoaster, Radiator Springs Racers, etc.)
You won't choose your spot. Don't be That Guy who asks to sit in the front seat.
You won't see the Imagineers' work on the highly themed queues that sets the story for the attraction.
Have a firm meeting place after the ride — you won't be able to stay on the unloading platform to meet your party.
Some Cast Members will use their single rider pool more effectively than others — your mileage may vary.
Rider Switch is also available if you have children too short to use a SRL.
Disneyland park has SIX Single Rider Lines. Check them out as well.
Which Single Rider Lines in California Adventure are your favorites to hack the long lines?
Incoming search terms:
https://www themouseforless com/blog_world/all-about-using-single-rider-lines-in-disney-california-adventure/
single riders in california adventure