This post may contains affiliate links for your convenience. If you make a purchase after clicking a link we may earn a small commission but it won't cost you a penny more! Read our full disclosure policy here.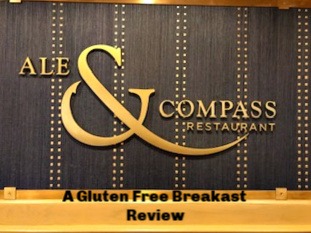 The breakfast at the Yacht Club's Ale & Compass has caused quite the happy buzz in Disney circles of late, so I wanted to see for myself how it was for the gluten free folk.  They had such wonderful sounding items on the regular menu, like the Salted Caramel-Apple French Toast or the Dark Chocolate Waffles I had hopes they could do something like this for me gluten free.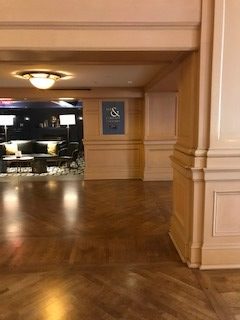 Now, as you may know if you have read my other gluten free reviews, I try and mention that I fully understand that my gluten issues are my own and that I am lucky that the restaurants do any accommodating. I do find that as time goes on I am starting to be more annoyed when the offerings are slim. I do try and stick with the menu items vs. having a chef make me something special unless I have a lot of time on my hands, which is rare when I am visiting Walt Disney World.
This day, I had run my first 10K- Run Disney Race and I was hungry! I had a reservation at Ale & Compass so off we went!
The server we had was wonderful and the overall experience was good. It was busy but we felt taken care of and left full.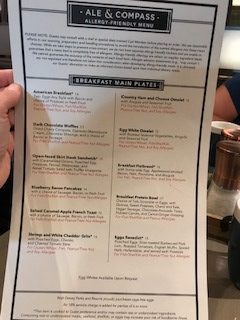 Sadly, for the allergen menu, particularly for the gluten/wheat free folk, it was sparse on options. Mainly eggs, breakfast meats and potatoes. I can get those anywhere. Our sweet server offered to have some gluten free waffles / pancakes made for me. Again, they can do this at all the breakfast restaurants. I love that they can do that much but I did wonder why they can't do the Dark Chocolate Waffles using the gluten free batter? Or perhaps the Blueberry Bacon Pancakes using their gluten free batter? Again, in my head I'm kicking myself saying be thankful they have safe gluten free food to offer you, but they also have some very advanced culinary people in the World and us allergen folks are willing to pay to enjoy safe, delicious and dare I say creative food on vacation!
I ended up ordering the American Breakfast and two Mickey Waffles with bacon on the side. (Don't judge me on the double breakfast, remember I just ran a 10K). Other options for gluten free/wheat allergies were an omelet, a breakfast protein bowl, shrimp and white cheddar grits with poached eggs, chorizo, and charred tomato stew. That was it. I heavily considered the grit dish but couldn't get passed the shrimp in the morning. I know its a nautical theme and all.  It sounds great as a lunch meal.
The American Breakfast consisted of two eggs any style with bacon, and potatoes or fresh fruit -$14.00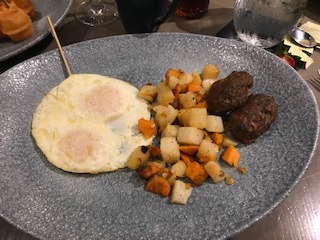 Two Mickey Waffles and bacon -$8.00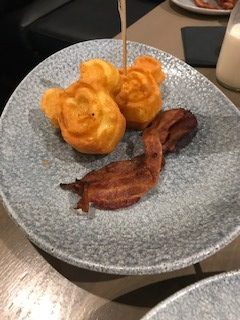 Mimosa – Paul Cheneau Cava with Freshly Squeezed Orange Juice – $10.00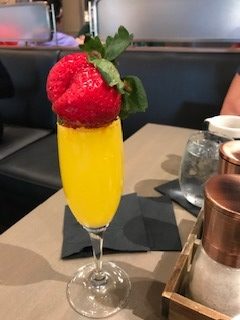 I enjoyed a wonderful Mimosa along with my coffee. Now, again, I'm not trying to sound entitled but, I really wanted a Bloody Mary. I had a wonderful Bloody Mary at Olivia's in Old Key West on my last trip, but was told that here at the Ale & Compass I could not have it due to the mix having soy sauce in it. Soy sauce is made primarily from wheat and is often a hidden item that causes us gluten free folk a lot of angst if we do not ask and ingest it accidentally. Many Bloody Mary mixes use Worcestershire sauce instead and many of those are gluten free. I didn't explore further but did wonder if they truly use different mixes at the two places? If I had more time I may have pushed the issue a bit to find out but did not.
Our meal was pretty basic, but good. Since I was getting the bacon along with my Mickey Waffles (which our wonderful server added as a kid's meal for me) I asked for sausage with the American Breakfast vs. bacon.
I have noticed that often I cannot order plates with sausage at Walt Disney World so it must be gluten in the sausage. They provided me with sausage here though, but I would not recommend it. It was extremely dry and the look of it was a bit off-putting. I ate it and it tasted okay but would not order that here again.
Overall, the restaurant was lovely, our service and server were awesome and my travel party was thrilled with their gluten filled breakfasts, and I was at Disney World, my most favorite place so I was happy!
Have you dined at Ale & Compass for breakfast on a gluten free diet? Let us know your experience in the comments below or on Facebook or Twitter! 
Did you like this article? Make sure to share it with your friends! Check below for easy ways to share!
Want to visit the Walt Disney World Resort? Contact The Magic for Less Travel for more information and a free, no-obligation quote.

Incoming search terms:
ale and compass gluten free review
https://www themouseforless com/blog_world/ale-compass-breakfast-gluten-free-review/