This post may contains affiliate links for your convenience. If you make a purchase after clicking a link we may earn a small commission but it won't cost you a penny more! Read our full disclosure policy here.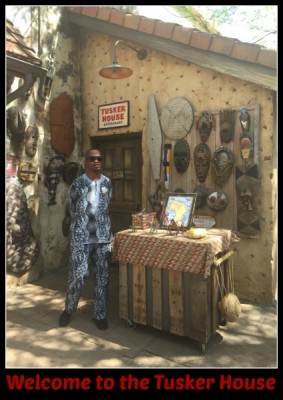 Spending the morning exploring Everest and going on an African safari can certainly cause any explorer to work up an appetite!  Fortunately, Disney's Animal Kingdom is also home to some fantastic restaurants where you can refuel before setting out on your next adventure. We decided to try one of the most raved about restaurants, the Tusker House.
If you are looking for a delicious meal and a place to rest and cool off, look no further than the Tusker House Restaurant. The Tusker House is a buffet style character meal that is open for breakfast, lunch, and dinner.
I selected Tusker House mainly because of the wide variety of foods on the menu and I felt like we would all enjoy it. The fact that this was a character meal was an added bonus and I was looking forward to meeting Mickey and friends!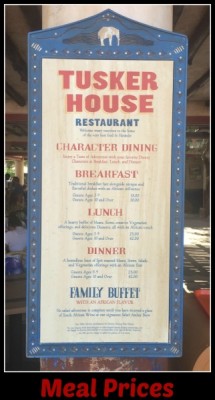 I made a dining reservation in advance (you definitely need to for this restaurant) and our table was ready less than two minutes after our arrival. After we were seated, our server took our drink orders and let us know that we had time to visit the buffet before the characters would make it to our table. This was nice since we certainly did not want to miss anyone!
We were all quite hungry and took off for the buffet right away to check it out. One of the things I liked best about the Tusker House was the variety. There were several different meat, vegetable, salad, and bread options. Some had some African inspired tastes while some did not. So it was easy for the picky eaters in our party to find items they liked, while the more adventurous ones tried some new things.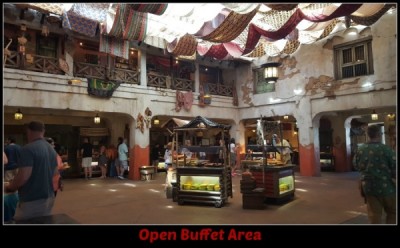 The buffet room is large so it is easy to move around and make your selections. We started at the beginning of the line and worked our way to each station. I also enjoyed the fact that the kids' options were so easily accessible, not just for the kids, but for the adults. I never pass up the chance to eat mac and cheese and I picked up a few corn dog nuggets just for fun.
We headed back to our table with full plates and saw that it was just about time for the characters to come around. We got the opportunity for pictures and autographs with Mickey, Goofy, Daisy, and Donald. It was great to meet everyone without having to stand in line!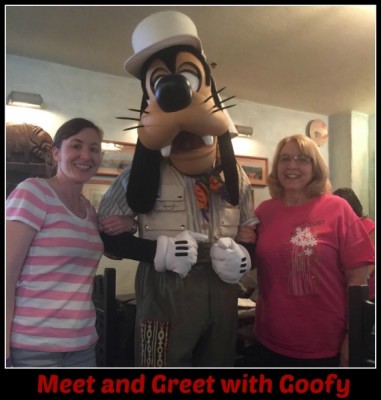 After the characters had all visited our table, our plates were empty and we were ready for round two of the buffet. I went back and grabbed a few things I missed the first time around. My plan to try just a small bite of everything worked out well since there were so many choices.

Now for my favorite part…dessert! All of the desserts were bite size. I loved this because I felt like I could grab one of everything.  OK, so, I may have actually grabbed more than one of everything. My plan was to share, and I did, but I may have eaten a few more little dessert bites than I planned on. My favorites were the coconut macaroons and the chocolate turtle brownies. They were all so yummy!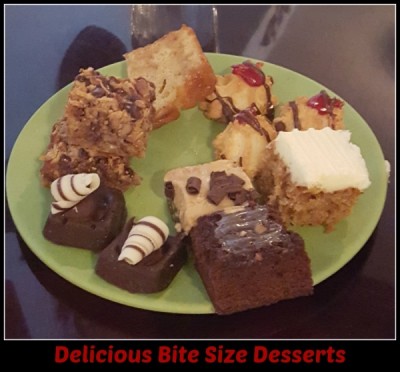 We left Tusker House feeling refreshed and stuffed. We all enjoyed it and would definitely return for another meal…and a few more coconut macaroons!
Have you visited Tusker House?  What did you enjoy the most?