This post may contains affiliate links for your convenience. If you make a purchase after clicking a link we may earn a small commission but it won't cost you a penny more! Read our full disclosure policy here.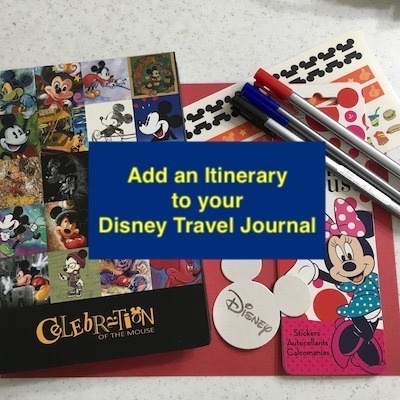 It is time to add an Itinerary to my Disney Travel Journal. If you recall in my last post, Creating a Disney-Themed Packing List, I enjoy creating different pages for my travel journal because it allows me to better plan our vacation and it serves as a great souvenir.
Ideas for a Travel Journal Itinerary
A lot of planning goes into any Disney vacation. I use an itinerary as an overall summary of our upcoming trip. It's my quick reference guide to help me remember important trip information. The key items to include in an itinerary are dates, flights, accommodations, car rentals, tickets, important dates, and special events. You may also want to add a list of things to do and see, places to eat, characters to meet, etc. Customize the itinerary sections based on what works best for you and your family/friends.
What I Include in My Itinerary
For our upcoming Disney trip, we are staying at Disney's Port Orleans French Quarter. This is one of my favorite resorts. I love the overall atmosphere and charm of the resort. We haven't been there in some time, so I quickly reviewed the resort's amenities and made a list of a few items I either don't want to miss or may consider adding to our trip plan. Some of the things that caught my eye are the horse-drawn carriage rides, boat transportation to Disney Springs, and the walking path to Disney's Port Orleans Riverside, which we always enjoy. I want to be sure that we have some of those delicious New Orleans-style beignets found in the bakery area at Sassagoula Float Works and Food Factory to satisfy my sweet tooth. I also include the resort's address and phone number in case we want to have something shipped to the resort.
You may want to consider making a list of any special events happening in the parks during the trip. For example, the 2019 Epcot Food and Wine Festival will be underway while we are there. This is one of my favorite festivals. We enjoy sampling at least one item from each country in Epcot's World Showcase. Yum! I'll want to pick up a festival guide to see what other events are happening as part of the event once we arrive.
Dates to remember are important to note during initial planning. For example, Advance Dining Reservations can be made as early as 180 days before the vacation. I also don't want to forget to make my FastPass+ reservations 60 days prior to our trip. (Note: Guests staying at a non-Disney resort are able to make FastPass+ reservations 30 days out.)
Because there have been quite a few changes in the Walt Disney World parks since our last visit, I decided to add a section for what's new in the parks. I listed a few items to get started and expect the list will expand as new announcements are made. Don't forget to check out The Mouse for Less for park and resort updates.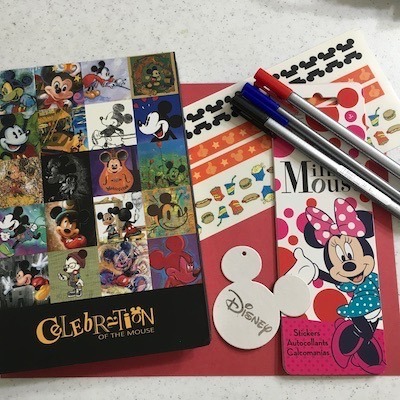 It's Time to Create
The format of the itinerary can be designed anyway you want. I like to include it as part of my travel journal, which becomes a cool keepsake. Or, it can be designed using notebook paper and some pens, along with some stickers or decorative tape.
I started by using a Mickey Mouse t-shirt tag as a template to quickly draw my Mickey-shaped design in the page header. Then I added the categories for my itinerary, filled in the items for each category, and decorated with some Disney stickers that I had from another project. It's that simple.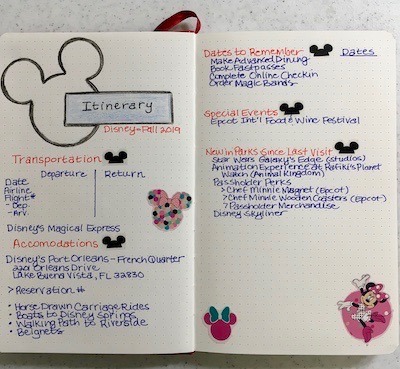 I hope you find creating a travel itinerary gives you a quick reference page to help you plan your next Disney vacation.
Have you created a travel journal itinerary for your Disney vacations? Do you include an itinerary or quick reference summary? Let us know in the comments, or on Facebook or Twitter!
Did you like this article? Make sure to share it with your friends! Check below for easy ways to share!
Want to visit the Walt Disney World Resort? Contact The Magic for Less Travel for more information and a free, no-obligation quote.

Incoming search terms:
disney world travel wishlist journal
disneyland resort travel journal