This post may contains affiliate links for your convenience. If you make a purchase after clicking a link we may earn a small commission but it won't cost you a penny more! Read our full disclosure policy here.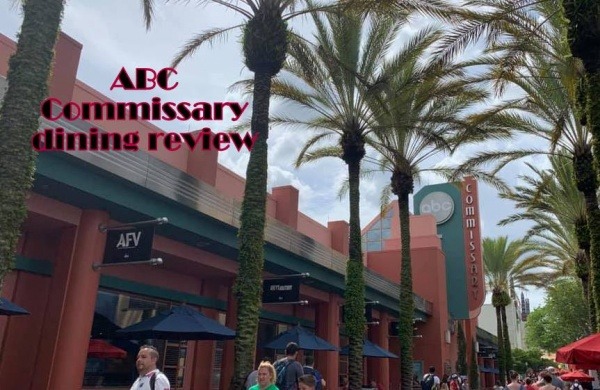 How about an ABC Commissary dining review? Yes, I said ABC Commissary!
I freely admit it. Like many others, I've bypassed ABC Commissary in Disney's Hollywood Studios as a dining option. However, I was pleasantly surprised by our recent experience there.
I'm not sure anyone really thinks about ABC Commissary often. It's in a weird location. Commissary Lane basically connects the area around Star Tours to the Center Stage area of the park. I've never heard much praise for the food.
I don't know if I ever looked at the menu in the past, but if I did? Nothing must have appealed to me because I've never even thought about dining there.
So, how did I end up eating there? Well, when Disney announced that Galaxy's Edge was opening in Hollywood Studios, it was just a few days into my trip. Our plans called for us to be in Hollywood Studios the day after the grand opening.
I had no idea how things would play out when the much-anticipated Star Wars land opened. However, I knew first-hand how stressful it can be to do simple things like eat a meal when the park is crowded. I was having flashbacks to a past trip trying to find an empty table in Pinocchio Village Haus during a downpour. Many thanks to the kind family that offered to share their table with us!
As I was wondering how we'd handle Galaxy's Edge crowds, a piece of information crossed my path that made me breathe a little easier. ABC Commissary, which is a quick service location, takes reservations. Anticipating a crowded park day, I knew that having a reservation for dinner meant that we would have a place to sit down and eat. I made an Advance Dining Reservation and crossed my fingers.
Let's flash forward to our actual visit and my ABC Commissary dining review.
My daughter and I were there for dinner. We ended up hungry earlier than expected and used the My Disney Experience app to bump our reservation time up about an hour. When we arrived, their computer hadn't updated, but the Cast Members were very accommodating. We had no issue getting in at that time.
In fact, ABC Commissary reflected what we had seen throughout the park that entire afternoon. It wasn't crowded at all. I don't know whether people stayed away to avoid expected crowds or if Hurricane Dorian's approach scared people off. However, the result was a park with extremely manageable crowd levels. This was evident in ABC Commissary where they were only using one side of the vast dining area, and even that was half empty.
We had looked at the menu in advance and were pleased with the choices. This menu has a good variety of offerings. From barbecue ribs to fried shrimp, burgers to teriyaki bowls, there is something to please everyone. There are also several vegetarian dishes and salad on the menu.
The lunch menu is equally varied, sharing some entrees with the dinner menu and adding others like a chicken club sandwich.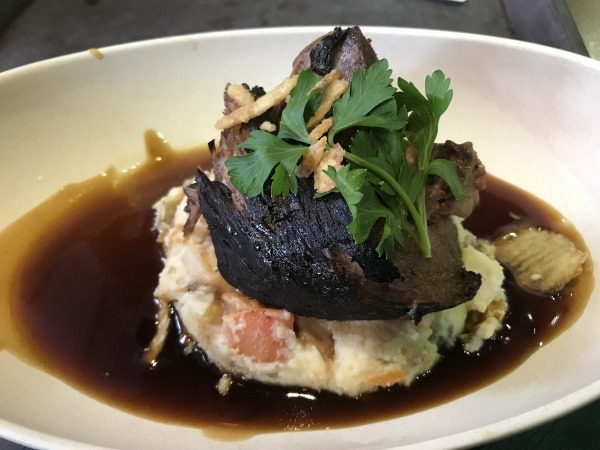 My daughter and I both opted for the slow-cooked pot roast with root vegetable mashed potatoes, gravy, and crispy onion straws.
Similar to Be Our Guest lunch, you order upon entering the restaurant and then go find a seat. A Cast Member delivers your meals to your table. The self-serve drinks include the usual line up of Coke products.
Our meals arrived quickly, piping hot and beautifully plated. After so many years of pizza and burgers being the main counter service staples, I really did a double take when I saw this gorgeous plate of food. Disney has certainly stepped up its food game!
The meat was moist and flavorful, the mashed potatoes and root vegetables creamy and well seasoned, and the gravy topped it off perfectly. This was pure comfort food on a plate, and we both enjoyed every bite.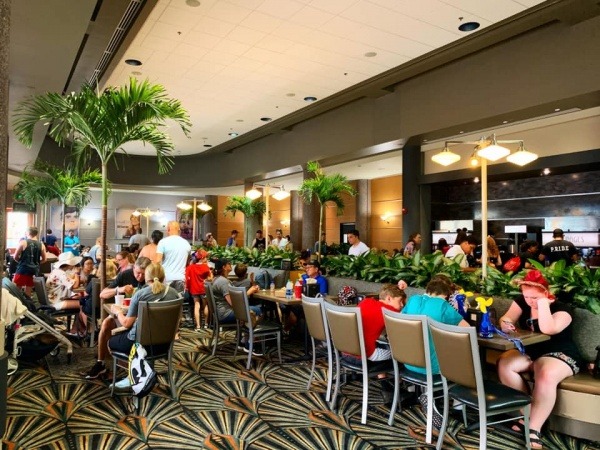 The atmosphere of ABC Commissary isn't much. Unlike many other places, there isn't an obvious central theme here.It kind of looks like a big cafeteria, and maybe that's the goal. But the palm trees growing inside are a fun touch. If nothing else, it's a cool place to sit, enjoy a meal, and give your feet a break.
Atmosphere aside, the food is good – really good –  and ABC Commissary is definitely worth consideration when making your dining plans.
Have you tried ABC Commissary for dinner? What are your thoughts? Share in the comments or on Facebook or Twitter!
Did you like this article? Make sure to share it with your friends! Check below for easy ways to share!
Want to visit the Walt Disney World Resort? Contact The Magic for Less Travel for more information and a free, no-obligation quote.