This post may contains affiliate links for your convenience. If you make a purchase after clicking a link we may earn a small commission but it won't cost you a penny more! Read our full disclosure policy here.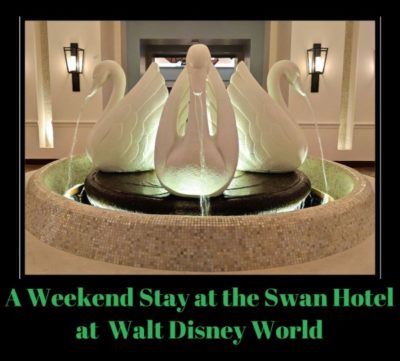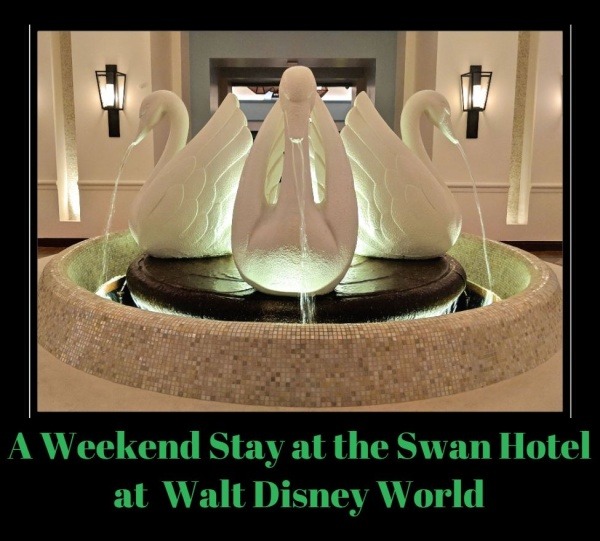 On a recent trip to Walt Disney World, I finally had the chance to stay at the Swan Hotel. I've wanted to stay at the Swan or its partner hotel, the Dolphin, for a very long time. The hotel's close proximity to Epcot was a big draw for me. If you've been to Disney's BoardWalk, you can't miss it. Just look for the giant swans on top of the hotel!
The Rooms
Our room was very clean and the beds were comfortable. There was an in-room coffee maker, bottled water, and Starbucks coffee supplies. There was also a small refrigerator. It was also nice to find some other basics, like a hairdryer, in the room.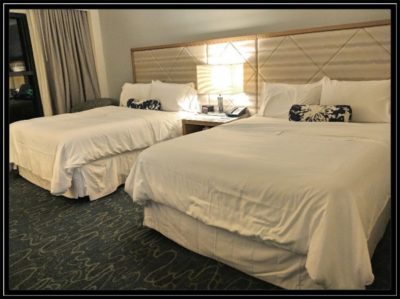 Our room was on the 6th floor, overlooking the Tower of Terror at Hollywood Studios. I did not fully appreciate this until nighttime when we could see the fireworks from our room. We had a great view!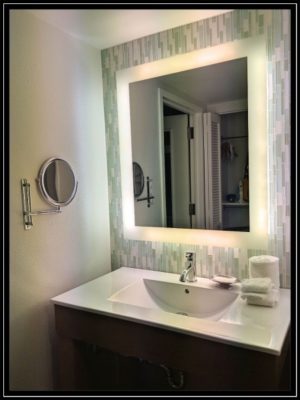 Restaurants
If you are looking for something to eat, you have several options to choose from at the hotel. For a quick breakfast of pastries and coffee, you can stop at the Java Bar downstairs. Garden Grove offers a buffet for breakfast, lunch, and dinner. If you are looking for fine dining, Il Mulino offers Italian fare.
In addition to the restaurants in the Swan, you also have easy access to several restaurants at the Dolphin. We made the short walk across the courtyard to enjoy a delicious dinner at Todd English's Bluezoo at the Dolphin. The food and the atmosphere at Bluezoo were wonderful and I would certainly recommend a visit to anyone who loves seafood.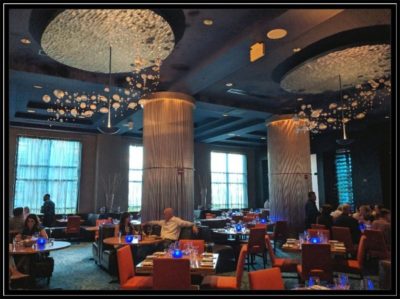 Transportation
One of the aspects of this hotel that makes it so appealing to guests is that it is close to the back entrance of Epcot and also very close to Disney's Hollywood Studios. Guests can easily take a water taxi to either park or walk from the hotel. There are also buses available if you plan to visit any of the other parks or Disney Springs during your visit. If you have your own vehicle and wish to drive instead, you can enjoy complimentary parking at the Disney parks.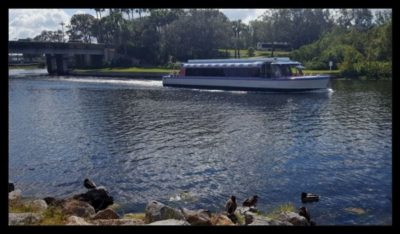 Parking at the Hotel
The Swan (and Dolphin) offer valet and self-parking options. We chose to self-park. When you first arrive, there is a parking gate at the entrance to the lot. I took the ticket provided by the automated machine when we arrived, but informed that staff at check-in that we had self-parked. The staff member we spoke with told us that from that point on, we could use our room key to enter and exit the lot.
When we left the lot to go out the next day, the parking gate would not open with our room key. Fortunately, there was a parking attendant present who opened the gate for us. She also took our name and room number. When we returned later, our key still did not work and we had to push the help button on the automated machine. Once again, we were let into the parking lot.
Despite alerting the staff to the problem, we continued to have issues with the parking gate until the last day of our visit. Perhaps our key had been fixed by then, but the parking gates were wide open at that point, so we never found out.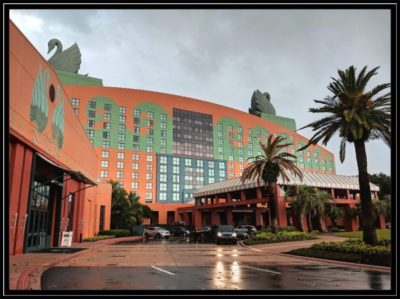 Walt Disney World Benefits
Although this is not an official Disney resort, Swan and Dolphin guests still have access to many of the same benefits offered to on-site guests. FastPasses can be reserved 60 days in advance through My Disney Experience. Guests can also take advantage of Extra Magic Hours at the parks. Both perks are very helpful if you are hoping to experience some of the newer attractions that consistently have long wait times.
Fees
Additional fees such as parking charges and resort fees seem to be industry standard these days, but when booking The Swan, I did find some of the fees to be a little higher than I expected. The parking charge seemed on par, but the resort fees added up quite a bit, even on a short stay. You can sometimes find deals for this hotel on 3rd party websites, but don't get excited about your potential savings until you see the total cost with fees.
When I visited the Picabu quick service one morning, I was surprised to find a 13% service fee added to bill. This wasn't tax or gratuity, just a separate service fee. On a $7 breakfast bill, the fee was minimal, but it was not something I am used to seeing.
Checking Out
The Swan offers an express check out option for guests. This was great for us since my friend had a flight to catch and this allowed us to skip stopping by the front desk. The check-out process itself was very easy. We did, however, encounter an issue with our bill when it was emailed to us later.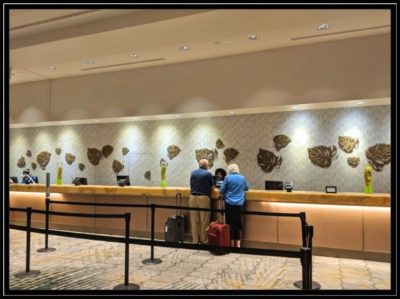 Although we did not visit the Java Bar during our stay, we had several small charges added to our bill from there. When we contacted the hotel by phone, we were told that there was most likely a mix up and that someone with the same room number at the Dolphin hotel had made these purchases. They told us they would check receipts and get back to us.
After a month and several phone calls later, we still had not received a refund and opted to contact Marriott directly. The charges were then refunded within days. The process of obtaining a refund was far more frustrating than it should have been. It was disappointing because overall, we had enjoyed our stay at the Swan.
Final Thoughts
So, would I stay at the Swan again? Probably. We enjoyed the hotel, loved the restaurants, and being so close to Epcot was a definite plus. We also enjoyed having on-site transportation when we needed it. However, our month long struggle to get the coffee bar charges refunded and our parking woes were frustrating. Even so, if you are looking for a hotel on the BoardWalk, the Swan is usually less expensive than some of the others, making it an economical choice for many families.
Have you stayed at The Swan Hotel before? What were your thoughts? Let us know your thoughts in the comments, or on Facebook or Twitter!
Did you like this article? Make sure to share it with your friends! Check below for easy ways to share!
Want to visit the Walt Disney World Resort? Contact The Magic for Less Travel for more information and a free, no-obligation quote.

Incoming search terms:
can you see the tower of terror from the swan hotel