This post may contains affiliate links for your convenience. If you make a purchase after clicking a link we may earn a small commission but it won't cost you a penny more! Read our full disclosure policy here.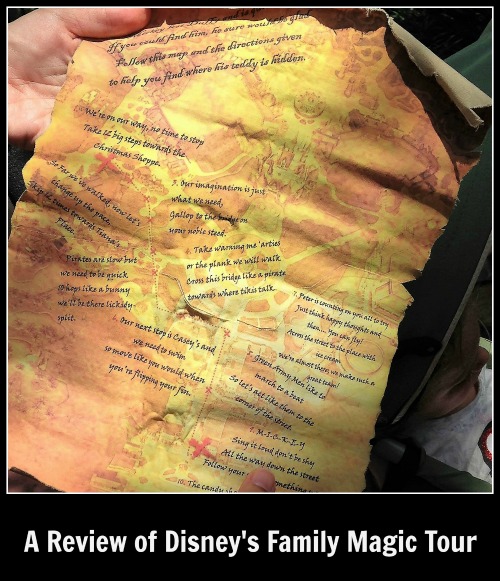 Have you heard of Disney's Family Magic Tour? It is a scavenger hunt tour that runs daily at 10 a.m. in the Walt Disney World's Magic Kingdom.  The cost is $39 per person (in addition to your park admission).  Wondered if it would be fun for your family?  I am here to say yes, yes, yes!  My husband and I surprised our 6 year old daughter with this tour on our last family vacation.  I want to warn you now that there are spoilers ahead so click off if you don't want to know where the tour takes you.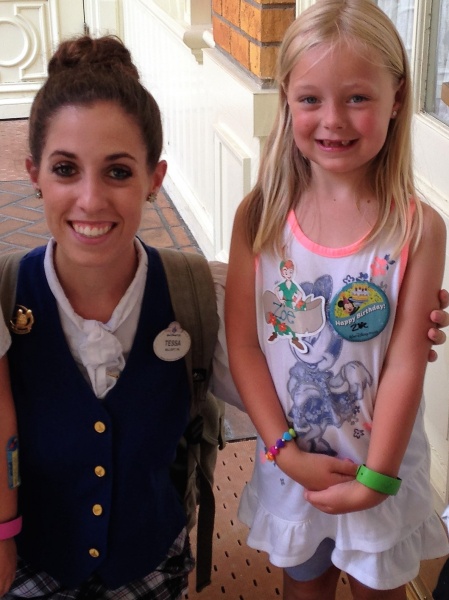 You still here?  Great then away we gooooooo!
We checked in for our tour at the Town Square Theater about 15 minutes before our 10 a.m. reservation.  We were given name tags and a bottle of water.  Sometimes they have over 20 people on a tour but ours ended up being  just 4 adults and 3 kids between two families.  Our tour guide, Tessa, explained that Mike and Sully from Monsters Inc were throwing a party but Randall had stolen all the party props.  Luckily, he left the props around Magic Kingdom with clues attached so we could get them back.  We headed out to the porch to play bean bag toss to find our first clue.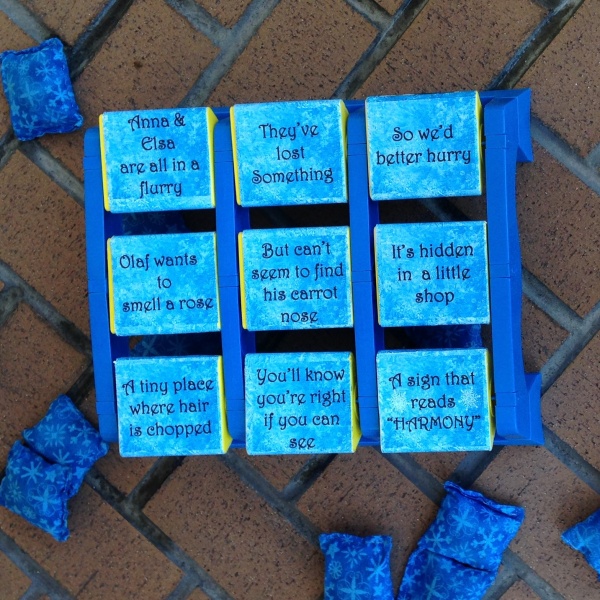 Once we got our first clue, we were off on an adventure. Tessa was very good at making sure all the kids and grownups were involved in finding the props and solving the clues.  I am not going to tell you all of the clues and props but I thought you would like to know where the scavenger hunt took us.  This is a 2 hour walking tour but we stick to Main Street USA, Fantasyland, and Liberty Square. Be aware that we do go back and forth quite a bit.
One of our clues led us to The Mad Tea Party where our guide took us to through the FastPass+ line and everyone got to ride.  We didn't find our prop there but the kid's noticed the Cheshire Cafe so we made our way over there.  We were escorted to a roped off area beside the building.  While looking for the prop, we had a special guest.  Peter Pan popped in to find the prop and our next clue.  But, that wasn't all. He taught everyone how to fly. And yes, I do mean everyone because we all know that Peter doesn't want us to grow up.  Once the flying lesson was over Peter (and his shadow) posed for pictures with each child.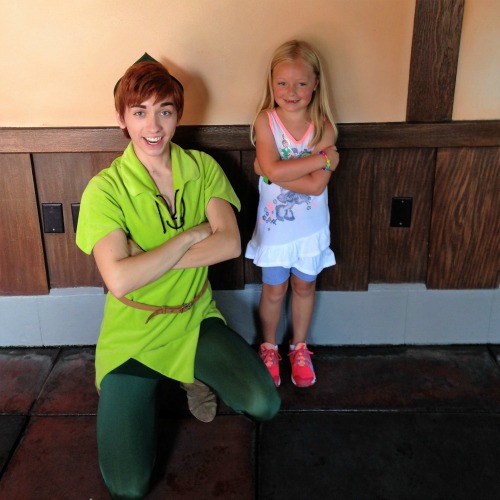 After a 15 minute potty break, we set out to find our next party prop.  We went to Liberty Square and then back to Fantasyland as our clue was to look for King Triton's trident.  That's right we headed into another FastPass+ line to ride Under the Seas – Journey of The Little Mermaid.  We didn't find what we needed there but as we exited we noticed the trident right across the walkway.  Our journey led us back over to Liberty Square and then back to Main Street USA to finish up our search.  Our last clue led us to find a Duffy Bear dressed as Mickey Mouse.  His clue led us back to Town Square Theater and yet another FastPass+ line to meet Talking Mickey.  The kid's told him all about the games and clues.  The photographer took pictures of the children together and then each family individually.  Tessa told Mickey that she would take all the party props to Town Hall so that Mike and Sully could have their party.  We headed back outside where Tessa posed for some pictures and we all parted ways.
I loved that Tessa made sure that adults and children alike were engaged and involved, making this is an amazing family experience that we all were able to really enjoy.  We were very lucky to have only one other family on our tour.  All 3 girls worked together and didn't try to take over all the clues.  It was a great experience that I highly recommend for any family that is spending more than one day at Magic Kingdom during their visit.
Have you ever experienced the Disney's Family Magic Tour at the Magic Kingdom? What were your thoughts about it? Share them in the comments.
Did you like this article? Make sure to share it with your friends! Check below for easy ways to share!