This post may contains affiliate links for your convenience. If you make a purchase after clicking a link we may earn a small commission but it won't cost you a penny more! Read our full disclosure policy here.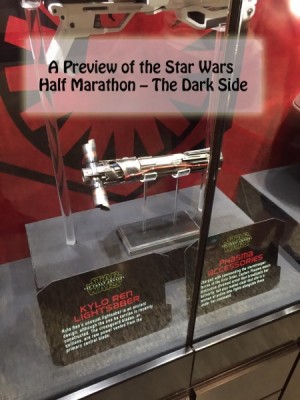 The Star Wars Half Marathon celebrating The Dark Side is taking place this week and there is plenty to be excited about!
Each runDisney race weekend is designed in basically the same way, with races taking place on the applicable Friday, Saturday and Sunday and a corresponding runners' expo running from Thursday through Saturday.  Runners pick up their bibs at the expo the day before their race by showing a valid photo ID and signing a waiver.  If you are staying on-property, there is a bus service that runs between Disney hotels and the expo each day.
The Star Wares Half Marathon Weekend runners' expo will take place in the ESPN Wide World of Sports Complex from Thursday April 14th through Saturday April 16th.  The event takes place in two buildings: The HP Field House, where runners will obtain their bibs (and also be able to pick up race-specific merchandise), and the Jostens Center, which is right next to the Field House, where runners will be able to obtain their race shirts and visit various vendors' booths for information on charities, other marathons being held throughout the world, and running merchandise (Disney specific as well as any other type of running gear you may think of.)
Expo tips:
Use the Disney buses to get to and from your hotel – it's less of a headache. The bit of a wait in between buses is worth it, in my opinion.
For Disney-specific race merchandise, I would suggest getting to the expo early on Thursday. There is a huge interest in Disney-specific gear, and inaugural races simply amp up the demand.  Understand that you'll need some patience to get through the significant amount of people in attendance – so look on-line at the merchandise scheduled to be offered and make a pre-determination if the juice is worth the squeeze.  Sometimes it is…and sometimes it simply isn't.
Print out your waiver ahead of time. It's just quicker that way.
If you are a first time racer, spend some time at the expo and listen to a few of the panelists that speak to the audience. RunDisney gets some big names in running to come speak to the crowd – any chance to absorb some wisdom is always beneficial.
You'll find good deal at the expo on gear, overall. So if you are a month or two away from a race and you are thinking about buying a new GPS watch, new running shoes, etc – it may be beneficial to wait until the expo to make your purchase.
Quick note: abide by the rule of Nothing New On Race Day. So if you buy new running shoes at the expo on Saturday, it is NOT a good idea to break them in my racing a half marathon in them the very next morning.
OK – you have your bib, you maxed out a VISA on stuff at the expo to the point where you feel like you personally made the Pandora expansion in Animal Kingdom a reality with your financial donation, and now you are ready to run.  What's next?  Flip through the race booklet you have been given as part of your registration at the expo.  Now, I know what you are going to say: NO ONE DOES THIS.  Well I'll tell you what – let's change all that.  As a matter of fact, take a look a the event guide we'll walk through it together.
….don't worry – I'll wait….
OK – you have it?  Crack it open and let's go….
Front cover:  very cool artwork for this race.  This book is a keeper.
Page 6: here's your schedule of events for the entire weekend.  Please notice the starting times of the races – all three days are different.  The 5k goes off at 6:00 a.m., the 10k goes off at 5:30 a.m., and the half marathon goes off at 5:00 a.m.  This means you are going to be up muy muy early.  So plan ahead!  Eat dinner a little earlier the night before your race.  Go to bed at a set time that gives you enough rest to perform at your best the next morning.  And make sure to bake in some time in the morning to eat a little something before the race!  Proper time management is key in a runDisney event, as your alarm will probably go off at 3:00 a.m.!  Don't just wing it – have a plan and then stick to it.
Pages 10 and 11:  Event transportation information.  Make a note of when the buses begin running, and plan to be on one of the first buses out.  The longer you wait to hop on a bus, the better your odds of missing your corral's starting time – especially if you are in Corral A!
OK, now jump to page 24.  Here's the information on the 5k course.  Overall, it is an extremely flat course that keeps the runners in Epcot.  This is a fun race and a great course, so go enjoy it with your family and friends!  And if you have never run a 5k before – if this is your first ever race…prepare to get hooked on the sport.
Page 28: here's where we'll find information on the 10k.  The course is fairly flat, taking you from the parking lot in Epcot, past Spaceship Earth, out onto the boardwalk, then over to Hollywood Studios.  From the Studios, runners head out onto the roadways for approximately 2 miles before entering Wide World of Sports for the cool finish!  Review the map the evening before your race and try to visualize how you want to run the next morning.  The rule basically is: if you see yourself doin' right, then you'll do right.
Page 30: Here we go – it's the half marathon map and details.  Again – please review the course map and try to visualize how you want to run this race before you actually go out and do it.  Give yourself every advantage that you can out there on race day.  The course takes runners past Spaceship Earth, around the World Showcase, onto the Boardwalk, and then over to Hollywood Studios.  As you exit the Studios, you hit Mile 4.  It's now a 4-mile jaunt to Disney's Animal Kingdom.  Once you exit the Animal Kingdom, this race is now down to its last 4 miles.  Miles 10 through 12 are on the roadways heading to Wide World of Sports.   The last half mile takes runners through ESPN to the finish!
Check out pages 40 and 41.  Jeff Galloway provides runners with a bunch of real helpful tips.  The man is the Yoda of runDisney…you might as well heed his advice!
Pages 48 and 49.  These pages contain medical information.  Please read through it – wisdom is imparted.
Last tips:
If you feel really thirsty during your race – you waited too long to drink!  So take in water – but also don't feel like you have to guzzle 19 gallons of water at each and every water station.  Like I said before: have a plan, and then stick to it.  This plan should include proper water intake.
If you are first time half marathoner and the 13.1-mile distance has you a little nervous, break the race down into small, manageable pieces. Pick a target to run to it – and make sure that the target can be seen, so you can focus on it.  As you get close to your target, just pick another one in the distance and decide to run to it.  Stay on target!
I've read this theory in a few different books on running, so I'll share it with you: if you feel like you are getting tired, make a decision to run quicker for 10 strides. According to the theory, this juicing up of your pace or speed for a brief stint wakes you up out of the funk you are just beginning to fall into.  I've tested this theory, and it has worked for me in the past.  It kept me going when I felt like stopping.
Race etiquette: if you are in a group of 7…8…9 or more people, and you have decided to take a walk break, try to walk no more than 2 abreast. Be conscious of the runners all around you.
To everyone that is toeing the line this weekend:  GOOD LUCK and HAVE A BLAST!
…and may all of your hills be downhills. Oh and may the course be with you.
Are you running any of the Star Wars races this weekend? What are you most anxious about? And what are you looking forward to the most? Share in the comments!