This post may contains affiliate links for your convenience. If you make a purchase after clicking a link we may earn a small commission but it won't cost you a penny more! Read our full disclosure policy here.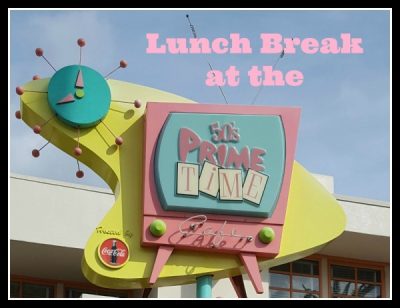 If you are looking for some homestyle food on your vacation, the 50's Prime Time Cafe at Disney's Hollywood Studios is the perfect place to dine. This isn't a character meal, but the restaurant itself has a lot of character. The old-time feel creates a fun and relaxing environment that the whole family will enjoy.
You will feel right at home when your server is introduced to you as a "cousin" and you take your seat in a room that resembles Grandma's kitchen.  The servers here might tell you to get your elbows off the table, but no one will tell you that you have to turn the TV off during dinner! The menu is diverse enough to please just about any palate and the milkshakes are to die for.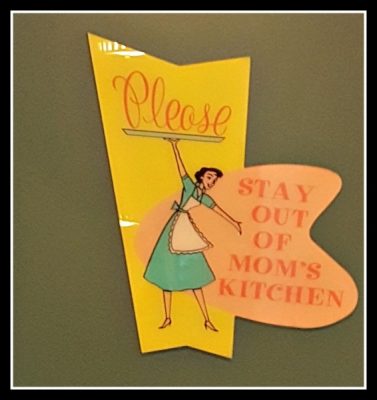 Selecting an entree wasn't too difficult since there were so many options on the menu that looked delicious. I decided on the chicken pot pie and my mom chose the pot roast. Choosing a milkshake to share was a much tougher choice. I wanted to try the PB and J shake I had heard so much about, but we were also craving chocolate. Cousin Tim came to the rescue and suggested that we order a chocolate shake, but add peanut butter to it.  This seemed to be the perfect compromise.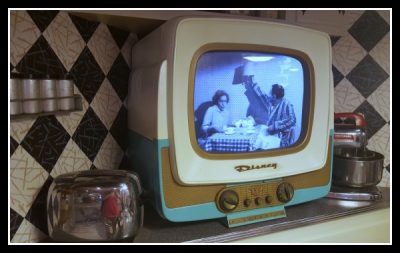 Check Out Some Classic TV While You Eat
Once we placed our order, we sat back and took a look around the restaurant. We were a little disappointed that we weren't seated at a table with a TV, but these tables seemed better suited for slightly larger parties. We were still able to see several TVs from our table. I grew up watching reruns on Nick at Nite with my dad, so I really enjoyed seeing clips from classic TV shows while we waited for our meal to arrive.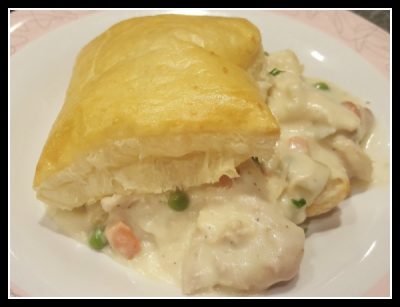 Chicken Pot Pie
Our food came out quickly and it looked yummy! The chicken pot pie was exactly what I would call comfort food. The puff pastry was fluffy inside and crisp and browned on the outside.  The chicken and vegetables tasted fresh. Our server had commented that this meal was very filling and he was right.  I didn't quite finish it, but I certainly enjoyed it.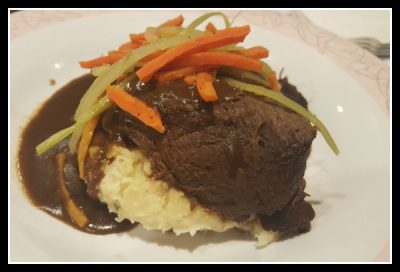 Mom's Old-Fashioned Pot Roast
My mom went with the dish named after her (just kidding), the Mom's Old-Fashioned Pot Roast. She was very happy with her choice as well. Of course she let me try a few bites too. The pot roast was really tender and had a good flavor. The mashed potatoes were delicious. We never found out if our server would give us a hard time about not eating our vegetables because we ate them all!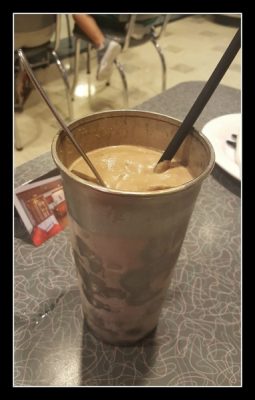 Chocolate Peanut Butter Milkshake
Last, but certainly not least, the milkshake. Cousin Tim's suggestion was an absolute winner! I am not sure if they put half a jar of peanut butter in this shake or what, but it was rich and creamy. The peanut butter chocolate combination was fantastic! This was the perfect dessert to complete our meal and I would definitely order it again.
I fell in love with 50's Prime Time Cafe and it quickly made its way onto my "must do" restaurant list. It was a really nice break from running around at Hollywood Studios. I would definitely recommend that you try it out if you have the chance.  Just be sure to make a reservation, it is very busy every day!
Have you tried the 50's Prime Time Cafe? What did you love most about your meal?  Let us know in the comments!