This post may contains affiliate links for your convenience. If you make a purchase after clicking a link we may earn a small commission but it won't cost you a penny more! Read our full disclosure policy here.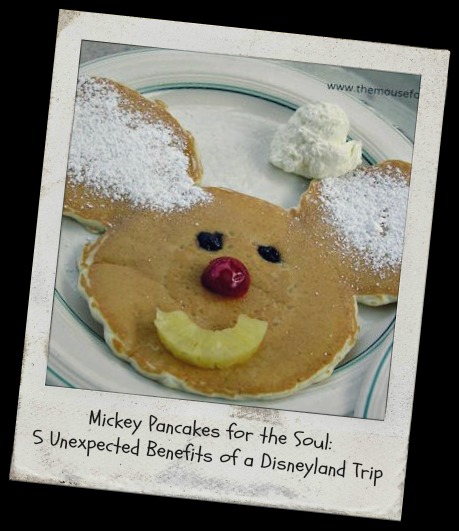 Before I begin, I should clarify one important detail. Despite the curious title, this blog will not be a review of the Mickey Mouse pancake. This is also not a tribute to the wonders of the iconic breakfast treat at Disneyland Resort's Rancho del Zocalo restaurant, nor is this a step-by-step tutorial on how to make the pancake at home.   Instead, where the Mickey pancake fits in here is in the way it plays such a pivotal role in my earliest memories of visiting Disneyland as a young, impressionable child… and ultimately feeds my soul.
For me, every childhood Disneyland trip would include a morning stop at the River Belle Terrace, which was the only place to get a Mickey Mouse pancake at Disneyland Resort before its menu changed in early 2016. As soon as I set foot in the restaurant, the intoxicating smells of syrup and batter swirled around me and put me under a spell. I watched in awe as the pancakes were crafted, as if feats of wizardry were being performed right before my eyes.   I grinned from ear to ear when Cast Members would generously place bricks of ice cream on my pancakes in lieu of butter — an option I never dreamed possible, but a request that was granted with no questions asked.
…Hangin' with the Mouse… in 1972
This annual carb-loaded ritual not only set the tone for the day and started off each trip on a delicious note, but it seemed to touch me on a deeper level.   The pancake was a simple pleasure that felt like the most extravagant luxury in the world, and yet it provided a sense of comfort, familiarity and tradition.   I knew that when I consumed it I was not just eating a pancake… I was experiencing the magic of Disneyland.  I felt grateful, lucky and joyful to be there.   All other cares and worries melted away for a short while. I knew in those moments – even way back then – that Disneyland would always be a much bigger, more meaningful, part of my life than just an occasional place to board some fun rides, snag some nifty souvenirs and pose for pictures with characters. It would affect me in a multitude of ways, and would always and forever be part of my soul.
But I'm not alone in that sentiment.   As most people who closely follow Disneyland Resort-related news are aware, 2017 marks the 62 years of fun and memories that the original park in Anaheim has brought to people from all over the world.  That is no small accomplishment, considering that this park also essentially set the precedent and raised the bar for every other theme park that has come along since. Disneyland has left an indelible stamp in the history books and has, quite simply, become a part of people's lives.   Even amid the cacophony of grumbling and general armchair Imagineering that go hand-in-hand with each year's price hikes, attraction closures and increasing crowds, the bottom line is that many of us have an undeniable, abiding love for this enchanted place, and it goes far beyond rides and shows. We feel connected to Disneyland. We feel carefree at Disneyland. We can temporarily set our troubles aside when we are there. We think that anything is possible. We let ourselves get swept away by the adventure of it all.  It is our collective Happy Place, and that kind of souvenir is just about priceless.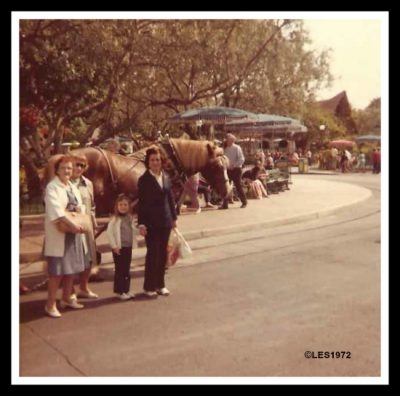 1972 — My grandmother and a few of her church friends stayed close to me so I didn't run off
1977 — Here I am with family friend Martha, who ran the Little Country Church of Hollywood, where Disney legend Thurl Ravenscroft was a member of the congregation and choir.
When I was a small child, I looked forward to my yearly Disneyland journeys with unstoppable enthusiasm and fervor.  As soon as one amazing adventure had sadly come to an end, I would pull out my colorful collectible pictorial and thumb through it, page by page, methodically planning out the next year's trip – long before the adults knew they would be taking me there again.  I mapped out where we would eat, where we would shop, which lands we would visit (in a designated order), and which of my school friends would be accompanying us on the outing. My organizational skills, attention to detail and "leadership qualities" were already taking shape at the tender age of five.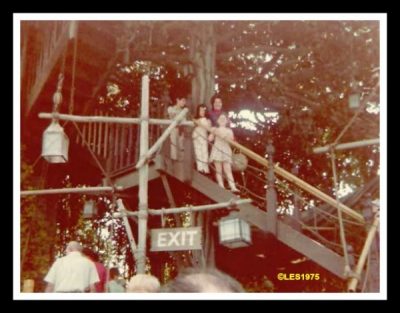 1975 — Those blurry figures with me in the Swiss Family Treehouse are family friend Mary, who was instrumental in making sure I got to visit Disneyland every year, and school friend Stacie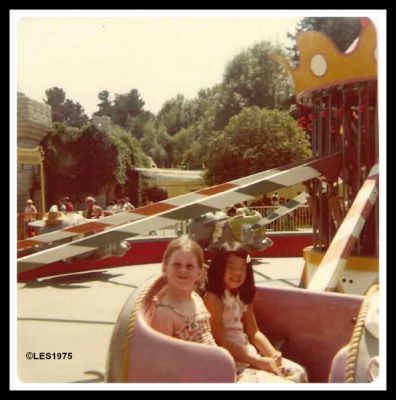 1975 — Stacie and I prepared to take flight on Dumbo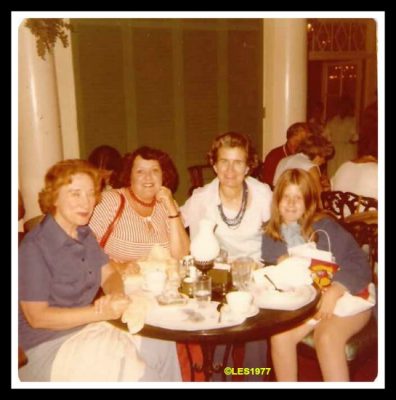 1977 — My first meal at the Blue Bayou, with my grandmother, Mary and Martha
Of course, at first my main priorities for Disneyland trips revolved around Space Mist punch in Tomorrowland, grape juice popsicles in Fantasyland, Tinker Bell bubble bath and wall clocks that looked like giant Mickey Mouse wristwatches.   Over the years, with each passing spin in a teacup and countless flights on Dumbo, the rides and attractions at Disneyland took center stage. As we approached the park from the freeway, the mere sight of the Matterhorn's peak caused me to almost hyperventilate with anticipation.  Even the tram ride from the Bermuda Triangle-esque parking lot to the front gates was an incredible odyssey for me.  I nearly leapt with excitement into Autopia cars, and I couldn't wait to hum along and stomp my feet during the Country Bear Jamboree.   I was mesmerized by the tiny world depicted on the Storybook Land Canal Boat ride. I climbed up the Swiss Family Treehouse and traversed the tricky bridges on Tom Sawyer's Island. And, much to the annoyance of my grandmother and the other patient adults who were present, I decided that I was going to begin singing in mangled faux French after one too many voyages along It's a Small World's international waterways… while proudly sporting a Shaun Cassidy T-shirt.  (Hey, I'm old.  What can I say?)
Each subsequent year's Disneyland excursion brought with it new discoveries, new memories and moments of sheer bliss that I wouldn't trade for anything, and this once frivolous annual childhood jaunt has turned into a serious lifelong tradition.
I have recently come to realize that, as thrilling and rewarding as all of my early trips to Disneyland were in one way or another, as an adult I can appreciate and benefit from being at the park in multiple other ways that are no less fulfilling. There are benefits I get from going to Disneyland (or to Disney California Adventure) that often surpass the enjoyment of the entertaining rides and shows. I suppose it is all a part of evolving and developing different interests and priorities, but I find these extra bonuses to be enhancements to my trips – and to me, as a person.
The following are five ways my visits to Disney parks have enriched me and/or expanded my horizons: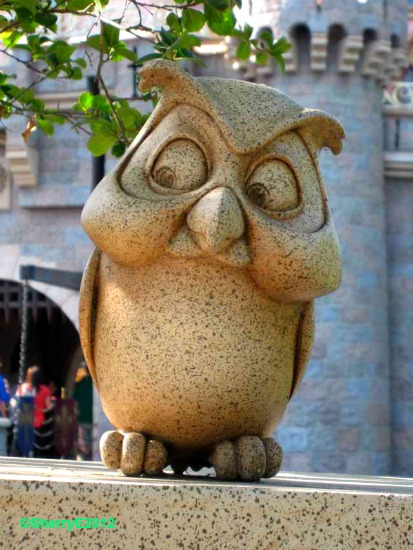 1.   Mentally.   My mind is sharper.  I am more alert.  I think more clearly. Whether I am tallying up the price of a restaurant bill or making lists of all the things I need to see and do in the parks, I am more organized and prepared.  If I am standing in long lines or waiting for someone to move aside so I can get my hands on a Mickey Mouse waffle magnet, I am more patient. I am more motivated to get things done, because time is of the essence.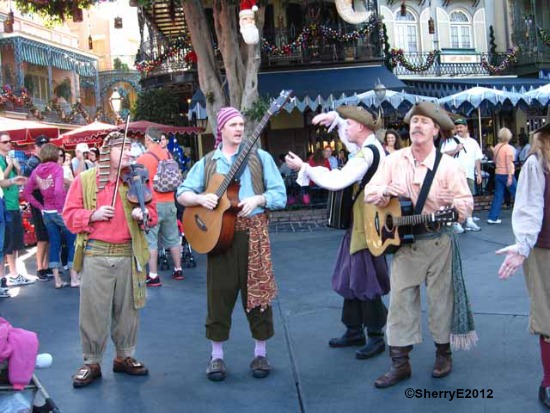 Also, because the whole Disneyland Resort experience is steeped in sensory overload in the very best way, I pay attention to everything. I hear the themed music in each land. I inhale the aromas of churros and popcorn coming from somewhere far off in the distance. I savor the sweet taste of pineapple spears under the hot sun.  I notice hidden gems around every corner, much more than I would in my "real life." All of my senses are engaged in what is going on around me.
2.  Emotionally.   There is a good reason why the word "happy" is used in discussions about Disneyland so often, i.e., "Happiest Place on Earth," "my happy place," etc. That reason is simple – being in a Disney park of any kind just makes people happy.
Aside from the occasional collisions with strollers, or the 8-foot tall dad who stands in front of me during a parade, or the groups of 20 people who try to cut ahead in a line, I am generally in a good mood when I am at Disneyland or California Adventure.   I am not ruminating on any problems that might await me back at home so much because I am truly soaking in the atmosphere.  And it feels good!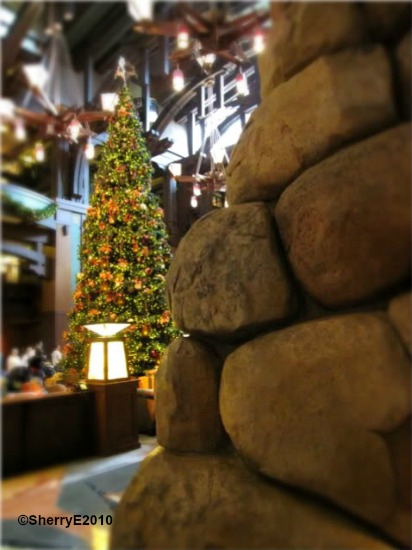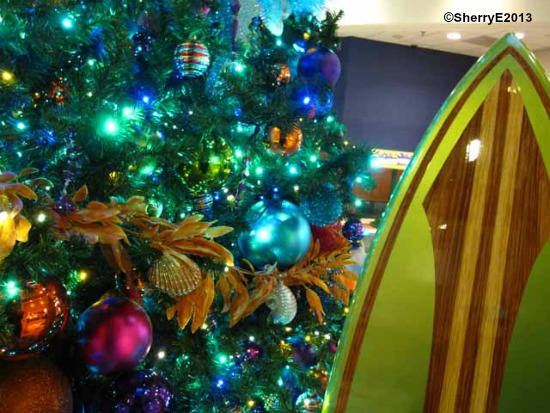 Being a devotee of the Holidays at Disneyland Resort, there are quite a few seasonal sights that nearly move me to tears. I have often said that when I walk into the lobbies of either Disney's Grand Californian Hotel & Spa or Disney's Paradise Pier Hotel and see the magnificent Christmas trees bathed in warm, glowing light, I want to dance around and sing at the top of my lungs – like Julie Andrews did as she ran through the hills in The Sound of Music.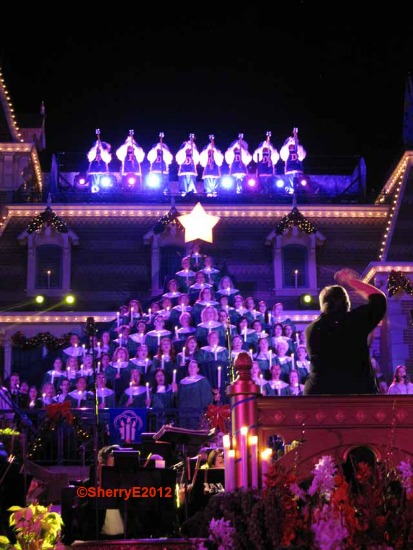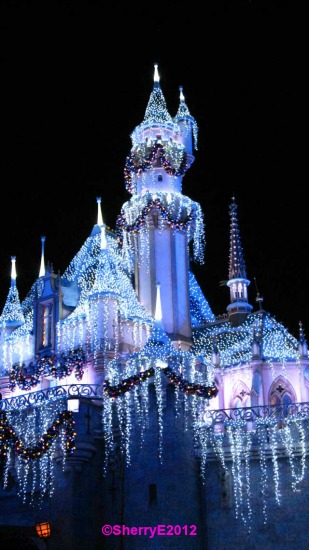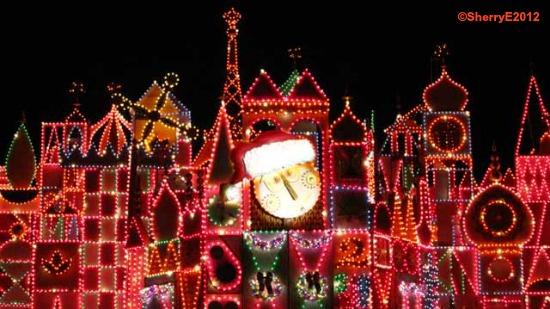 I choke up when Sleeping Beauty's Winter Castle lights up in icicles, and 'bubbles' of snow gently dust my hair on Main Street.   I stare in awe at the breathtaking colors that envelop the façade of It's a Small World Holiday at night.  During the Candlelight Ceremony and Processional I turn into a blubbering fool, frantically grasping for tissues to dab my cheeks as the powerfully moving music fills my heart with jubilation.
In other moments I will get a bit nostalgic, fondly remembering all of the Disneyland adventures of my youth, and I am forever grateful to my grandmother for facilitating them.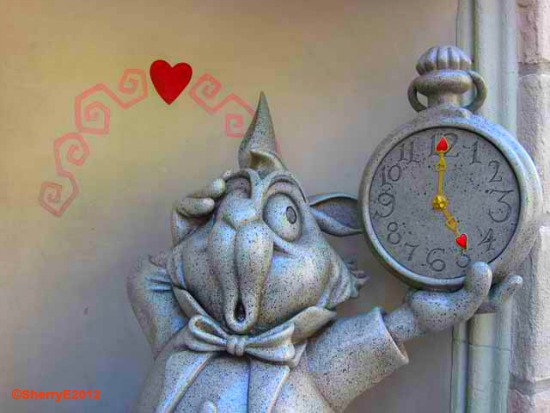 3.   Physically.   Let's face it – a visit to any Disney park involves a lot of bodies in motion.  Some people have reported walking anywhere from 7-14 miles in a single day at Disneyland Resort, according to their Fitbits, which is more than many people would walk in a week, let alone in one day.
I find that when I am at Disneyland I am energized. Instead of lolling about and procrastinating on the day's activities, I feel compelled to get out and get moving so I can make the most of my time. I am determined to be productive. I stroll from hotel to hotel and from shop to shop. I walk from the far reaches of the Disneyland Hotel to the front gates of the parks via Downtown Disney, without stopping to catch the Monorail. I walk across the Esplanade, from Disneyland to California Adventure and from California Adventure to Disneyland and back again, several times. I walk from land to land, exploring the abundance of out of the way corners, less traveled paths and overlooked treasures.
Don't get me wrong.   I don't always feel great. I get tired. I love a good rest or midday break as much as the next person. Sometimes my back, my legs and my feet are screaming out for mercy, in unison – and not in that "hurts so good" kind of way – but I usually pace myself, push through it and keep on keepin' on until it's time to collapse for the night. Any temporary discomfort I may experience is outweighed by a sense of accomplishment and productivity, for the most part.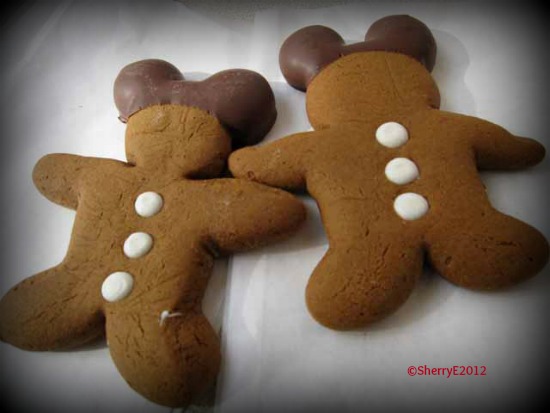 And besides… I need a way to feel less guilty about scarfing down lots of yummy fried chicken, gingerbread cookies with chocolate mouse ears and ice cream cones, so the constant walking will serve that purpose quite nicely.
4.   Creatively.   This could be my favorite underrated perk of visiting Disneyland Resort. The creative juices begin to flow and I am inspired.
When I was a wee tot, I asked my grandmother to let me use her Kodak Instamatic camera to take a picture from the window of the Space Needle in Seattle. I was fascinated with the concept of capturing an image, a cityscape, a memory, on film. Ever since that moment I have been a very enthusiastic, extremely amateur, shutterbug.   As a teenager I was always the annoying one with a camera at parties, way before anyone else thought to start taking pictures, but my subjects of interest have shifted away from people and more towards architecture, scenery and nature.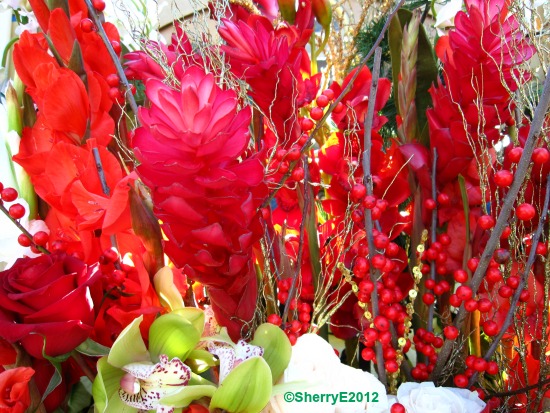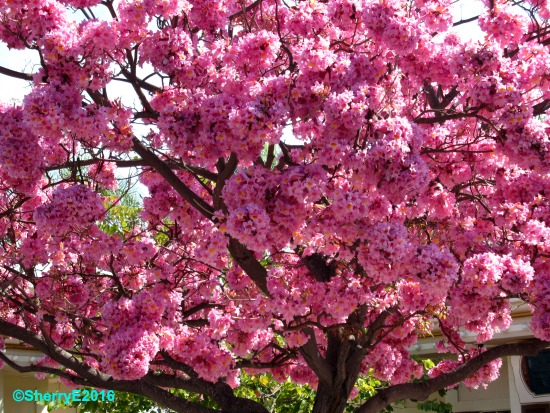 These days, when I have an opportunity to wander and explore at Disneyland Resort, my small Canon point and shoot is always in my grasp, ready to jump into action when called upon. There are so many vivid colors, interesting textures and shapes, stunning flowers and whimsical details to uncover. The photographic possibilities are endless.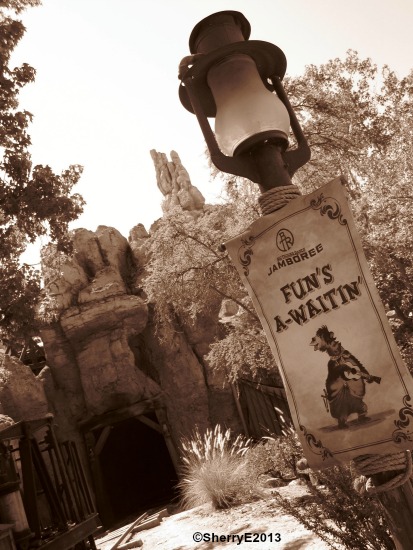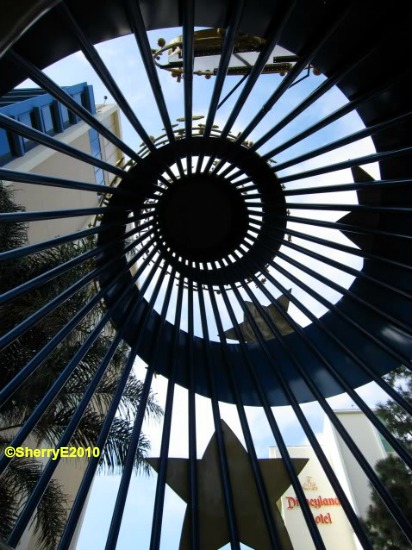 I find that embarking on photo missions around the parks and hotels is a cathartic, meditative endeavor for me. When I get in "the zone," I will linger there for a while. I will lose track of time as I spend hours snapping away. I channel whatever eye I might have for composition and try to hone my skills. I attempt to find angles or perspectives that haven't been seen or portrayed in photos thousands of times before.   If I am trying to get a specific shot of an ornament on a tree, for example, I will stand there for 15 minutes, taking 10 different versions of the same photo until I get the one or two that I can live with.
As with anything in life, there are hits and there are misses. There are winners and there are clunkers. Sometimes my ideas seem better in theory than in a photo. Sometimes my pictures are utter disasters – blurry blobs of mystery that probably looked great in their original forms, in person.   And sometimes they are just… kind of okay. The important thing is, no matter what the result, I am doing something that focuses my attention in a good way and enables me to really study so many of Disneyland Resort's more intricate elements.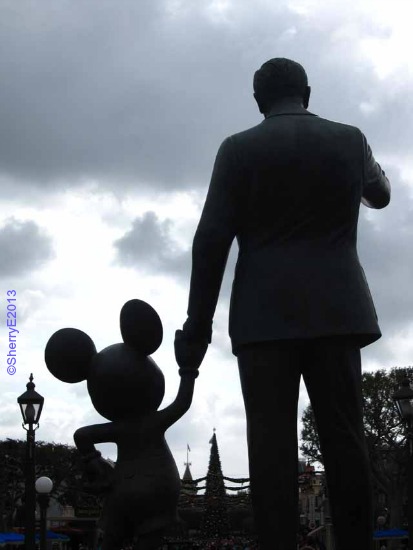 5.   Socially.   Disneyland Resort is a place for families, friends and strangers to gather, chat, interact and share the magic. It's a place where people can let loose and be…well, goofy.
Whether I am making small talk with fellow elevator passengers in a hotel, having dinner with old friends or meeting new ones for a group picture, I find that friendly faces and good conversation are never far away. People who have never met before become fast friends because of their shared affection for Disney.
I really value my solo time in the parks, but there is no denying the gleefulness of unbridled laughter with my old friends. I am talking about the uncontrollable, euphorically painful laughter that is triggered by some silly little inside joke or passing remark. After an hour of repeatedly bursting into hysterics we might even forget what the initial joke was about, but that's not enough to stop the giggle fits. All we have to do is look at each other or say one word, and it starts up again.
My friends and I have laughed about everything from Ghirardelli commercials to random comments overheard from other Disney park guests, to crazy hats sold in the gift shops. We've laughed as we've zoomed down the first drop on Pirates of the Caribbean and ended up sitting in a puddle of water. We've laughed at how ridiculous we looked in 3D glasses before boarding Toy Story Midway Mania. We've laughed as mischievous PhotoPass photographers instructed us to pose in all sorts of wacky, embarrassing ways (surely a part of some diabolical scientific experiment).
As we get older, life gets busier and more hectic, and my friends and I don't see each other as often as we used to. We may only be able to meet up once in a blue moon, but, when we do, it will probably be at Disneyland… and we will probably be laughing uproariously at something that makes no sense to anyone else around us.  Who am I kidding?  It probably won't even make sense to us.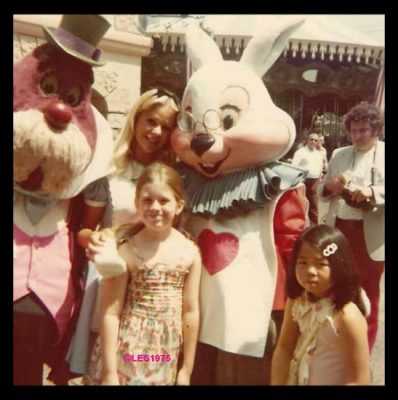 1975 — You wouldn't know it by looking at us, but school friend Stacie and I were happy to meet Alice and her crew!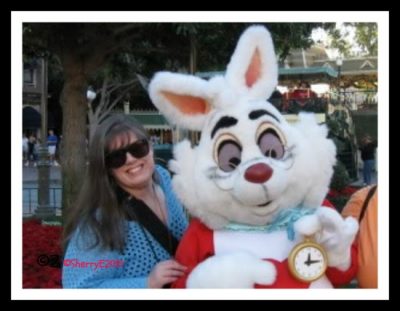 The White Rabbit and I reunited in 2010…
I have shared five ways in which my Disneyland Resort visits have had a positive impact on me, beyond the general fun of rides, shows and meeting cuddly characters.   In what positive ways have your Disney trips affected YOU?  Are they merely fun outings to enjoy once in a great while, or are they an important part of your life?  Do you feel connected to Disney in a deeper way?  What are YOUR "Mickey pancakes for the soul"?  In other words, what is the one tradition YOU practice on a Disney trip that stirs up warm feelings of comfort, familiarity and elation?    Tell me in the comments below.
Did you like this article? Make sure to share it with your friends! Check below for easy ways to share!
Incoming search terms:
Mickey Mouse Disneyland woul