This post may contains affiliate links for your convenience. If you make a purchase after clicking a link we may earn a small commission but it won't cost you a penny more! Read our full disclosure policy here.
Are you considering participating in a runDisney event? Or, maybe you have recently registered and want to ensure you are setting yourself up for success. runDisney currently offers four race weekends throughout the year at Walt Disney World: Marathon Weekend, Princess Half Marathon Weekend, Star Wars Rival Run, and Wine & Dine. Each of these race weekends offers several different distances – from 5Ks through the marathon – allowing runners to participate in one or multiple races in a weekend. runDisney race-cations are my absolute favorite experiences at Walt Disney World. I have compiled five tips to keep top of mind as you prepare for your magical race at the Happiest Place on Earth.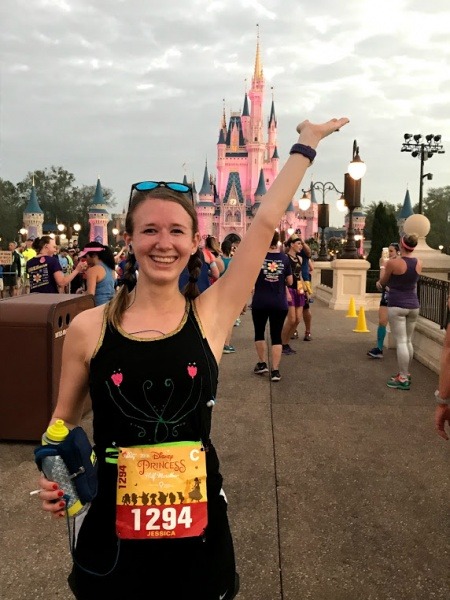 Tip #1: Train, Train, Train for Your runDisney Race
This tip really applies to all races, but I think it's worth mentioning. Whether you are running the 5K, the 10K, the half marathon, the full marathon, or some combination of these races, it is a good idea to make sure you are comfortable running your chosen distance(s). While these races were designed to be fun and low key, you are still competing in an endurance event. The longer distances such as the half and full marathon, especially, will require some focused training to avoid injury and keep you smiling throughout your race. I promise that the miles will feel much more magical if you are well-trained to run them. Plus, you will be in Walt Disney World, after all, and proper training will ensure you can tour the parks post-race to your heart's content without too much muscle soreness.
runDisney requires runners and walkers to maintain a 16 minute/mile pace throughout the race to avoid being swept from the event. Training plans, featuring Jeff Galloway's "Run Walk Run" method, are provided on the runDisney website. runDisney races are perfect for beginners or seasoned runners and can be a great motivator to pick up running as a healthy habit.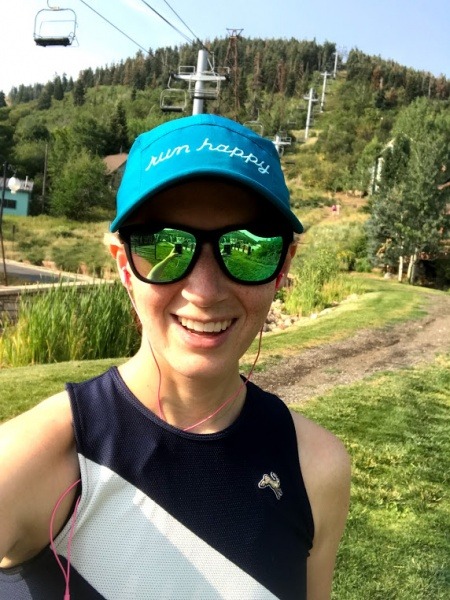 Tip #2: Stop for Photos
Throughout each race, there will be several photo opportunities with your favorite characters. Make sure to stop for these photos! I believe a lot of runners that are new to the runDisney world can find the concept of stopping for a picture in the middle of a race counter-intuitive. Believe me, this was a struggle for me during my first runDisney race! I would recommend letting go of any pace or timing expectations and taking advantage of everything the races have to offer. There most likely are plenty of opportunities to run a race for time in your hometown. I would save that harder effort for a local race. Besides, the runDisney races aren't cheap. You will want to get your money's worth and experience everything you can while you run them.
Chances are you will be running past some pretty amazing sights that the average Disney traveler doesn't get to see. For instance, you may catch the sunrise over the Magic Kingdom, Pandora without hundreds of people around, or your favorite park's backstage area. During the 2018 Princess Half Marathon, I captured a great shot of Cinderella Castle at sunrise from "backstage". That's a memory I will never forget.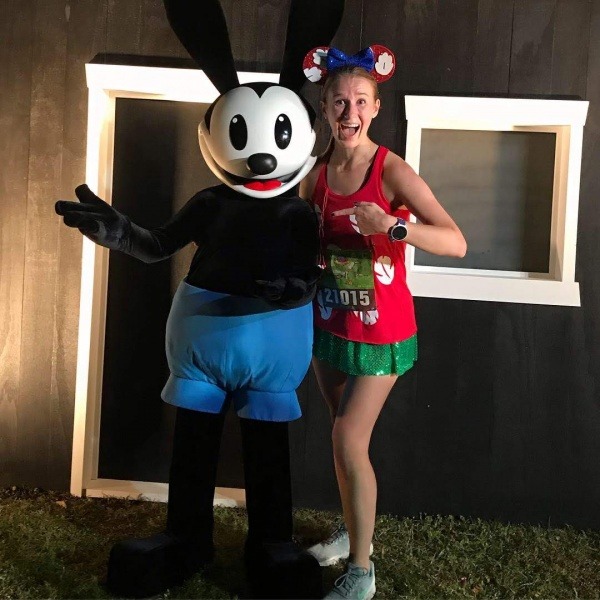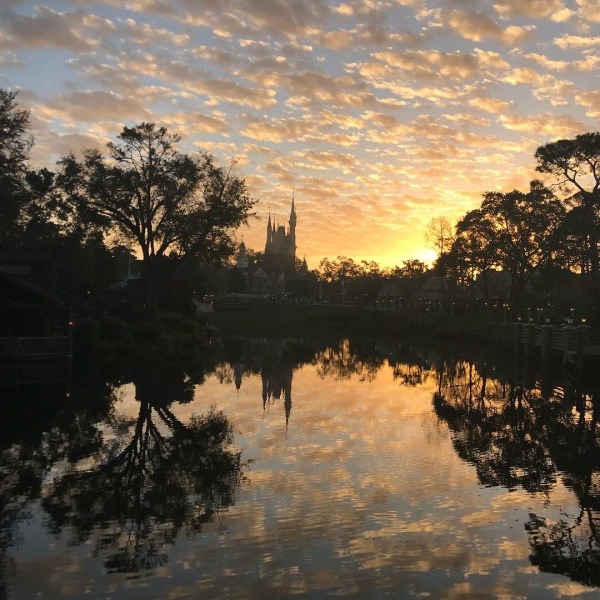 Tip #3: Wear a Costume
One of the best parts of a runDisney race is seeing all of the creative costumes worn by other runners. You will see costumes and outfits of every kind. Runners may dress up as their favorite character, coordinate elaborate group costumes, or wear outfits inspired by the race's theme. Also, planning and making my runDisney costumes keep me excited and motivated for my upcoming race-cation. After all, isn't planning a Disney vacation half the fun?  You can find inspiration for race costumes, as well as DIY guides and tips, on Pinterest and Google.  However, a word to the wise… Make sure you take your costume out on a trial run before your race. That will help highlight any potential issues with your costume and ensure that it will be comfortable to run in on race day. I don't recommend trying anything new on the morning of your race.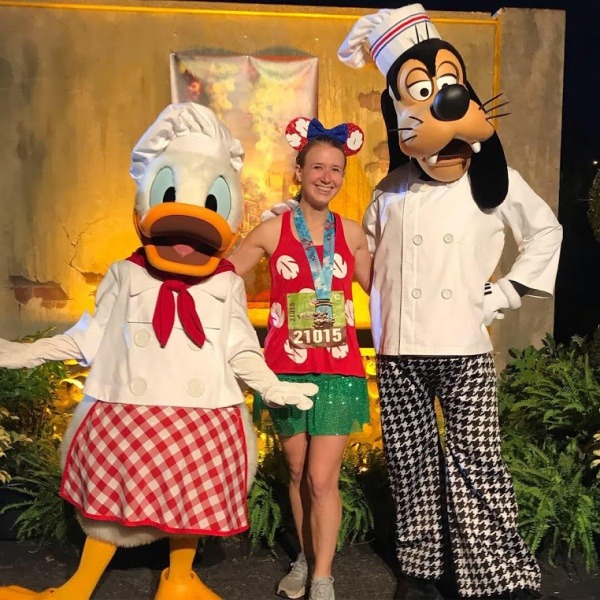 Tip #4: Stay on Property
Staying at one of the on-site resorts on Disney property has many benefits for every Disney vacation. These include transportation to and from Orlando International Airport, access to dining and FastPass+ reservations 180 and 60 days in advance, respectively, and transportation to and from all of the Disney parks and Disney Springs. However, on runDisney race weekends, shuttles to and from the race expo are included, as well as race-day transportation from all of the Disney resorts on property.  I find that this relieves much of my race-morning stress and helps my whole trip run more smoothly. The Disney resorts also sell early morning breakfast packs containing a bagel, peanut butter, and a banana to provide fuel before your race.  Plus, I really enjoy staying on property because of the elaborate theming and the excellent service provided by cast members. This only enhances the magic of my vacation.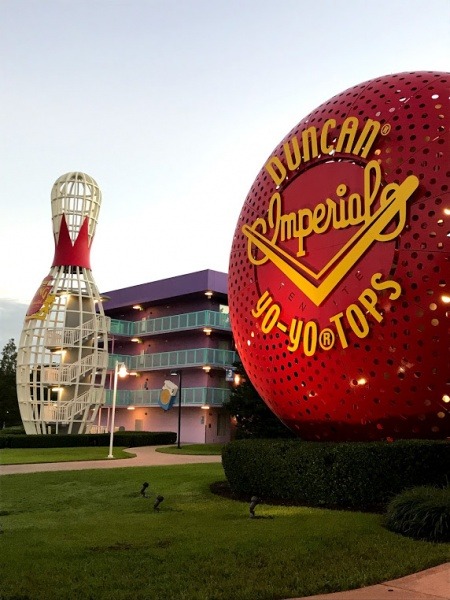 Tip #5: Eat and Sleep Responsibly Before Your Race
At Walt Disney World it can be tempting to drink your way around World Showcase at Epcot or eat your weight in Mickey bars while strolling through the Magic Kingdom. However, I would recommend waiting until after you complete your race before indulging in all of the goodies Walt Disney World has to offer. Unless you have a stomach of steel (and if that's the case, go you!), it's best to stick to foods your body is comfortable digesting before a big race. Again, it's best not to try anything new on race day.
I generally like to enjoy the parks until they close, but the night before your race(s) is NOT the time to stay out late. Each race starts around 5:30 am, and runDisney requires runners to be on the race transportation buses between 3:00 and 3:30 am. This equates to a very early wake-up call! While it can be difficult, I recommend eating an early dinner and trying to get to bed early, around 8-9 p.m. I also like to take a quick nap after the races, before I hit the parks. This helps me stay as well-rested as possible, especially if I have multiple early morning races in a row.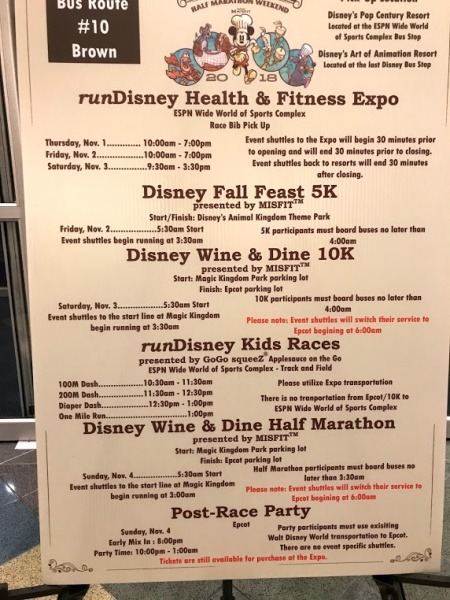 I hope you have an absolutely magical time at your upcoming runDisney race weekend. If you're new to runDisney, beware! Like Pringles, these race weekends are addicting, and you can't run just one.
Have you run a runDisney race before? What tips do you have?Let us know in the comments, or on Facebook or Twitter!
Did you like this article? Make sure to share it with your friends! Check below for easy ways to share!
Want to visit the Walt Disney World Resort? Contact The Magic for Less Travel for more information and a free, no-obligation quote.