This post may contains affiliate links for your convenience. If you make a purchase after clicking a link we may earn a small commission but it won't cost you a penny more! Read our full disclosure policy here.
If you are like me, you probably do the same thing I do.  You pack your park bag and throw everything you think you may possibly need in there and don't use half of it.  Now you are carrying around a heavy bag and you haven't even bought your souvenirs yet!
I also recommend using a properly sized bag.  Sometimes the bag itself is half of the weight.  I have found that the drawstring back packs are the perfect size for carrying everything I need for a day at the park and they also fit nicely on the rides.  Here are a few ideas of what NOT to pack in your Park Bag.
Phone charger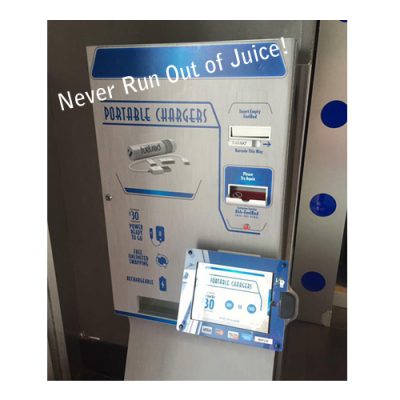 That's right!  You don't have to pack that with you anymore because there are FuelRod kiosks located throughout the parks.   You purchase the initial charger for $30 and then as you use it throughout the day or your trip and it dies, you can return it to any pod station and a new fully charged pod will be dispensed to you at no additional cost.  The FuelRod also comes with a cord so you can recharge it off property or even back home, and it also comes with the following cables:
6? USB Type A to micro-USB cable (for most Android devices)
One Apple 30-pin to USB cable
One Apple Lightning to USB cable
All of Your gift cards

What do you mean I don't have to pack my gift cards?  If you have multiple gift cards, when you arrive to your vacation, have the balances of all the separate cards put onto one card.  This lowers the risk of you losing a card and you don't have to worry about shuffling a deck of cards at the register to determine which one has money on it.
Umbrella
Unless you know for sure your day is going to be a rainy day from start to finish (which we have still braved the parks on a day like that), you can leave your umbrella at home.  Pack a poncho instead.  Most ponchos come with a hood and it's hard to navigate through the park with umbrellas.  Then when you enter a ride or a restaurant, you have to find a place for the wet umbrella.  That's just my experience.  But ponchos can be purchased outside the parks at any store for cheap and fold up small.  Umbrellas add extra bulk and weight to your bag.
Park Maps
You can use the MyDisneyExperience App on your phone to help you navigate through the park.  Unless you want the map for a souvenir, the app has everything you need to know about the park you are in or other parks you are visiting from park hours, parade times, ride wait times, restaurant menus and much more!
First Aid Items
Each park has a first aid and baby care center.  They are tucked away in a quiet area of the park and are staffed with nurses during normal park operating hours.  They can provide over-the-counter medications, bandages and quick remedies.  So you do not have to pack half of your medicine cabinet with you in your bag, unless there is a specific item you must have on you like inhalers or specific medications.
These are just our tips, now it's time for yours! What is something you suggest that can be left back in the hotel room? What shouldn't you include in your park bag? Share your thoughts in the comments.
Did you like this article? Make sure to share it with your friends! Check below for easy ways to share!