This post may contains affiliate links for your convenience. If you make a purchase after clicking a link we may earn a small commission but it won't cost you a penny more! Read our full disclosure policy here.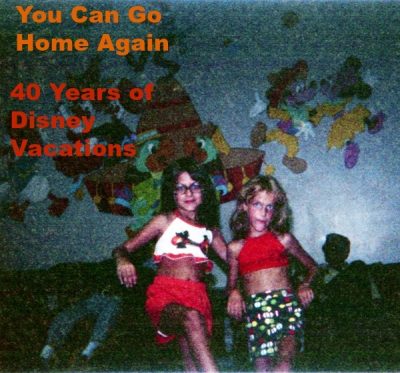 The author and her sister, Contemporary Resort, 1980
All my life, when I've told people I was going on vacation, their response has been "Have fun at Disney!" Since I was a kid, all my favorite and most special family memories have involved Disney vacations.
And here I am, 40 years after that first Disney vacation, and nothing has changed. Well, I mean everything has changed. I'm not a 5 year old anymore, and my vacations include my husband and daughter. But for my family, Disney is still King when it comes to vacations.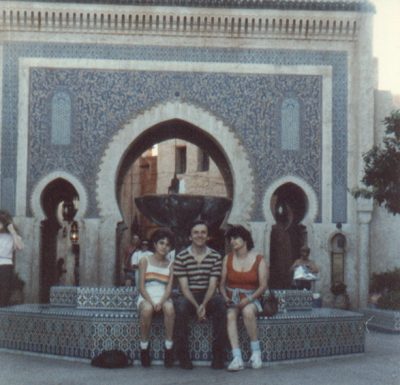 Morocco Pavilion, Epcot Center, 1986
You really have to credit my Dad for this. He was only 4 years old when Disneyland opened, and he watched it on TV, wearing his Davy Crockett coonskin cap. He came from a working class family in Brooklyn, and there was no way his family was going to pack up four kids to take them clear across the country. But Dad never forgot.
My very first trip to Walt Disney World was in March, 1976, back when there was just one theme park. My parents took me and my little sister, and we stayed in the Contemporary Resort. I have so few memories of that trip, but I can vividly recall my parents waking us up and taking us to our hotel window to watch the Electrical Water Pageant.
This is when my Mom got bitten by the Disney bug. My mother likes things clean, neat, and organized, so Walt Disney World was like a dream come true to her. I have never seen my mother more relaxed and happy than when we're on Disney vacations together.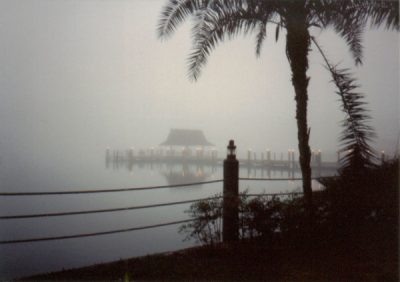 The view from our room at the Polynesian, 1989
Over the years, we returned for Disney vacations again and again, and as I grew up, I watched our favorite vacation destination grow as well. We watched as new theme parks were opened, more resorts, and saw many attractions come and go.
In May, 1993, I experienced Walt Disney World with my boyfriend (now husband!) while my sister was at the end of her stint in the College Program. We camped out in a tent at Fort Wilderness, and my sister signed us in to the parks for free. We were her guests at an outrageously fun College Program event called "Goofy's Studio Mystery," in which we were bungee corded together while we went on a scavenger hunt and trivia contest throughout what was then called the Disney-MGM Studios. I'd love to tell you we won, but that would be a bald faced lie.
In 1995, I got married, and we packed up all our belongings and made the drive from New York to Los Angeles. I was a little hesitant about the move until my husband reminded me that we'd be 45 minutes away from Disneyland!
I still remember us driving to Disneyland for the first time. We had our California drivers' licenses, which meant we were eligible (at that time) for a discount ticket. I was bewildered as we approached – I could see rides from the freeway! This was bizarre!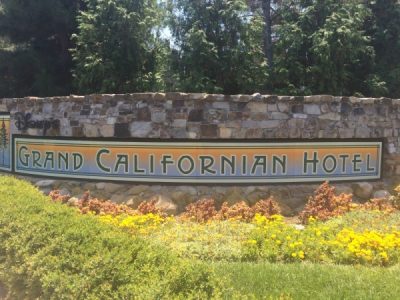 The Grand Californian Hotel, 2016
Remember that I was a born and bred Walt Disney World gal, and all I knew about Disneyland was that it was that little park Walt and Roy built first, before they learned from their mistakes and developed Walt Disney World.
But there I was, on a smaller, more intimate Main Street, staring at a smaller but delightful pink castle, standing under the fire station, below the window of Walt's apartment, and I fell in love.
Disneyland became a big part of my life. We went with old friends visiting from New York. We went with new California friends. We went with visiting family. We went there on my company's summer picnics. Sometimes I scored free passes from work, and sometimes we saved up to splurge and stay in one of the hotels. One of my favorite visits was when my parents and sister came out, and Dad got to fulfill a decades long wish to visit the Happiest Place on Earth.
Over the years, just as we did at Walt Disney World, we watched Disneyland grow and change. Hotels were purchased and renovated, and a Grand one was built. An entire new theme park sprung up on the site of Disneyland's former parking lot. Downtown Disney came to be.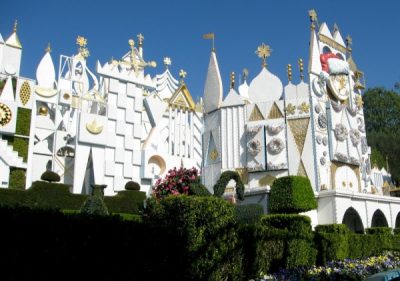 Disneyland's it's a small world, December 2009
When my daughter was born, we had even more reasons to visit. She has celebrated every one of her 11 birthdays there. When she was in preschool, she and I had Southern California Annual Passes, and we went once a month without fail.
Of course, we did not abandon Walt Disney World. We celebrated my parents' 30th AND 40th wedding anniversaries there. The 30th was with their kids and our husbands. The 40th added grandchildren to the mix. My daughter has been to Walt Disney World twice and can't wait to go again.
And we've added other Disney vacations destinations. We went on our first Disney Cruise this summer. We've visited Walt's Train Barn in Griffith Park and spent the day at the Walt Disney Family Museum in San Francisco. My parents just became Disney Vacation Club members, and we're planning a trip to Walt Disney World for the whole extended family in 2018.
For us, Disney has been home, and I'm happy to say that you CAN go home again. Case in point: this January, my sister had a conference at the Disneyland Hotel, and my parents joined my family there so we could all be together. At one point, my husband and daughter went to ride Winnie the Pooh as my Mom, Dad, sister and I got on Big Thunder Mountain Railroad.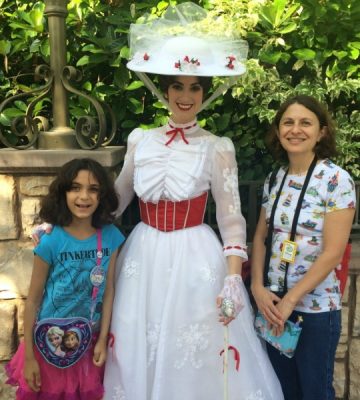 Meeting Mary Poppins in Disneyland, 2015
My parents were in the front, and my sister and I were in the back, just like the time we first rode this at Walt Disney World. I was in a silly mood, so I yelled, "MOM, Sandy's on my side of the train!" My sister picked up the joke right away and retorted, "Nuh uh, Kristina's on MY side! And she's poking me!" My Dad cracked up, getting the joke immediately.
But it was my Mom's reaction that stunned me. She turned back to us, and there were tears glistening in her eyes. "You have no idea how happy I am right now," she said.
Here's to the next 40 years.
What are some of your favorite memories from your Disney vacations? Share them in the comments section.