Delicious Disney Dishes – Tusker House's Corn Chowder
|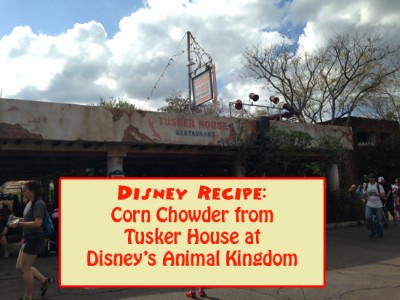 Did you know that next week is  Disney's Animal Kingdom's anniversary?  That's right. The park opened April 22, 1998! Did you also know that Tusker House was originally a counter service location when the park opened? It changed over to a table service spot around 2007 and has been serving guests a buffet style meal ever since.
One of the great dishes offered here is the great Corn Chowder! Today, whip up this great bowl of soup, serve it with a loaf of crusty, yet soft bread, and enjoy a full tummy!
Corn Chowder
Tusker House – Disney's Animal Kingdom
Ingredients:
3 Tablespoon Butter
2/3 cup Flour
1 Medium Diced Onion
1 Medium Peeled Diced Potato
1 quart Milk
1/4 cup Chicken Stock
1 small can of Creamed Corn
10 ounces Frozen Corn
2 Tablespoon Salt
1/4 teaspoon White Pepper
Directions:
Over low heat, melt butter, onions and sauté until tender/translucent.
Add flour, cook approximately 5 minutes stirring continuously.
Add remaining ingredients and whisk together.
Simmer about a half hour or until potatoes are tender.
Adjust seasoning and serve.
Happy Cooking!