This post may contains affiliate links for your convenience. If you make a purchase after clicking a link we may earn a small commission but it won't cost you a penny more! Read our full disclosure policy here.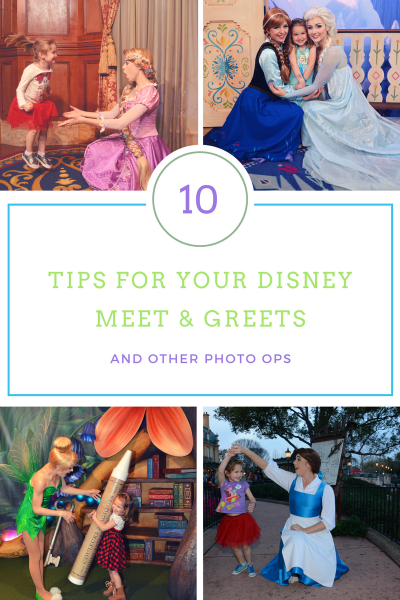 Disney Meet and Greets are one of the best ways to make great memories at every Disney Park. Here are some tips to make your meetings as special as possible. Plus, extra tips for taking other amazing photos, as well.
Plan Ahead
Learn what parks host which characters and fit them into your itinerary. Also learn what characters offer FastPass+ and decide if that's worth it to you. Characters that do have FastPass+ as an option tend to have longer wait times so if Magician Mickey or Rapunzel are at the top of your list, it might be worth it to guarantee your spot in line.
Make Autographs Special
There's nothing wrong with a store-bought autograph book. It's often one of the first souvenirs you get as a kid trekking to a Disney Park. But what if you could make it a little more meaningful? You could try creating a scrapbook page for each character you intend on visiting and have them sign that instead. Or you could bring a special keepsake. My daughter brought her favorite Frozen book and had Anna and Elsa sign that. I've seen people bring photo mats, tshirts, hats–if you have something different in mind, chances are the characters can put their autograph on it. Looking for more ideas? Check out Ellice's post of unique character autograph ideas.
Kill Lots of Birds With One Stone
Character dining is a great opportunity to see a lot of Disney pals in one sitting. If you have a soft spot for Winnie the Pooh, try The Crystal Palace at Magic Kingdom. If you want a more intimate meal but still want a character fix, breakfast at Trattoria al Forno would be a great option–you can meet Rapunzel, Flynn, Ariel and Prince Eric. Research the restaurants and dining events available and if there are some characters you just can't miss, then this is a great option to guarantee those meetings. (Bear in mind, photographers are not provided at meals but there are Cast Members around who are more than willing to take pictures for you.)
Plan Your Poses
Imitation is the sincerest form of flattery so striking that quirky Anna-esque pose with Anna or going fearless like Moana with Moana can make for some great pictures. Do you have a sweet, apple-shaped purse? Ask Snow White if you can present it to her a la the Evil Queen. Or maybe you have a card trick to show Magician Mickey. Having a fun pose adds a fun element to an otherwise standard photo.
Disneybound
Disneybounding is taking style cues from a character and putting them into your everyday wardrobe. A lavender blouse and white skirt could translate to Daisy Duck while red polka dots evoke everyone's favorite lady-mouse. If you like to Disneybound, make sure you find your corresponding character's meet and greet.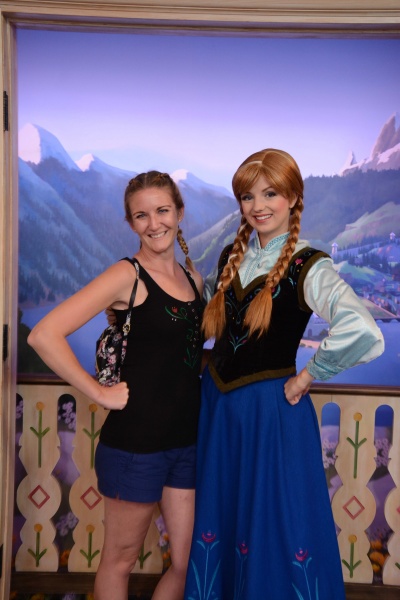 Stop at Free Photographers
So this one isn't so much about characters as it is about getting great shots of the parks. Disney's PhotoPass photogs are almost everywhere. If you're walking through Fantasyland and see a photographer dawdling around between Gaston's Tavern and Be Our Guest, stop for a picture! You'll get a great photo with Beast's castle in the background. The same goes with the one near Animation Courtyard at Hollywood Studios or any of the many bridges from Discovery Island at Animal Kingdom. They may not look like they have the best spots for pictures, but these guys (and gals) are pros and they will frame up excellent pics for you.
Fly Solo
Not everyone wants to meet the same characters, and that's okay! Take the time to split from the group to ensure you get to see everyone you want to see. There is absolutely nothing wrong with getting some pics on your own if it means that much to you. You're making memories, afterall!
Go Insta-Crazy
This is less about Disney meet and greets and more about finding those not-so-secret spots that pop up all over social media. The Purple Wall in Tomorrowland, the Moss Wall in Pandora or Fichwa Fellow in Africa are all great backgrounds for amazing photos. Again, you'll likely be responsible for your own picture taking but Disney is starting to recognize the popularity of some of these Instagram-worthy spots and occasionally, you might happen across a PhotoPass photographer. (Also, if you're on Instagram, so are we! Go on and follow us! You know you want to! 😉 )
Just Ask
Cast Members are at Disney Meet and Greets for a reason. Looking for an awesome marriage proposal shot? Ask a Cast Member to help surprise that special someone. Do you happen to have a group of 7 Disneybounding as Doc, Grumpy and all their pals? Ask for some pose ideas with Snow White before your turn arises. Maybe you brought a Porg friend along to test Chewbacca's appetite–whatever your idea, asking a Cast Member to help make your photos amazing is always a good idea.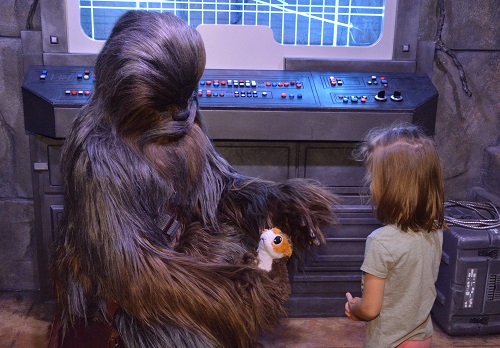 Magic Shots
Some PhotoPass photographers are set up to add a little extra magic to your photos. Now, this magic isn't visible until you check out your pics online, but it is a cute little extra bit of fun. Not all photographers will offer it, but it doesn't hurt to ask. Sometimes, you have to look a little doofy for a specific pose, but when you're done, you might have Orange Bird on your shoulder or Tinker Bell in your hand. There are Magic Shots available all over every park, so just ask your photographer. They might not always offer it, but when they do, it sure is fun. Click here to learn more about Memory Maker.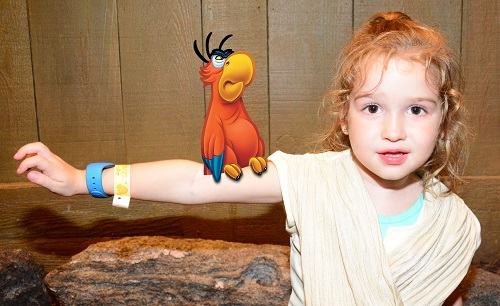 Using any or all of these tips will help make your Disney Meet and Greets even more amazing. These are special memories, afterall so why not make the most of them?
What are some of your tips for Disney meet and greets? Share them in the comments or on Facebook or Twitter.
Did you like this article? Make sure to share it with your friends! Check below for easy ways to share!
Incoming search terms:
https://www themouseforless com/blog_world/10-tips-disney-meet-and-greets/