This post may contains affiliate links for your convenience. If you make a purchase after clicking a link we may earn a small commission but it won't cost you a penny more! Read our full disclosure policy here.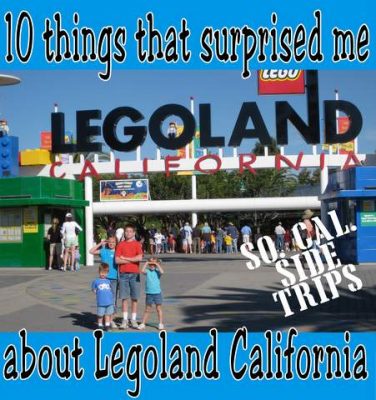 If you're planning a trip to Disneyland, you'll probably hit a few other local attractions while you're in Southern California. Legoland California would be a great theme park to add. But before clicking "purchase" on those park tickets, check out some of the details that surprised me about Legoland California.
1. It's not open every day in the off season. During the off-peak winter months, the park often stays shuttered on Tuesday and Wednesday. While planning our first trip, I had the park slotted for a Tuesday visit until I looked at the online calendar! Be sure to check the park hours and days early in your planning.
2. It's called Legoland California, not Legoland San Diego, for a reason. Legoland is NOT in San Diego. It is located in the city of Carlsbad, about 45 minutes north of downtown San Diego. Not a difficult drive, but public transportation is limited and you will need a car or an Uber to visit.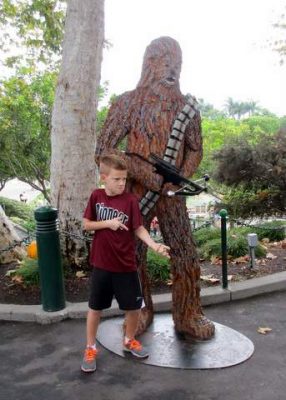 3. It's not aimed as young as you'd think. Legos are popular with all ages and the park caters to the young and the older. The rides are not Six-Flags-intense, but there are definitely height requirements for many of them. The MiniLand USA area definitely requires some patience to absorb all of the details. The Star Wars displays — including an enormous Death Star — are one of the highlights if you are a fan.
4. It's more than one park. Legoland has expanded from its beginnings 20 years ago as the first Legoland outside of Europe. The resort area now includes a SeaLife aquarium, a waterpark (open seasonally), and two hotels. Different tickets that combine the parks are available.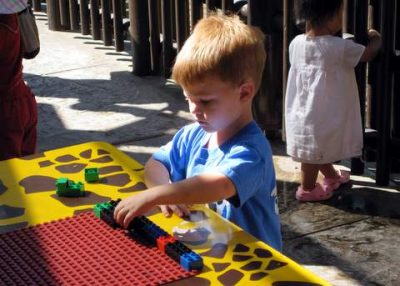 5. Legoland is very strict on height requirements. On our younger son's first visit at 3 years old and 35.9 inches tall, we hoped he'd get on at least a few of the 36-inch rides. No luck. Your mileage may vary by employee, but we found that unless the child bumped into the height stick, they didn't ride. Luckily our son was happy playing at the Lego stations and playgrounds around the park while his older siblings rode.
6. Check out the height requirements to ride alone. Going along with #5 is Legoland's byzantine system of multiple height requirements. Many of the attractions have low height requirements to ride, but a much higher clearance to ride without an accompanying adult or teen. If you have two children too short to ride alone and only one adult, it could make for a very frustrating day.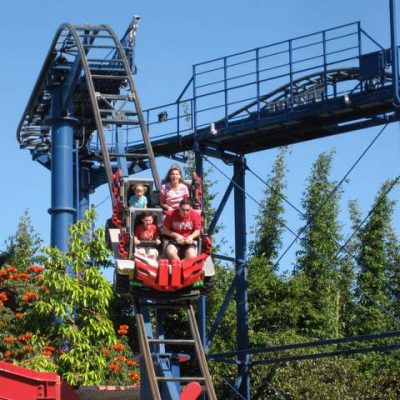 7. Shows and building classes don't always run during the off-season. Even when the park is open, it may not have a full slate of activities that day. Legoland does make the times available on the Legoland app. I wouldn't have a child's heart set on a particular activity unless you are going during peak season.
8. The food is better than you'd expect. Legoland's food goes far beyond burgers and pizza. Food service includes: barbecue, Philly cheesesteaks, crepes, Vietnamese, sandwiches, and ramen, along with usual theme-park staples. Granny's Apple Fries are a hidden gem that you need to try!
9. It's not just for kids. Don't feel like you can't visit if you don't have a child to accompany you. While the park definitely wants to capture the family market, it's also a nice change of pace for adults, or teens who still love Legos. You could spend an entire day just looking at the models and trying to figure out how they were made. While the waterpark is more kid-focused, the aquarium is for all ages that love sea life.
10. Don't get sticker shock. Ticket prices online look bad … and that's before you realize they lead with the child pricing! But there are always discounts available. Coupons for "buy the adult ticket, get a child in free" are found in the free Lego magazine subscription, at local stores, even on inexpensive Lego packages. And the ticket combinations for theme park, water park, and aquarium make anything over a one-day visit very reasonable.
I'd highly recommend Legoland California for Lego fans, families with children, and visitors who want to round out their Southern California trip with something different. I personally think the "sweet spot" for a child to enjoy everything in the park would be about ages 5 to 10.
Have you visited Legoland California? Is it worth a stop on a visit to California?  Share your thoughts in the comments, or on Facebook or Twitter.
Did you like this article? Make sure to share it with your friends! Check below for easy ways to share!
Incoming search terms:
https://www themouseforless com/blog_world/10-things-surprised-legoland-california/
https://www themouseforless com/blog_world/10-things-surprised-legoland-california/#:~:text=Many of the attractions have an accompanying adult or teen