This post may contains affiliate links for your convenience. If you make a purchase after clicking a link we may earn a small commission but it won't cost you a penny more! Read our full disclosure policy here.
I have to tell you. My initial stance on Zootopia when I first heard about it was that I was very unimpressed. Even with the trailer and everything I had seen about the film, this was almost the first Walt Disney animated film I didn't want to go see in theaters. I initially felt this film was like something we had seen before, something very unoriginal.
Then in early February I was able to go to Disney's Hollywood Studios, and they were showing a special preview of it in the One Man's Dream Theater. I settled in to see the preview with zero expectation for anything I was about to see. I was strictly going to see this for research and to re-affirm my suspicions about this film. And I was so very, very wrong.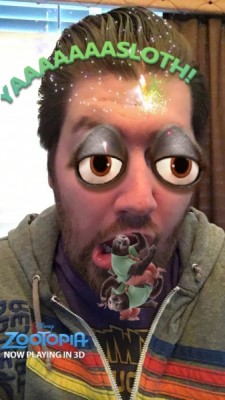 I walked out of the One Man's Dream Theater with a giant smile on my face and started tweeting rave reviews about what I had just seen. Flash forward to March 4th, my wife, son, and I go to our local theater, and we sit down in a packed house and started watching the film.
In short, the film is everything a Disney film should be. It's very funny, it's heart warming, and has a great message behind it. You immediately fall in love with each of the characters you meet along the way.  There were moments in the film where I was legitimately shocked at events that took place.
This film is very clever, it has a lot of adult humor, and references only meant for adults. The voice acting was superb and the cast knocked it out of the park. There are twist and turns and you find yourself really rooting for these characters in a way that reminds me of Wreck It Ralph. And getting compared to that film is never a bad thing.
I would give this film a solid 8/10. This film is not to be missed. Go out and see Zootopia, you will love it!
Have you seen Zootopia yet? What were your thoughts?