This post may contains affiliate links for your convenience. If you make a purchase after clicking a link we may earn a small commission but it won't cost you a penny more! Read our full disclosure policy here.
I'm not much of a collector and when it comes to Disney collectibles I find it too daunting to even consider, but at the end of every Disney trip I wind up perusing the shops, trying to find something to commemorate my time at the Disney parks. Unfortunately, nothing's had ever piqued my interest… that is until one fateful day when I stumbled into the Fountain View, the Starbucks shop at Epcot, and found these bad boys: Disney coffee mugs.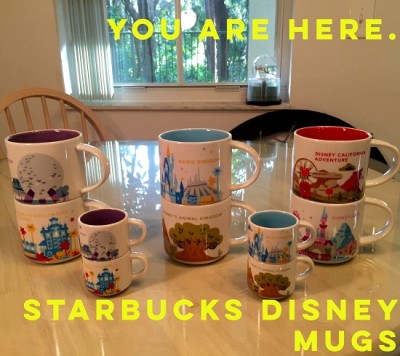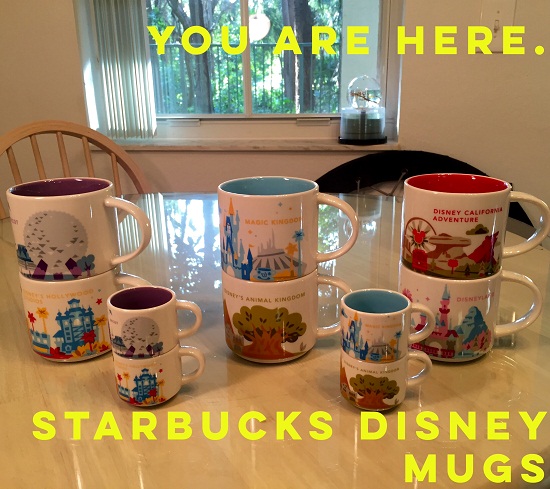 They're a part of Starbucks "You Are Here Collection" and they depict major city landmarks individualized for the shops they're sold in. Want a Texarkana mug? Go to the Starbucks shop in, you guessed it, Texarkana. Fortunately for Disney fans, there are Starbucks shops at each of the four Disney World parks, a fifth at Disneyland, and another at Disney California Adventure, that offer unique coffee mugs showcasing each park.
I started collecting these mugs for a few reasons. First, the finality, I knew I could collect them all and there would be a definitive stopping point. Second, there's a weight to them that makes them feel more valuable than a plastic tchotchke you might find at other Disney shops. Lastly, just like a world scratch map or one that has you color in countries you've been to, these mugs provide incentive to go out and visit the parks, hopefully one you've never visited. You can purchase the mugs online, but you'd be missing the best part about collecting them – visiting the parks!
Magic Kingdom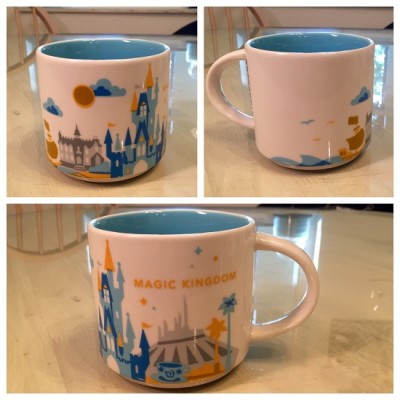 All of the mugs are done up in a minimalist style Disney fans will be familiar with. The Magic Kingdom mug is one of the more colorful with blues, grays, and yellow depicting Space Mountain, the Mad Hatter Teacups, Cinderella's castle, the Haunted Mansion, and what appears to be a sailing ship, possibly a pirate ship or something akin to the Columbia in Disneyland.
Disney's Animal Kingdom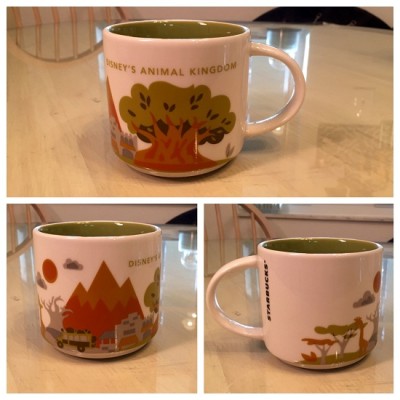 Amongst greens, browns, and grays the Tree of Life and Expedition Everest rise up over a small village, with a safari bus heading out to the savanna where a baobab tree and a giraffe await. To me this mug has the least going on but it's calming and would be the perfect companion to coffee on a veranda at the Animal Kingdom Lodge.
Disney's Hollywood Studios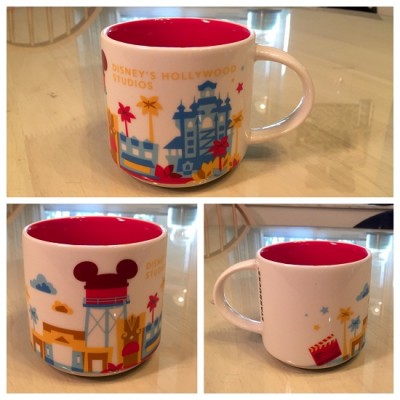 Blues, reds, yellows, and brown, this mug has it all and is definitely the most colorful and it goes a long way in capturing the glitz and glam of old Hollywood. The Hollywood Tower Hotel is on prominent display along with old Hollywood buildings, a studio entrance, a clapperboard, and of course, the water tower underneath a giant set of Mickey ears.
Epcot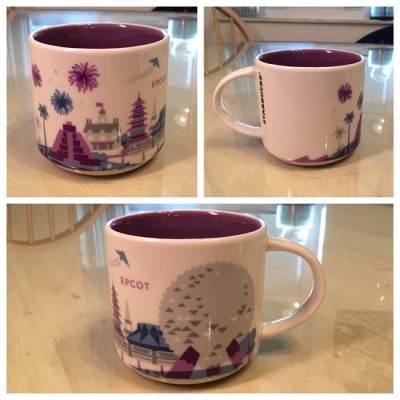 In my opinion, the best of the bunch. Maybe it's because Epcot's my favorite park stateside, or maybe it's because it has a story that includes two different variations, but first a visual description. Grays, blues, and purple show Spaceship Earth, The Land, France's Eiffel Tower, Japan's pagoda, America's show building, and Mexico's Mesoamerican pyramid and peeking out in front of the World Showcase's heavy hitters is a grey monorail.
The monorail is where the story lies. Original versions of the mug had a purple monorail to go with the color scheme, but shortly after release it was pulled because of an incident back in 2009 in which the purple monorail hit another monorail, killing an operator. The purple monorail was retired after the incident but not on the mugs first edition.  Once the offending mug was pulled, Starbucks put out a redesigned mug with a change to the monorail's color (grey).
Disneyland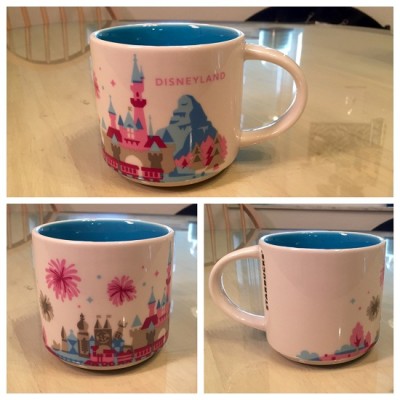 Back on the west coast we've got the one that started it all. Blues, pinks, and grays show Sleeping Beauty's castle sitting in the foreground as the Matterhorn looms behind. As we move along we see three of the things Disney is known for: trains, It's a Small World, and of course, fireworks.
Disney California Adventure
Greens, browns, and reds set off this panorama starting with Grizzly Peak butted up against Radiator Cap from Cars Land. In the background is Mickey's Fun Wheel, The Carthay Circle Theater, and a street car.
Seeing these mugs as a set highlights the care that went into their design. Where you might expect fireworks on the Magic Kingdom's mug, it's accounted for on the Disneyland mug. Space Mountain and the Haunted Mansion are absent from the Disneyland mug because these icons show up somewhere else. And let's not forget about the color, because the mugs are nothing without their color. The commingling of basic colors flowing between the mugs shows a bigger, brighter picture while each representative mug still retains the key colors and atmosphere of their respective park, allowing them to shine on their own. My favorite examples of this are the Animal Kingdom's green and the Hollywood Studios' burst of colors suggesting the exciting era of early Hollywood.
If all of this waxing poetically about coffee mugs hasn't tipped you off let me be frank. If you can only take one souvenir with you, let it be one of these mugs. They're colorful, fun, and definitely not a tchotchke.
A Little Extra Magic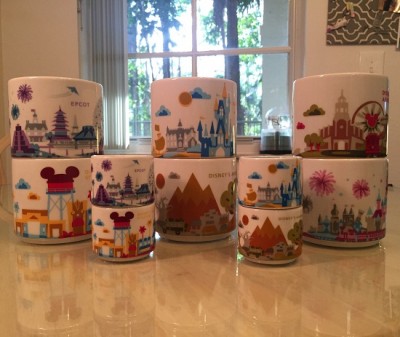 During the 2015 holiday season Starbucks released miniature versions of these mugs. They're sold as Christmas tree ornaments, but if you're like me all you see is a set of espresso cups to go along with their bigger brothers and although they are not shown in any of the pictures, they do have miniature versions of both Disneyland and California Adventure so be on the lookout!
Do you collect the Starbucks "You Are Here" mugs? Which one is your favorite?
Incoming search terms:
disney world you are here starbucks mug
https://www themouseforless com/blog_world/you-are-here-the-starbucks-disney-mugs/
disney starbucks you are here mugs
starbucks you are here disney
Why is Disney world out of Starbucks mugs