This post may contains affiliate links for your convenience. If you make a purchase after clicking a link we may earn a small commission but it won't cost you a penny more! Read our full disclosure policy here.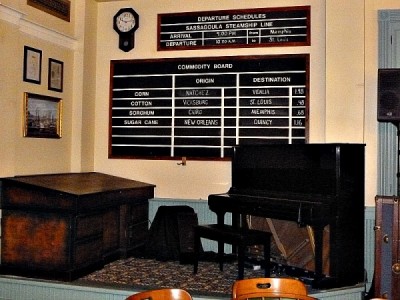 Yehaa Bob Jackson has been entertaining guests at Walt Disney World for more than 16 years.  His unique "one man show" combines piano playing, comedy, and sing-alongs for a high energy, interactive good time.  He performs at the River Roost Lounge inside Disney's Port Orleans Riverside Resort,  most nights, Wednesday – Saturday.  While quiet during the day, the Roost comes alive on nights when Mr. Jackson and his rockin' piano are present.
Last fall, I intentionally stayed at the Riverside Resort to make it more convenient to catch Bob's performances.  I was excited to take in my second show and it did not disappoint.  Being shy by nature, I had to wonder why I was down in front doing the hand jive with other ladies 15 minutes into the set.  Looking around the room, every single person had a smile on their face.  Even the servers carrying their heavy laden drink trays through the crowded room, which would be a miserable feat anywhere else, were cheerfully singing along.  How does this brilliant man have the ability to get a roomful of strangers feeling like they are among friends and family?
Bob Jackson began playing piano at an early age.  He studied music composition at Cincinatti Conservatory of Music and studied privately with pianist/composer, Dick Hyman.  He has performed all over the world including all the Disney Parks, Universal's City Walk, Sea World, churches, and benefits for Give Kids the World.  In 2013, he received the prestigious Walt Disney Legacy Award which is the highest honor a Disney cast member can achieve.
Bob's show starts at 8:30pm and goes until about midnight.  While the entire show is family friendly, the first show is a little more geared to the kiddos.  Bob might spontaneously call out, "Who lives in a pineapple under the sea?" and little voices triumphantly answer, "Spongebob Squarepants!"  If you plan on seeing the first set, I suggest arriving early.  Seats go very quickly and once he takes the stage, it becomes quite crowded. Bob arrives early and mingles about the room meeting everyone, noting names and where they're from.  The River Roost has some bar type appetizers, but you are more than welcome to bring back food from the nearby Riverside Mill (Riverside's counter service restaurant).
Once Bob begins his set, the singing, clapping, foot stomping and chest pounding  becomes contagious and takes over the audience. Frequent visitors are familiar with certain antics, but newbies will learn quickly and fit right in. During songs, Bob will call out names and locations he remembers from earlier as well as including new guests as they arrive.  Bob's charm never leaves room for a moment of awkwardness or embarrassment.  The result is a party that stops people walking by dead in their tracks wondering what they are missing out on.
In between sets, Bob will take pictures and sign autographs.  Let him know if you are celebrating something special!  As the night wears on, families with kids start to dissipate and finding a seat might become a little easier.
Transportation to Riverside is more manageable than you might think.  If you don't have your own car, you can hop on a bus to Port Orleans Riverside from  Magic Kingdom, Epcot, Hollywood Studios,  Animal Kingdom, or Downtown Disney.  Make sure you get off at the main building stop.  There is also a scenic boat ride from Downtown Disney.  The boat will make a quick stop at French Quarter before continuing on to Riverside.
I highly recommend incorporating a Yehaa Bob show into your next visit.  There is no cover charge and you will leave with priceless memories.  Don't be surprised if days, weeks, even months later you find yourself singing one his songs in your head.  He can have even the most timid audience members marching around the room, swinging their arms in the air, or on their back acting like an alligator.  I am highly anticipating my next Yehaa Bob show.  Until then, all I can say is, "Your hair looks great, Bob!"
Incoming search terms:
https://www themouseforless com/blog_world/yehaa-bob-jackson/