This post may contains affiliate links for your convenience. If you make a purchase after clicking a link we may earn a small commission but it won't cost you a penny more! Read our full disclosure policy here.
Traveling to Walt Disney World is fraught with decisions:  what kind of tickets you should buy, where you should eat, where you should stay; and, in the era of FastPass+, what you should ride and what time you should ride it!  To add to the planning headache even more, now you need to decide whether or not to buy the Memory Maker product.
Memory Maker is Disney's photo package. Throughout the Walt Disney World parks, and in some of the resorts and Disney Springs, you will find Disney's PhotoPass photographers.  These Cast Members take your family's photo, which is then linked to your My Disney Experience account, where you can download the pictures, make edits, and order prints and other products with your photos
The cost to order Memory Maker is $149 if you order it 3 days or more in advance of your first ticket use.  The cost is $169 if you order it within that three-day period or later. The cost seems steep at first, but if you consider all of the photos you receive and what you might do with them following your trip, you might think it's a bargain.
One way to reduce the cost is to spread it among more than one party traveling to Disney World around the same time.  You can become "friends" on My Disney Experience and opt to share your plans and photos with them.   Your Memory Maker lasts a full 30 days from first use, so you could feasibly have one family start a trip a full month before another family ends their trip and split the cost.  We traveled in Summer 2015 and happened to know several other families going within the same 2-week period.  Three of the families decided to go in on Memory Maker to save a bit of cash.
Should you decide to do this with others you know traveling to Disney World at around the same time, there are three anomalies about the My Disney Experience website and mobile app that you should know before your trip.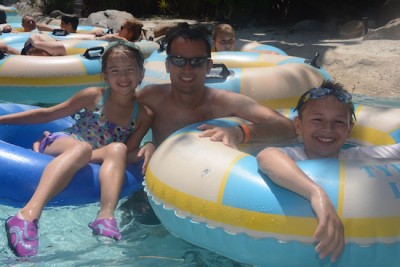 You will find PhotoPass photographers all over WDW, including in the lazy river at Typhoon Lagoon. I'm not kidding; the photographer was in waders!
Warning #1: Only one person can download the photos.
Only one My Disney Experience account can view unprotected photos, make edits, and download them.  For our trip, I purchased the Memory Maker and linked it to my account.  The other two families could see all of their photos and mine since we were connected, but they were not able to download them because the Memory Maker purchase was not linked to their accounts.  Only the Memory Maker-enabled account can do this.
Warning #2: Link all family members, even the kids!
Once purchased, I had the other two families connect all members of their parties with me.  It is necessary to connect all members because the photos will be linked to the MagicBand that touches the Mickey reader.  Often, this will be a child (especially the on-ride photos, where the kids like to run up to the screens and touch their bands to their photo.)  The connection to the other folks can happen at any point while your Memory Maker photos are available (which is up to 45 days after your activation), so don't fret if you don't connect to little Olivia until after the trip.  Just know you won't be able to view or download the photos of non-connected people.
Warning #3: Don't cancel your friends' plans!
After you connect your My Disney Experience accounts, you will be able to view each others Advance Dining Reservations and FastPass+ reservations.  Before our trip, I noticed that it was possible to cancel or change another family's FastPass+ reservations. What I didn't know was that it was also possible to change or cancel an
other family's dining reservations!
As my family was boarding the plane to MCO, I was searching for a last-minute Advance Dining Reservation at Sci-Fi Dine-In Theater Restaurant.  I finally found one, and when I went to book it, it said that there was a conflicting reservation (which happened to be for one of the other families at that time).  The app prompted me to "keep reservation" or "cancel."  Seeing that, I quickly hit "cancel" because I did not want to mess around with someone else's Advance Dining Reservation. What I didn't realize in that split-second of time was that it said "cancel reservation" when I thought it just meant to cancel my request!  I cancelled the other family's reservation at Hoop Dee Doo Musical Revue.
In panic mode, I quickly texted them as I was getting on the plane and told them to get on the phone with Disney Dining right away.  Several hours later after being on the phone, they were not able to rebook that reservation.  Instead, they were forced to reserve an earlier seating the same day.  I felt awful, but it ended up working out in the end.
Memory Maker can be an excellent way to capture the magic of your Walt Disney World vacation.  And splitting the cost with others can be a great way to make it a great value.  Just heed my words of warning, and don't cancel those Advance Dining Reservations!

Do you enjoy Memory Maker? What are your tips? Share in the comments!
Incoming search terms:
https://www themouseforless com/blog_world/words-warning-sharing-memory-maker/
disney memory maker photo share
disney memory maker share group
do you have to buy memory maker twice for a split stay ar disneyworld
how do i share my memory maker
memory maker share group
sharing disney photopass