This post may contains affiliate links for your convenience. If you make a purchase after clicking a link we may earn a small commission but it won't cost you a penny more! Read our full disclosure policy here.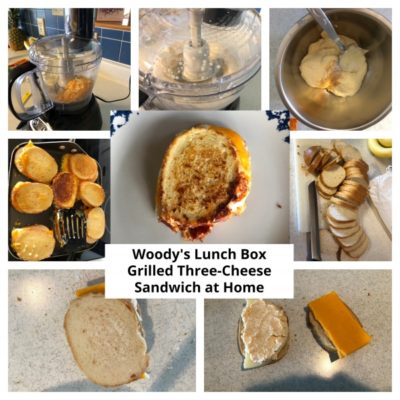 When you're missing Disney World, one of the best things that you can do is enjoy a Woody's Lunch Box Grilled Three-Cheese at home.  Thankfully, Disney released the recipe so that you can!
Recipe
Personally, I plan my trip around getting a meal at Woody's Lunch Box just for this Grilled Three-Cheese Sandwich.  So attempting to make this at home was a no-brainer.  One look at the Disney Parks Blog recipe, and I was relieved to find that there weren't any difficult to find ingredients.
Ingredients:
Cream Cheese Spread
1/2 cup cream cheese
1/2 cup shredded cheddar or Double Gloucester
2 tablespoons heavy cream
1/2 teaspoon coarse salt
Garlic Spread
1 cup mayonnaise
1 1/2 teaspoons minced onion
1/2 teaspoon coarse salt
Grilled Cheese Sandwich
8 slices of artisan bread
8 cheddar cheese slices
8 provolone slices
Preparation
Cream Cheese Spread
Combine cream cheese, Double Gloucester or cheddar, heavy cream, and salt in food processor.
Blend ingredients until smooth.
Set aside.
Garlic Spread
Combine mayonnaise, garlic, and salt in small bowl.
Stir ingredients until blended.
Set aside.
Making the recipe could easily be a family activity. There's a little bit of blending, a little bit of stirring, and cutting up of a loaf of bread.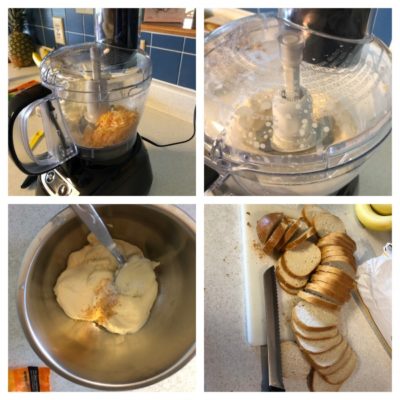 Assembly
Grilled Three-Cheese Sandwich
Lay artisan bread slices on parchment paper or large cutting board.
Place 2 slices of cheddar on 4 of the bread slices. Then place 2 slices of provolone on remaining bread slices.
Spoon cream cheese spread on the bread slices with the provolone, gently smoothing the cream cheese spread over each slice.
Press cheddar side and provolone side together.
Heat a large skillet over medium heat for 5 minutes or until hot.
Brush both sides of the sandwich with garlic spread.
Grill sandwiches for 2 minutes on each side or until cheese is melted and the bread is golden brown.
After that, it's was time to do the assembly.  If you have smaller kids, this could be the best place for them to help. All you need is to take two pieces of bread, put a piece of each of the kinds of cheese slices on each side of the bread, then spread some of the cream cheese mixture on one side before putting it together.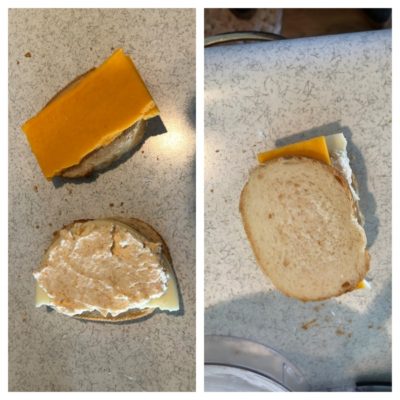 The final step before putting it on the griddle is to spread some of the garlic spread on the outside of the sandwich, just like you normally would butter.
The recipe said that it would make 4 sandwiches, but my family ended up purchasing a loaf of bread that was smaller in circumference than the normal bread, meaning that the sandwiches weren't as big as those we get at the park. Honestly, I think it is better this way because you get more sandwiches, and they're easier to pick up- which can be helpful for smaller kids.
Don't worry- if you end up with leftovers, these easily reheat in both the microwave or oven.  And they taste just as good on the reheat as they did the first time around.
Overall, I would give this recipe 4.5 out of 5 stars.  Each sandwich is super good and even though it isn't exactly like the Woody's Lunch Box Grilled Three-Cheese Sandwich- it is the closest thing that I have tasted outside of Hollywood Studios.  If you're looking for something new to try, a Disney recipe, or are craving a grilled cheese, I highly recommend this one.
Have you tried making this grilled cheese? Let us know your thoughts on creating this delicious masterpiece in the comments, or on Facebook or Twitter!
Did you like this article? Make sure to share it with your friends! Check below for easy ways to share!
Want to visit a Disney Destination? Contact The Magic for Less Travel for more information and a free, no-obligation quote.