This post may contains affiliate links for your convenience. If you make a purchase after clicking a link we may earn a small commission but it won't cost you a penny more! Read our full disclosure policy here.
Woody Woodpecker's KidZone holds most of Universal Studios kids-friendly attractions, and while the future of Woody Woodpecker's KidZone is uncertain, I really think that little tykes will have a lot of fun when visiting.  Here is a look at all the attractions nestled inside Woody Woodpecker's KidZone.
Animal Actors on Location: The show integrates video segments with live sketches, jokes, and animal tricks performed on stage. Live animals, some of which are veterans of television and movies (and many of which were rescued from shelters), take part, and kids are invited to participate. I love the show and kids will enjoy every moment of it. At the end of the show trainers will come out on stage with some of the animal actors to answer questions and picture ops. Check the daily entertainment schedule for show times.
A Day in the Park with Barney: Barney, the cuddly purple dinosaur of public-television fame, leads a sing-along with the help of the audience and sidekicks Baby Bop and BJ. A short preshow gets the kids lathered up before they enter Barney's park (the theater). Interesting theatrical effects include wind, falling leaves, clouds and stars in the simulated sky, and snow. I have fond memories of watching Barney with my son and love the simple yet very effective educational messages he conveys to little ones through songs.
After the show, Barney poses for photos with parents and children in the indoor playground at the theater exit. If your child likes Barney, this show is a must. Unfortunately, Barney maybe calling it quits in the near future.  In the meantime, if all the raindrops where lemon drops and gumdrops, oh what a rain that would be!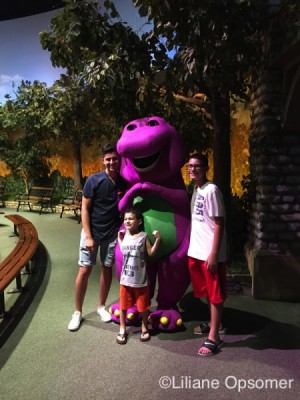 E.T. Adventure: Board a bicycle and escape with E.T. from earthly law enforcement officials and then journey to his home planet. The attraction is similar to Peter Pan's flight at the Magic Kingdom, but is longer and has more elaborate special effects. Make sure that you give the attendant your name—and listen carefully at the end of the ride as E.T. will personalize his goodbye message to you.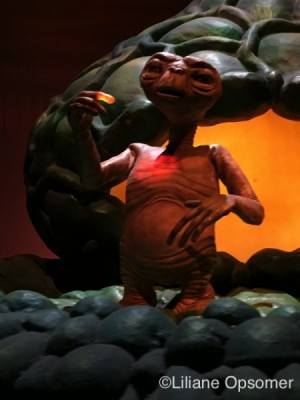 Fievel's Playland: This is a great playground that features ordinary household items reproduced on a giant scale, seen, as a mouse would experience them. Kids can climb nets, splash in a sardine can fountain, seesaw on huge spoons, and climb onto a cow skull. Most of the playground is reserved for preschoolers, but a combination water slide and raft ride is open to all ages. There's almost no waiting in line here, and you can stay as long as you want. Younger children love the oversize items, and there's enough to keep teens and adults busy while little ones cut loose. The waterslide raft ride is extremely slow loading and carries only 300 riders per hour but kids will love it. Ride only if the wait is under 10 minutes.  Beware that you will get soaked.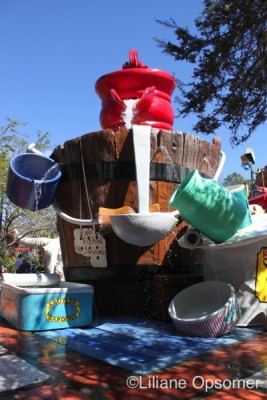 Woody Woodpecker's Nuthouse Coaster and Curious George Goes to Town: Woody Woodpecker's Nuthouse Coaster is a child-size roller coaster mellow enough for small kids to ride, though its speed might unnerve some smaller children.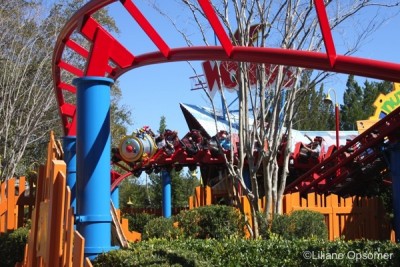 The Curious George playground exemplifies the Universal obsession with wet stuff; in addition to innumerable spigots, pipes, and spray guns, two giant roof-mounted buckets periodically dump a thousand gallons of water on unsuspecting visitors below. Make sure you have a set of dry clothes with you and don't let those sneakers get wet.  Also, if you have to retrieve your reluctant toddler from the playground be prepared to get wet!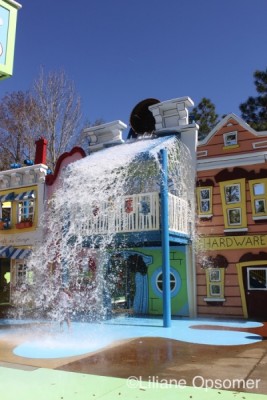 If you want the kids to stay dry they can mess around in the foam-ball playground. Overall the playground is creatively designed and a great place for kids to cut loose after being in tow all day. Keeping your kids dry though is a pretty much a lost cause.
For more information on all happenings at Universal Studios Orlando and Islands of Adventure check out Seth Kubersky's book The Unofficial Guide to Universal Orlando.
Have you experienced Woody Woodpecker's Kidzone before? What is your favorite part? Share in the comments.