This post may contains affiliate links for your convenience. If you make a purchase after clicking a link we may earn a small commission but it won't cost you a penny more! Read our full disclosure policy here.
I think Harry Potter fans world over can relate to what I'm about to say. Who hasn't read the series and at least once had the thought, "I wish that world were real…"?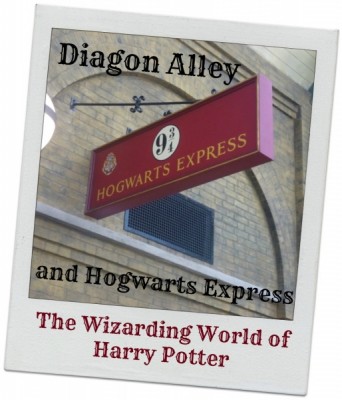 Well, I'm happy to say that I think the Wizarding World of Harry Potter comes in at a very close second! Universal Orlando offers two parks with two distinct Harry Potter experiences to create the Wizarding World: Hogsmeade at Islands of Adventure and the brand new Diagon Alley at Universal Studios.
There is so much to see and share that it's hard to know where to start… I guess it's best to start the same place Harry started his journey to Hogwarts: by entering Diagon Alley by way of the streets of London.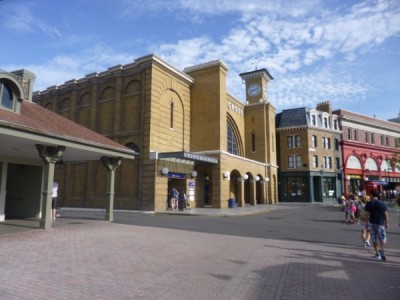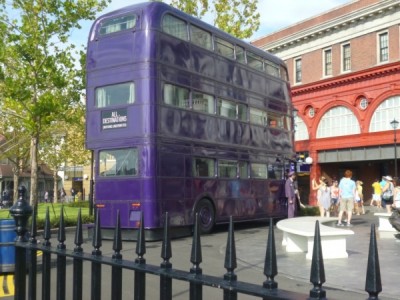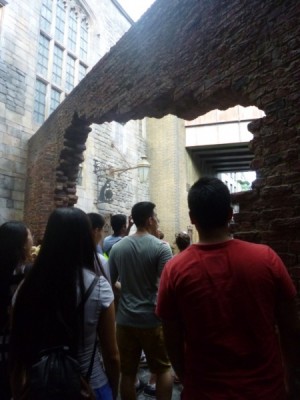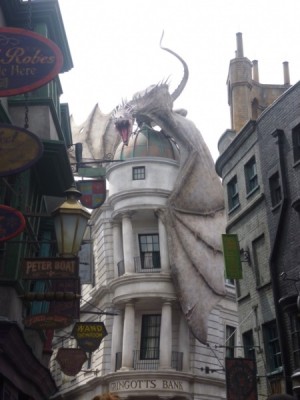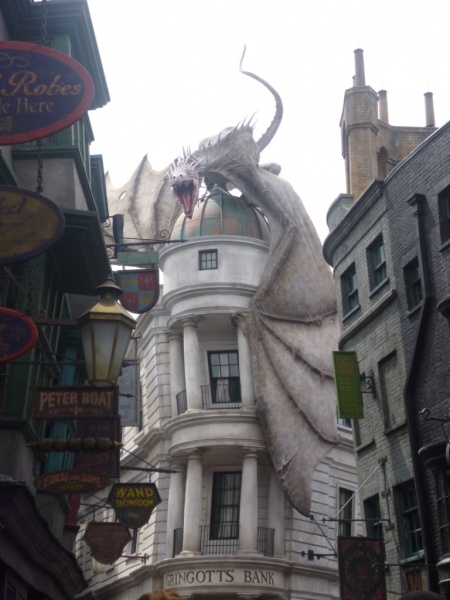 Most guests are currently making a beeline towards "Harry Potter and the Escape from Gringotts," the newest ride at Universal Studios.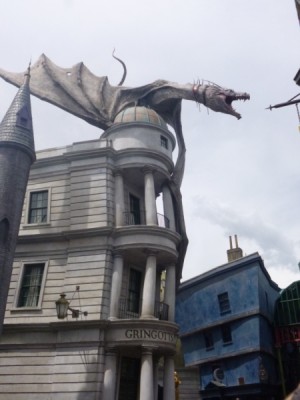 Here you'll have your chance to encounter characters from the series in a 3D adventure… if you're able to get past the goblins keeping guard. Be sure to watch for the fire-breathing dragon that sits atop Gringotts!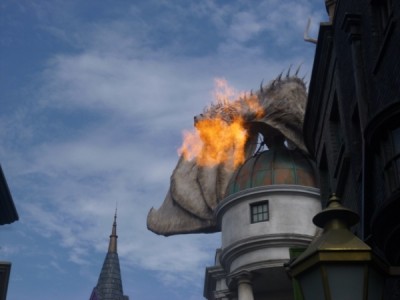 But Gringotts isn't the only place you'll find goblins. At the Money Exchange, we traded our "Muggle money" for Wizard Money for use all around the Wizarding World section, in both food and merchandise locations. (Ed. note:  Keep in mind that it is not required that you trade in my "Muggle Money" for Wizard Money in order to make purchases at Diagon Alley or Hogsmede, but the experience of doing so is extremely fun.)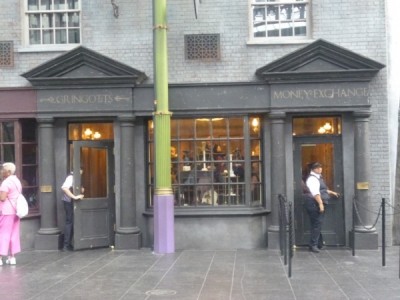 This audio-animatronic goblin — hard at work — interacts with guests!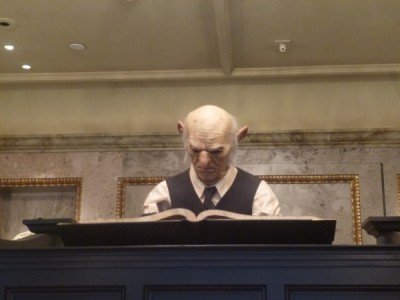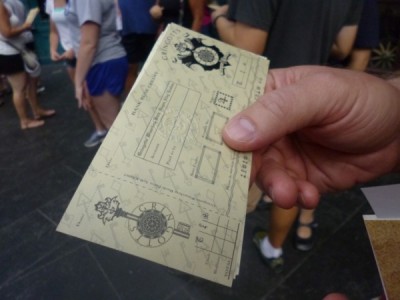 So where would you spend your Gringotts Bucks? How about Weasley's Wizard Wheezes, the joke shop that Fred and George Weasley opened with a little help from Harry.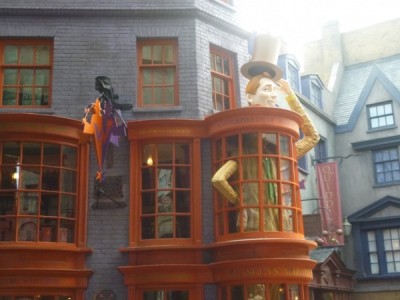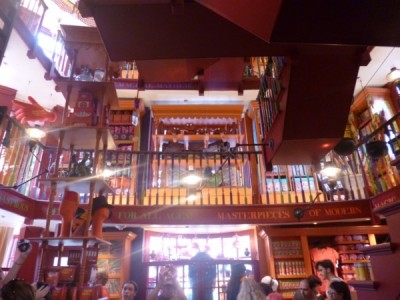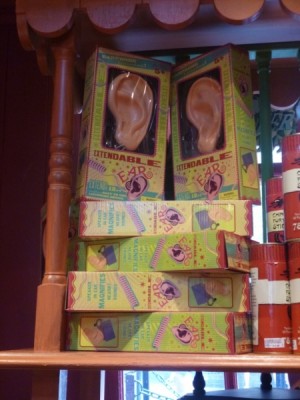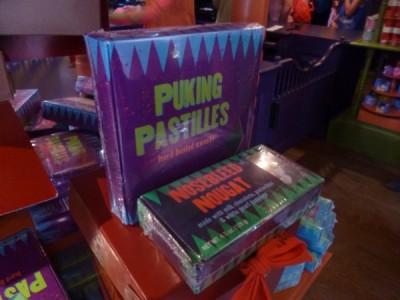 Or maybe you'll grab a meal at the Leaky Cauldron.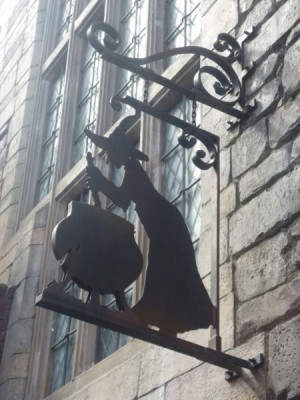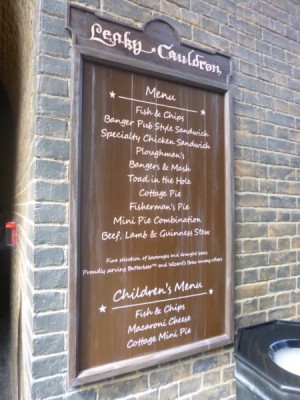 You can't miss buying some ice cream at Florean Fortescue's Ice Cream Parlor.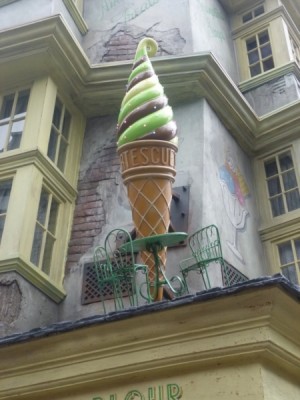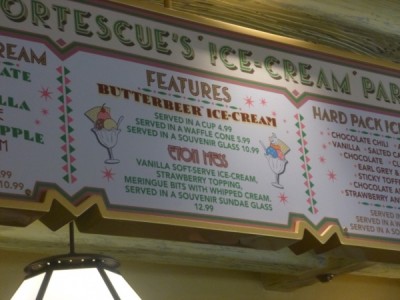 We used our Gringotts Bucks to purchase an absolute must-have: BUTTERBEER!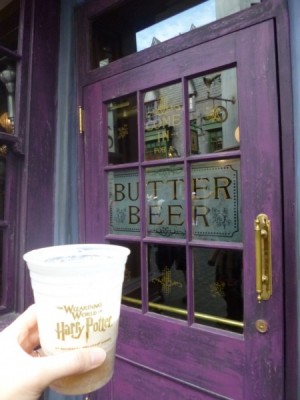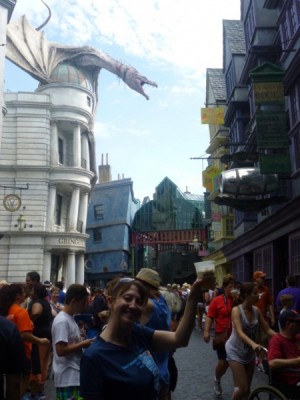 Of course, you don't have to spend any additional money at all to enjoy visiting any of these places. The best fun to be had lies simply in taking in the copious amount of detail all over Diagon Alley; from window displays to a scary turn down Knockturn Alley.  Speaking of Knockturn Alley, it is full to the brim with nods to the series that fans will love to take in.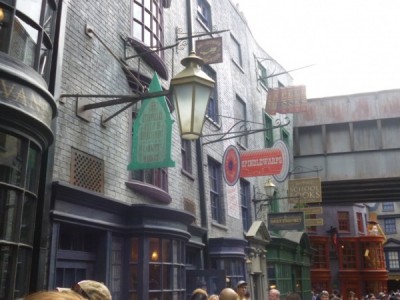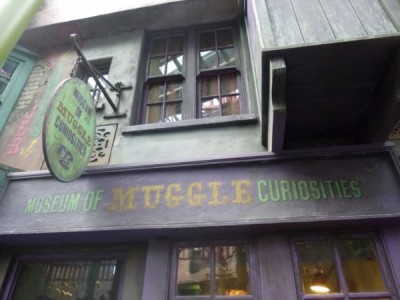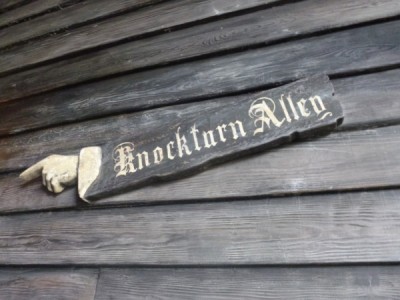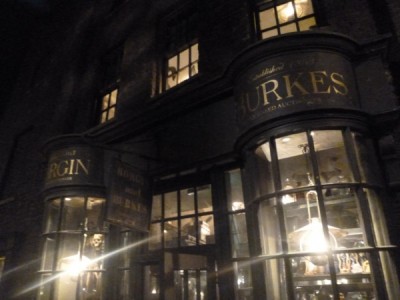 You could spend an entire day looking at the windows in the various shops (some you can enter, some are false-front).
While you can't tell from my simple Muggle photos ;), the displays are motion-filled, and it really does feel like you're in a world of magic when you see self-knitting needles creating scarves and self-stirring cauldrons boiling with potions.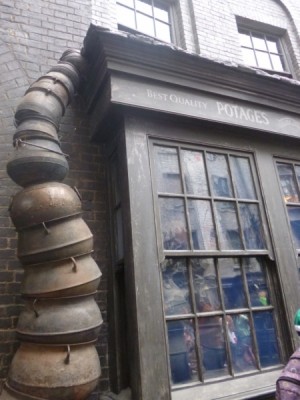 You also can't miss Ollivander's Wand Shop: be sure to ask where you can go to watch a wand choose its wizard!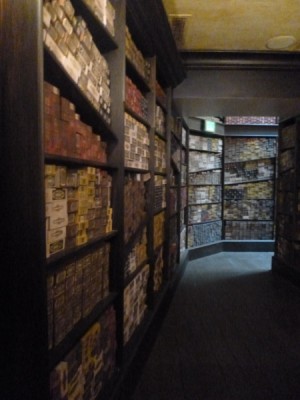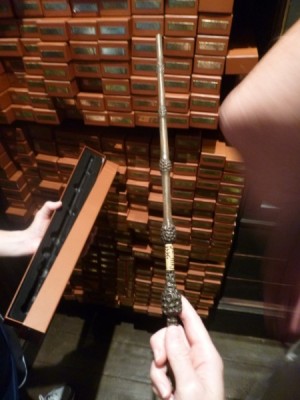 Additionally, guests can attend live performances by Celestina Warbeck and the Banshees (Molly Weasley's favorite :).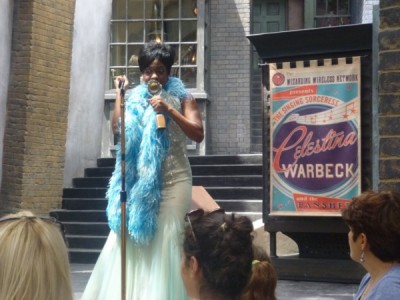 There is also a memorable presentation of The Tale of the Three Brothers from "The Tales of Beedle the Bard."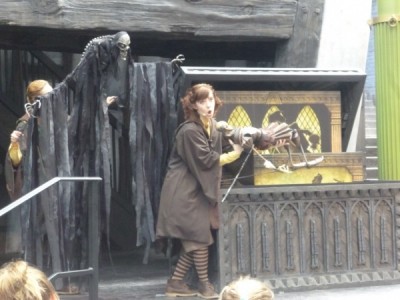 If you have park-to-park admission (a ticket that allows you to visit both Universal Studios and Islands of Adventure on the same day), then you can hitch a ride from one park to the other on – what else? — Hogwarts Express!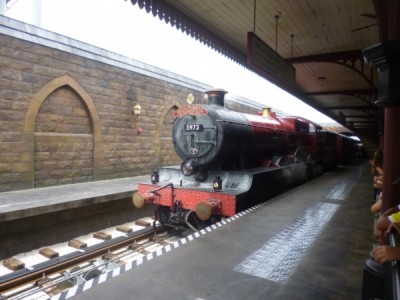 Just hop on Platform 9 ¾ by way of King's Cross station!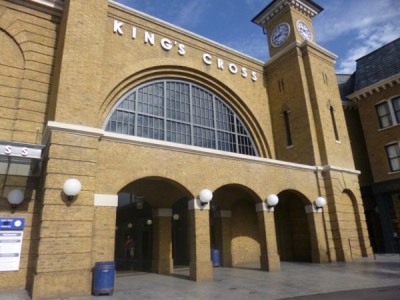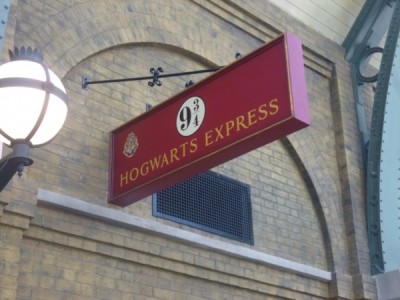 Excuse me, please, while I geek out for a moment here… fans of Harry Potter understand the significance of the Hogwarts Express: the train that carried Harry, Rob, Hermione and all the other young wizards to Hogwarts to start each new school year.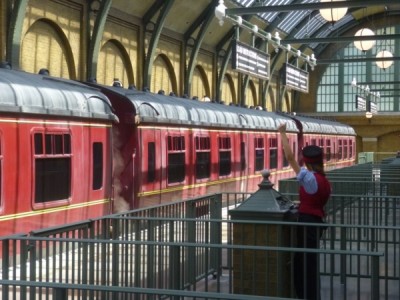 At the risk of sounding melodramatic, this is like a dream come true for young and old Harry fans alike, as the train moves from one station to the next, weaving elements of the story throughout the trip with some fun effects. And some friends may come along for the ride…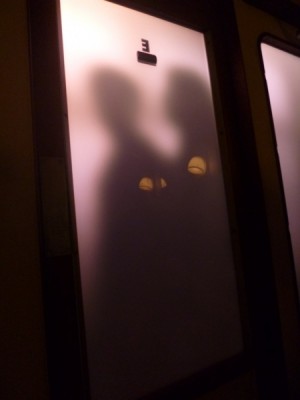 So, what's waiting on the other side? Hogsmeade Village and Hogwarts itself, featuring (among other experiences) "Harry Potter and the Forbidden Journey." But that's another story for another time, and I'm looking forward to sharing it with you in a future post!