This post may contains affiliate links for your convenience. If you make a purchase after clicking a link we may earn a small commission but it won't cost you a penny more! Read our full disclosure policy here.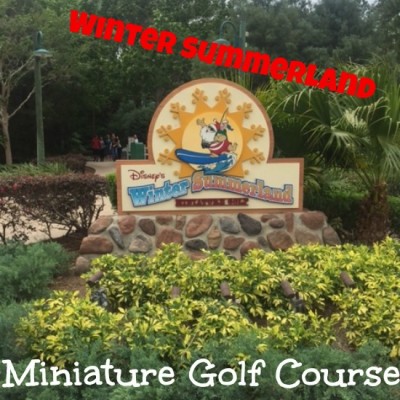 There is no shortage of things to do at Walt Disney World – but if you're looking for something new to try, you should consider visiting the Winter Summerland Miniature Golf course!
The Winter Summerland Miniature Golf course is located just outside of Disney's Blizzard Beach Water Park (hint – this means it's very easy to get to via a Disney Resort bus!)  The backstory of Winter Summerland is a continuation of the Blizzard Beach theme – Santa spotted the snowy, yet warm climate at Blizzard Beach and decided to move himself, Mrs. Claus and the elves to Winter Summerland for summer vacation!  When they arrived, the elves couldn't decide if they should build a miniature golf course out of sand or snow – so they did both!
Visitors to Winter Summerland can choose between either the winter or summer themed miniature golf courses.  Both courses are 18 holes and are of equal difficulty levels.  If there is a line when you arrive the cast members will ask you which course you'd like to play and give you a ticket with a time to return (in my experience it's been about a 15 minute wait).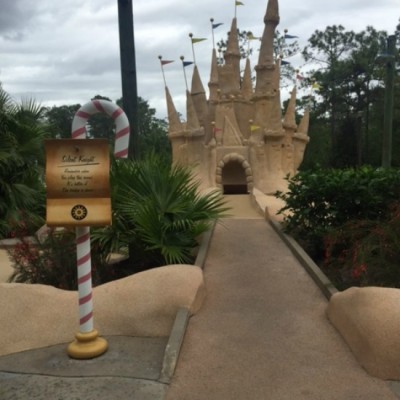 Hole 9 on the summer course – the drawbridge to the castle raises and lowers to add a bit of difficulty!
On the summer course, most holes are themed in either water or sand – until the last few holes which are in the reindeer shed (both courses end in this shed so the theming at the end of each course is identical).  The summer course will definitely give you some surprises and some adorable sand figures!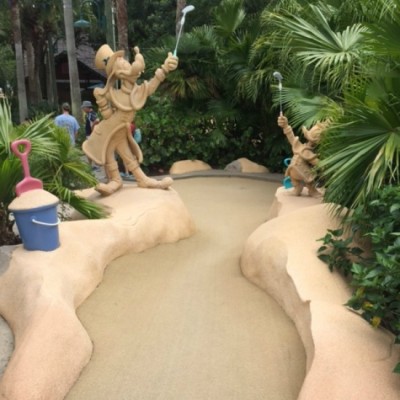 The winter course typically has a bit longer wait than the summer course.  The holes on the winter course are ice and snow themed and on this side you'll find the elves in their normal setting!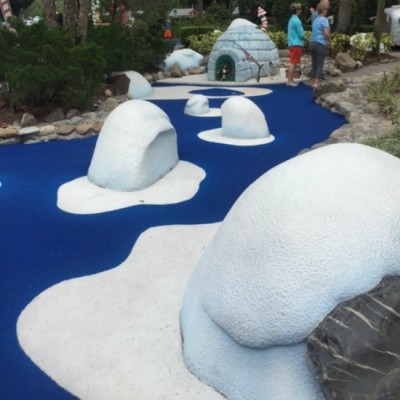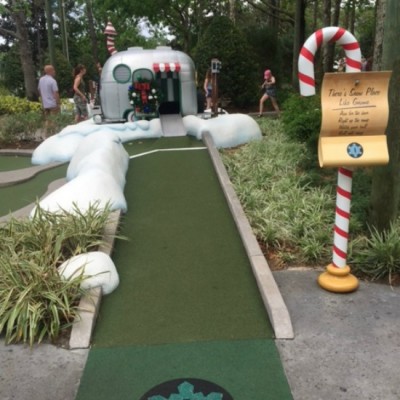 The elves prefer the igloo living while Santa and Mrs Claus brought their camper!
The Winter Summerland Miniature Golf course is a less difficult course than the Fantasia Gardens and Fairways Miniature Golf course near the Swan and Dolphin resorts and the theming is likely more suited for you if you have children in your traveling party.
If you booked a Magic Your Way package, you'll get 4 free miniature golf passes to use before 4:00 p.m. – so don't miss out on that freebie!  The coupons should be in your booklet that you receive prior to leaving for your trip or in the folder you receive at hotel check in.  If you did not book a package, the prices are very reasonable (comparable to other miniature golf courses in the Orlando area) at $14 per adult and $12 per child.
If you have some free time in your next Disney vacation you should consider making a visit to Winter Summerland.  It will be sure to add some fun and friendly competition to your trip!
Have you ever visited Winter Summerland? What are your thoughts?