This post may contains affiliate links for your convenience. If you make a purchase after clicking a link we may earn a small commission but it won't cost you a penny more! Read our full disclosure policy here.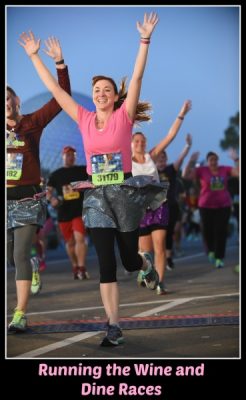 One thing I love about RunDisney events is that you get to see things during the races that you wouldn't normally see on an average day in the parks. I recently had the opportunity to run two of the Wine and Dine races and can't wait to share what I loved the most!
Seeing the Parks in a Whole New Light
Running the Mickey's Holiday 5K this year gave me the opportunity to see Animal Kingdom in a whole new light. Literally. Prior to the race, I still had not had the opportunity to visit Disney's Animal Kingdom to see any of the nighttime events, so this was my first time seeing the park in the dark. When the race began at 6:30 am, the sun had not come up, so it felt like it was still nighttime as we entered the park.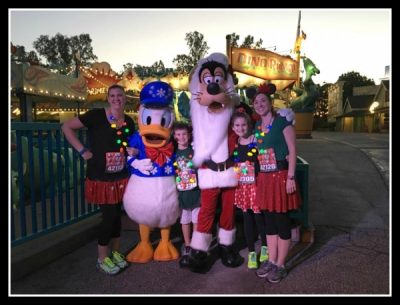 Meeting Santa Goofy and Donald as the Sun Came Up
The Tree of Life was gorgeous! It was all lit up with color and light. I wanted to stop, but of course this was a race and we did not have time for that.  It did get me excited though, and I have decided that I need to plan an evening at Animal Kingdom very soon.
A Behind the Scenes Look at Your Favorite Parks
The race routes often take you to places that you won't see on a normal day as a guest at Walt Disney World. The 5K route took us through a few of these areas and I got to see some of the floats and props from the Rivers of Light show that will hopefully be opening soon at Animal Kingdom. The most exciting part though was that the race route took us behind Everest. Some may think that this behind the scenes view might ruin the magic, but I thought it was amazing to see!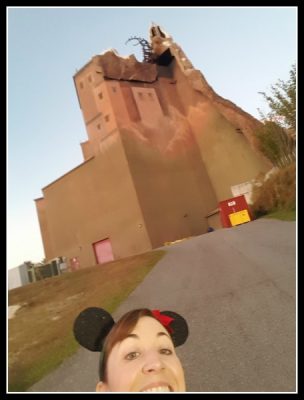 Silly Selfie Behind Everest
The 10K course took us through Epcot. We started the race in the parking lot and the beginning section of the course led us out the Epcot entrance and onto some of the surrounding roads. This part of the course was not super exciting, but it was a strange feeling to run in the middle of the roads that you would normally drive on to enter the park.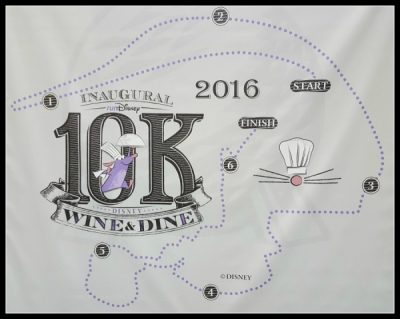 Wine & Dine 10K Race Route
There were also character stops along the way to keep us entertained. The excitement started to build as we came into the park from behind Test Track, knowing that the World Showcase was up ahead. From that point on, I loved the rest of the course. It was so beautiful to see the countries lit up just before sunrise.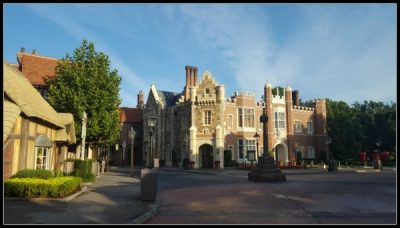 UK Pavillion at Sunrise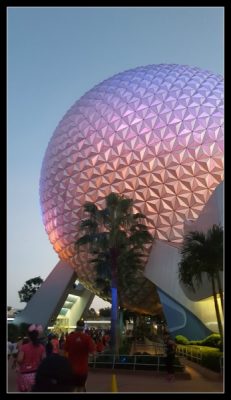 Sunrise View of Spaceship Earth
Photo Ops with Some Fun and Unique Characters
This was by far the one thing I was looking forward to the most in the Wine and Dine races. So much so that I centered my training around it! My goal was to be able to run/jog fast enough to be able to stop for several character photos along the way. Sometimes, you will find some pretty unique characters on the race routes and I did not want to miss out!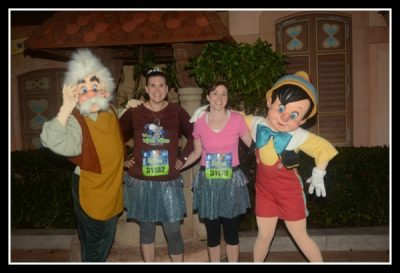 Posing with Pinocchio and Gepetto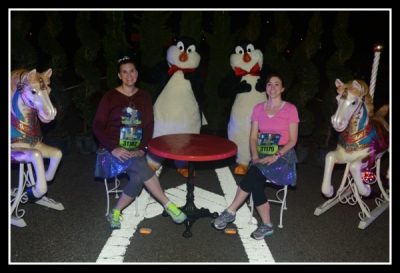 Penguins from Mary Poppins
My plan worked well, especially in the 10K, and I was able to stop for many photos. Here are a few tips if you plan to try to do this:
Use an app like Run Keeper to help keep track of your pace. Each time we stopped, we were able to see how much time we were losing and make sure that we were keeping the pace we wanted to keep.
Be ready and smiling when it is your turn to pose. With regular character meet and greets, you usually get several shots from the photographer. This is not the case in a race. You will only get one, maybe two, shots from each stop.  If there is an extra Cast Member available, have your phone set to camera mode if you want a shot taken with it. Remember that there are people behind you who are thinking about their pace too. Be mindful of that and be quick!
If you have several members in your group and want photos together, stay together. This seems obvious, but in both races our group split up with hopes of meeting up for photos. Despite our best efforts, it just did not happen. Stick together!
Know that characters occasionally need to take breaks and this could cost you a lot of time. Cast Members will warn you if a character is about to leave so that you can make a decision about whether or not to wait. Can you afford to sacrifice 5 minutes waiting for that character to return?
Consider purchasing Memory Maker. Recently Disney PhotoPass photographers recently started photographing runners during the race. (Previously it was an outside company.) I know it's expensive, but there are so many photographers along the race route. (Seriously. Tons of photographers. You start to understand what celebrities must feel like.) Of course this won't only cover the race, but your entire Disney vacation. You can even wear your medal into the park and show it off in your photos.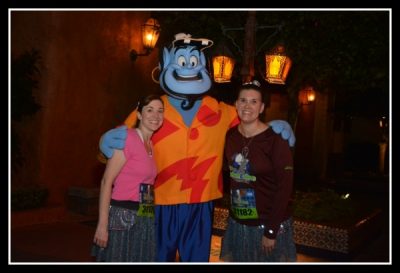 Genie in his Tourist Attire
Crossing the Wine and Dine Finish Line
Before you know it, you are passing that 3 mile sign or the 6 mile sign, and the finish line is right around the corner. The excitement you felt at the start now pales in comparison as you realize that you've made it! You've finished the race! It is an awesome feeling to know that you have accomplished something so big, all before most of the resort guests have even started their day.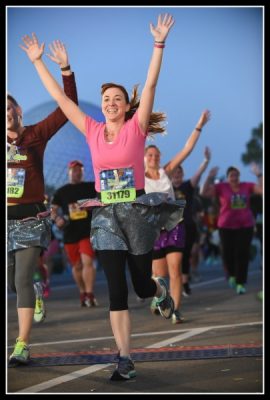 Crossing the Finish Line at the 10K
So will I ever run another 10K?  Absolutely!  Shortly after finishing the race, I even found myself thinking about signing up for a half marathon. I haven't fully decided yet, but if you plan to run the Wine and Dine races next year, I think there is a pretty good chance you will see me there!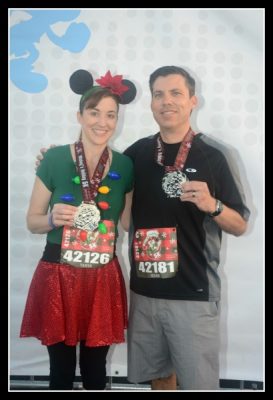 Two More Medals Added to the Collection!
Did you run in this year's Wine and Dine Half Marathon Weekend? What were your thoughts? Share them in the comments.