This post may contains affiliate links for your convenience. If you make a purchase after clicking a link we may earn a small commission but it won't cost you a penny more! Read our full disclosure policy here.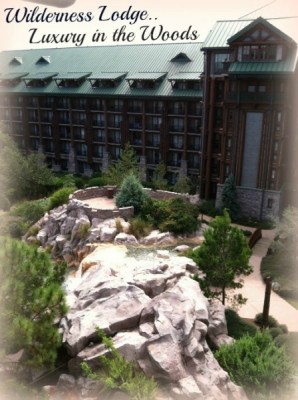 I'm sure if you look in any thesaurus under Walt Disney World Resort's Wilderness Lodge, you will find the words "magnificent", "majestic" and "incredible". When I planned a September adventure, during the Free Dining Promotion, I knew we were staying at a deluxe resort, but had never imagined how much I would come to love this resort.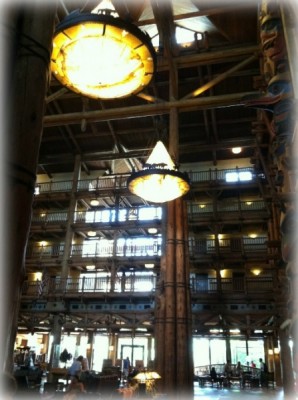 From the moment we entered the lobby we knew this was a special place. When you walk through the double doors and enter the lobby of the resort you first notice the incredible carvings and totems, the eight story high ceilings and the beautiful rustic feel. It is a moment of awe. Don't rush to the front desk. Take time to absorb the moment. Sure you have a few days to explore, but that first moment when you enter is breath taking.
Once it sunk in that his was home for the next eight days, we walked over to the front desk to check in. Check in was smooth and easy, the Cast Members were friendly, chatty and helpful. I found them to be this way anytime I had a question that required their assistance. As luck would have it our room was ready and up we went.

Our room was TERRIFIC! We had two queen beds as soft as feathers and when we laid our heads on the pillows it was as if we were cradled in air. Simply luxurious.
What made these beds even more special, was the attention to detail. The headboards were beautiful, stitched leather and above that were incredible rustic scenes that appear to be carved in wood. At the top of the bedposts, were animals carved into the wood to create bed knobs.  The carvings were very detailed and added to the woodsy, lodge-like feel.
We had a balcony that looked out to the courtyard, the pool and the lake. The view of the Silver Creek Stream and the rock formations made me truly feel that I had left Orlando and traveled to a lodge in Yellowstone National Park. One of the most surprising details was while we out on the balcony taking in all the sites–we heard a rumble and looked to our left to see an awesome geyser springing from the ground. I think we may have expected to see a moose or two.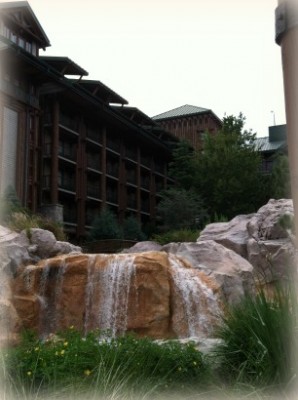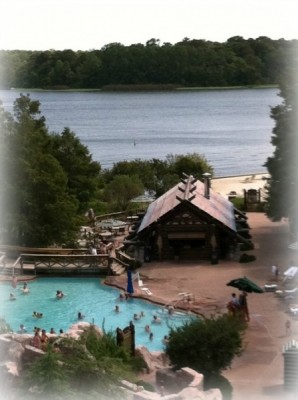 For the three of us, this room was more than enough space and we never felt like we were on top of each other. The bathroom area was spacious with a two sink vanity. For two women trying to get ready in the morning this was a valuable feature. There was no detail ignored and while taking a shower we even had some wilderness friends to keep us company.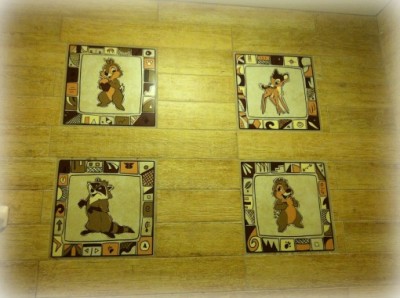 The only downside of our vacation was the rain and YEESH did it rain that first day. As we waited for the rain to clear, we had some time to explore. One of the appealing parts of this resort, or any deluxe, is that when you exit your room you exit into an enclosed hallway. During inclement weather you can go to get coffee or breakfast with out having to dodge rain drops. This is a wonderful convenience. As we exited the polished elevator, into the magnificent lobby,we took time to appreciate the many displays. Indian head dresses and beaded moccasins encased in glass displays, the breath-taking fireplace reflective of the Grand Canyon, totems and carvings.
I quickly decided that not only was this a deluxe resort, but once my children and began talking about what we saw it became a deluxe learning experience about Indian culture (great timing for the 4th grade curriculum). We couldn't help but be drawn to the Silver Creek Stream. The stream originates in the lobby and flows out to the courtyard. We took a moment to sit in the rocking chairs and listen to the flowing water.
After a little rest, we needed some food. We headed down to the Roaring Forks quick service food court. I ordered the Angus Beef Cheeseburger, my son had the Chicken Nuggets and my daughter had a Tuna Sandwich. No Disney lunch is complete with out dessert, so a S'mores cupcake was enjoyed by all. Yum! We grabbed breakfast here most mornings of our trip and were never disappointed. The food was always fresh, hot and satisfying. Seating inside is a at a minimum, but there is a lot of seating outside for those who want to dine "al fresco".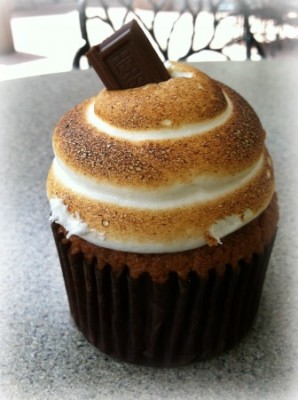 On our second morning, we had breakfast at Whispering Canyon. The restaurant was not very full and the service we received was prompt. My children had pancakes and bacon with hash browns and I had the Eggs Benedict. To my son's delight he was able to order a chocolate milk shake as his drink on the Dining Plan. What was even better was telling my nine year old that the milk shakes were free refills. Talk about "pixie dust". He was in heaven.  Artist Point was also another dining choice, but we did not get to eat here. I did not think it would have been child friendly for my little guy. It seems to be more of a couples "special" meal restaurant.
With food in our bellies and curiosity to satisfy we headed to the gift shop.  We meandered around the gift shop and found many generic Disney items. Towards the front of the store are Wilderness Lodge specific items such as tee-shirts and glassware. It is also one of the only places I have found a resort specific mug and I love it.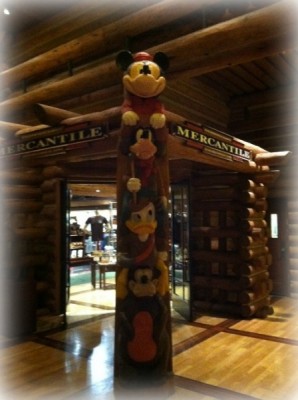 At this point the rain had cleared and we headed to the park. We decide to take the bus to Magic Kingdom. There was also the option of taking the boat, but due to the inclement weather it was not running. We did take it to our resort one evening from Magic Kingdom and it was a nice change of pace from the bus. Bus transportation to and from the Wilderness Lodge was efficient and plentiful. We never waited more then ten minutes for transportation and never felt stranded.
In my opinion, Wilderness Lodge is a true luxury resort without all the formality, You can let your hair down and still feel top notch. If price is a concern try to do it during an off season such as September or October. Discounts are available and working with a travel agent will help you get the best discount for your situation.
If you have the chance to experience this resort or are even thinking of it….DO IT! You will not regret the experience.
What's your favorite thing about Disney's Wilderness Lodge?