This post may contains affiliate links for your convenience. If you make a purchase after clicking a link we may earn a small commission but it won't cost you a penny more! Read our full disclosure policy here.
Disney offers interactive activities in three out of their four parks. In Epcot, they offer the Agent P's World Showcase Adventure around World Showcase. In Magic Kingdom, they offer the Sorcerers of the Magic Kingdom. And in Animal Kingdom is our favorite, the Wilderness Explorers. We love both the movie, Up, and Disney's Animal Kingdom. This is a great way to explore it in a different way. It brings the family together on an exciting quest to explore the wilderness!
There are 9 Troop Leader stations where they provide you with a Wilderness Explorers Guide. Our favorite is as you walk across the bridge from the entrance towards the Tree of Life. It's on your right hand side. Here you can also on your first badge. We have been working on ours over several trips now. They have 31 stations set up all over the park. The stations are easily identifiable by a round wooden circle on a post that has the WE logo on it. But they also have a map in the Guide showing you where the different stations are.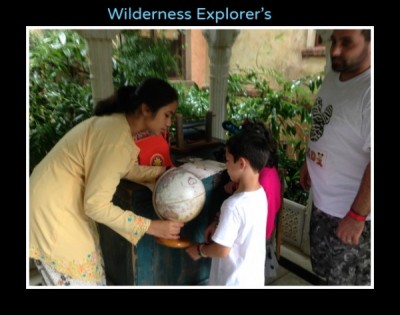 In each site, you are learning through a variety of methods. Sometimes they teach you about something from the Yeti to bird calling to Asian currency and a flamingo station. Other times, you are completing a task, like digging for fossils or listening to different animal sounds.
After they are done going over that section with you, you get a badge in your book. Some of the stations give you additional information to complete at home, like cool websites to research about African safari animals and such.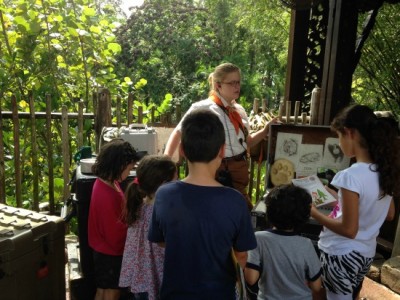 The great part about this is that these Cast Members are trained to interact with you. The Cast Members that man these stations are great at what they do. They share information about their station and they sometimes continue to talk to you about where they are from and their culture. They spark good conversation and it's something my kids always remember. You think they remember meeting Mickey or riding their first roller coaster. Not my kids, they remember the bug station at the base of the Tree of Life.
One of the other great features about this activity is it takes you all over different areas of the park. You may have to take the train to Conservation Station or take one of the trails to get to a few of the locations. It gives you a whole new perspective on this beautiful park. There are so many unique things about it that should not be missed, and this activity introduces you to a lot of them. So many people think that Animal Kingdom is a half-day park, but that is only true if you are interested in the few headliner attractions they have. I encourage you to stop and smell the flowers and enjoy all that this park has to offer.
I am told that after completing the book, you get a Senior Wilderness Explorer badge, but we have yet to do that. But we did show our book to Dug and Russell. They loved it!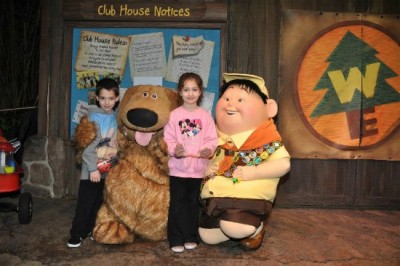 Meeting Dug and Russell
One of the best things about this is that it is free. This doesn't happen too often at Disney. So folks, take advantage of this awesome opportunity.
Have you participated in the Wilderness Explorers? What were your thoughts? Share in the comments!
Incoming search terms:
https://www themouseforless com/blog_world/wilderness-explorers-review/